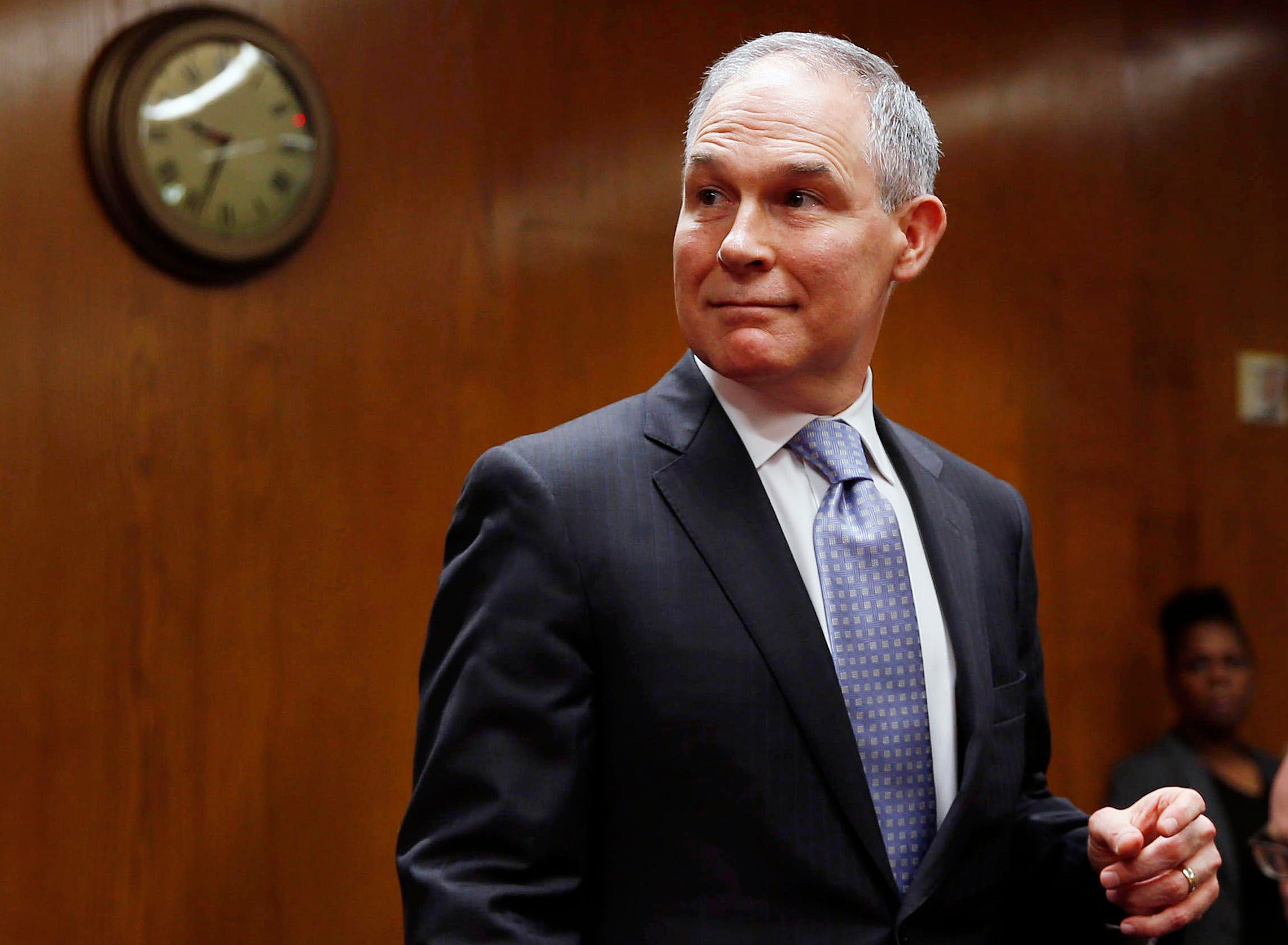 Scott Pruitt's landlord's husband lobbied EPA, despite denials
Newly released emails show that the husband of EPA Administrator Scott Pruitt's former landlord, J. Steven Hart, lobbied the Environmental Protection Agency while Pruitt was living in an apartment owned by his wife. Hart has previously denied having business before the EPA during Pruitt's tenure as administrator.
In a March 2017 email sent to Pruitt's chief of staff and another EPA aide, Hart requested a meeting between the administrator and Muhtar Kent, Coca-Cola CEO and chairman of the board.
"Basically, if Scot (SIC) was going to the awards ceremony, Muhtar was going to pull aside and offer to help you on your water projects," Hart wrote. "Coke has enormous expertise in clean water development since you cannot bottle Coke with dirty water. Interestingly, they are the largest US employer in Africa because of their clean water projects."
Hart also tried to arrange a meeting between Pruitt and another Coke executive, Jon Radtke, the chief water steward for Coke in North America, who "works with EPA on many fronts like recycling, watershed projects etc."
"He can speak for Muhtar and confirm that Coke wants to offer the system as a resource," Hart wrote.
At the bottom of the email in bullet points, Hart notes that "there is no specific agenda for the meeting beyond affirming The Coca-Cola Company's support and offering our global system as a resource."
At the time, Pruitt was renting a Capitol Hill apartment owned by Vicki Hart, Steven Hart's wife, for $50 a day. The terms of Pruitt's lease were unusually favorable. Pruitt only paid for nights he was in town, saving him more than $2,000 over the 6 months he stayed there, compared to someone paying for every night of each month.
"Any suggestion that Administrator Pruitt's short-term rental of one of its bedrooms in 2017 resulted in undue influence for the firm or its clients with business before the EPA is simply false," Hart said in March 2018.
The meeting between Pruitt and the soda executives never materialized, but Hart's attempt to arrange the meeting would fall under the broad definition of lobbying and require federal disclosure.
In a statement also issued this March, a spokesman for Hart said, "he did not lobby the EPA ...in 2017 or 2018."
Hart's lobbying firm, Williams & Jensen, filed an amended disclosure form Friday that shows, in fact, Hart lobbied not just for Coca-Cola, but two other clients with business before the EPA.
Pruitt also told Fox News in April that Hart had no clients with business before the EPA.
Coca-Cola paid Hart's firm, Williams & Jensen, $200,000 in lobbying fees in 2017 and $50,000 in 2018, according to Open Secrets.
A spokesperson for the firm said that once it became known that Hart failed to disclose certain lobbying activities, Williams & Jensen enlisted an outside firm to find any other omissions. It found 7 instances of Hart failing to disclose his contacts with federal agencies on behalf of clients.
"Today the firm filed amendments to several disclosure reports that include information that was not previously disclosed to our firm and therefore not included in the original filings," a Williams & Jensen spokesperson said.
Hart left the firm in April and did not respond to multiple inquiries Friday afternoon.
Hart's email correspondence with EPA officials was made public by a Freedom of Information Act request.
According to the EPA, Hart's emails with Pruitt's staffers did not result in a meeting between Pruitt and Coke. "This meeting involving Coca Cola and their clean water steward did not occur," EPA spokesperson Jahan Wilcox told CBS News. "The request was submitted and it went unfilled."
Hart has characterized his friendship with Pruitt as a casual one. In a March 30 memo, an EPA ethics official signed off on the lease arrangement because, the official wrote, it was "consistent with federal ethics regulations regarding gifts" and Pruitt would have paid "reasonable market value" if he stayed each night. The memo did not mention Hart's ties to the agency.
Thanks for reading CBS NEWS.
Create your free account or log in
for more features.