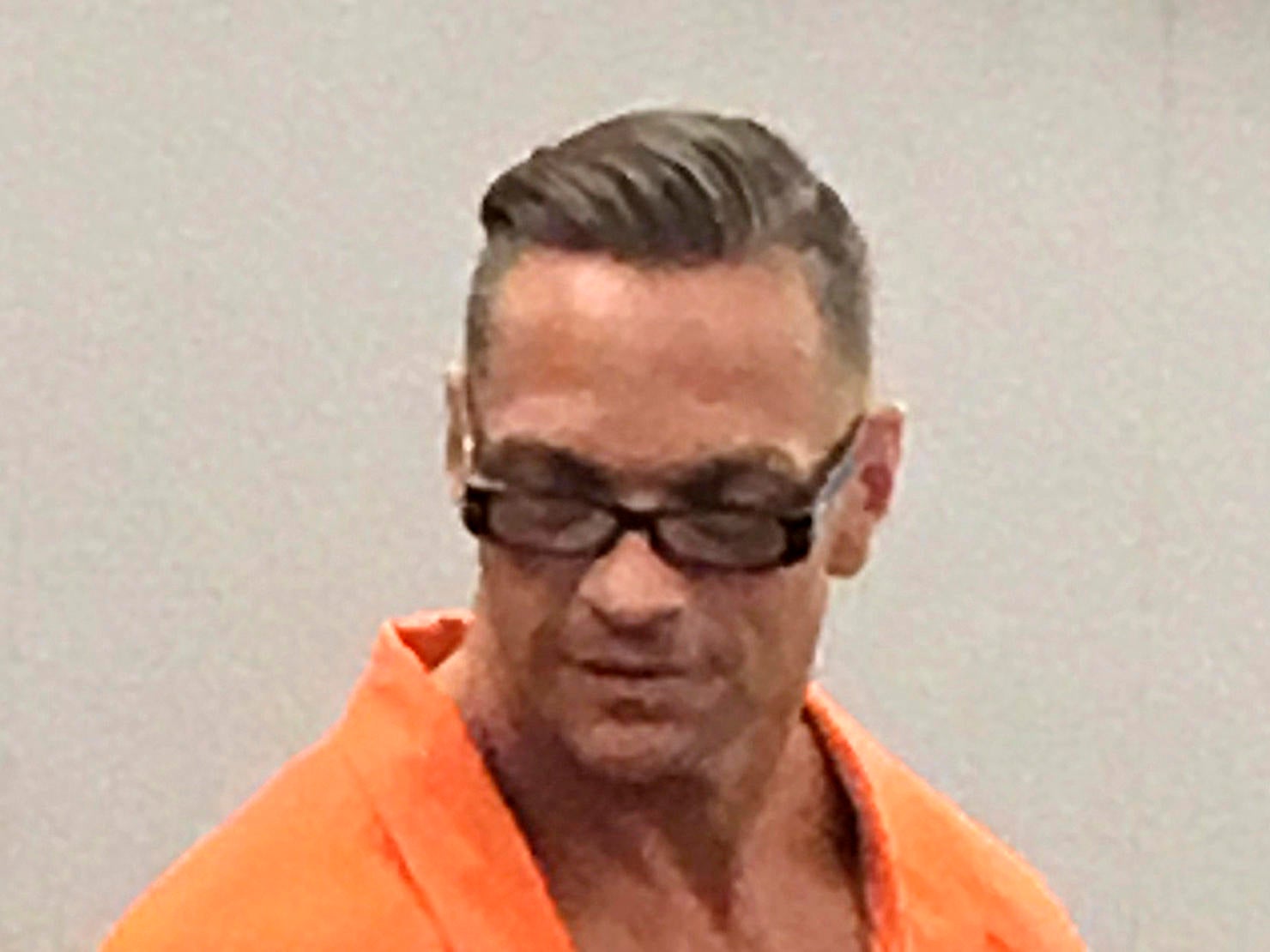 Scott Dozier case: Hours before execution, judge in pharma company suit halts use of drug
LAS VEGAS -- A Nevada judge is halting the use of a drug in the execution of twice-convicted killer Scott Raymond Dozier hours before he was scheduled to die by a first-of-its-kind lethal injection mixture. Clark County District Court Judge Elizabeth Gonzalez ordered the delay Wednesday morning in response to a challenge by New Jersey-based drugmaker Alvogen, which says it doesn't want its product, midazolam, used in "botched" executions.
Alvogen's objections were aired at a hearing that unfolded less than 11 hours before Dozier was to be put to death with a three-drug injection never before tried in the U.S.
The pharmaceutical company urged a judge to block the use of midazolam, saying the state of Nevada obtained the product through "subterfuge" for unapproved purposes. Dozier has insisted he wants to be executed and doesn't care if it's painful. The ruling effectively put the execution on hold.
Todd Bice, an attorney with Alvogen, accused the state of deceptively obtaining the company's drug by having it shipped to a pharmacy in Las Vegas rather than the state prison in Ely. Alvogen sent a letter to state officials in April telling them it opposes the use of its products in executions, particularly the sedative midazolam, Bice said.
The judge ruled that based on that letter, Alvogen had a reasonable probability of winning its lawsuit, and she issued the temporary restraining order against the use of the drug. Gonzalez set a hearing in the case for Sept. 10.
Alvogen said in a statement that it was pleased with the ruling and will continue to work through the legal system to ensure its products are not used in executions.
A second pharmaceutical company, Sandoz, also raised objections Wednesday to the use of one of its drugs - the muscle-paralyzing substance cisatracurium - in the execution. But the company did not immediately ask to formally join Alvogen's lawsuit.
A third company, Pfizer, last year demanded Nevada return the third drug intended for use in the execution, the powerful opioid fentanyl. But the state has refused. Fentanyl, which has been blamed for deadly overdoses across the country, has not been used before in an execution.
Jordan T. Smith, an assistant Nevada solicitor general, countered at Wednesday's hearing that Nevada didn't put up a "smokescreen" or do anything wrong in getting the drugs. He said drugs ordered by the state prison system are regularly shipped to Las Vegas.
"This whole action is just PR damage control," Smith said of Alvogen.
The order is the first time a drug company has successfully sued to halt an execution in the U.S. involving one of its drugs. Pharmaceutical companies have resisted the use of their drugs in executions for 10 years, citing both legal and ethical concerns. The legal challenge filed by Alvogen is only the second of its kind in the U.S, said Robert Dunham, executive director of the Death Penalty Information Center in Washington. The previous challenge, filed last year by a different company in Arkansas, was unsuccessful in halting that execution.
Alvogen's midazolam was substituted in May for Nevada's expired stock of diazepam, commonly known as Valium. Nevada's new execution protocol also calls for the use of fentanyl to slow the inmate's breathing and cisatracurium to stop his breathing.
Dozier, who attempted suicide in the past, has said he prefers execution to life behind bars.
"Life in prison isn't a life," the 47-year-old Army veteran and methamphetamine user and dealer told the Las Vegas Review-Journal recently. In court hearings and letters, he said there is a limit to how much artwork and exercise a person can do in prison.
Dozier was sentenced to death in 2007 for robbing, killing and dismembering 22-year-old Jeremiah Miller at a Las Vegas motel in 2002. Miller had come to Nevada to buy ingredients to make meth. His decapitated torso was found in a suitcase.
In 2005, Dozier was sentenced to 22 years in prison for shooting to death another drug-trade associate, 26-year-old Jasen Greene, whose body was found in 2002 in a shallow grave outside Phoenix. A witness testified Dozier used a sledgehammer to break Greene's limbs so the corpse would fit in a plastic storage container.
Though Dozier dropped attempts to save his own life, he allowed federal public defenders to challenge the execution protocol. They argued that the untried three-drug combination would be less humane than putting down a pet.
Midazolam has been used with inconsistent results in states including Alabama, Arkansas, Arizona, Florida and Ohio. In 2014, an inmate in Ohio and another one in Arizona were left gasping and snorting before they died in what death penalty foes called botched executions.
Nevada's last execution was in 2006.
Thanks for reading CBS NEWS.
Create your free account or log in
for more features.