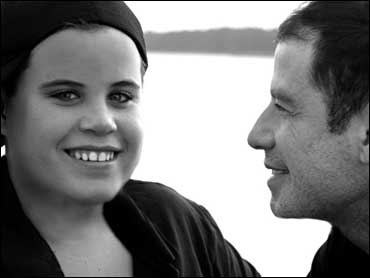 Scientologist Views On Medicine Questioned
Even as John Travolta and his wife mourn their son, Jett, some critics of the Church of Scientology are pointing to what they say is a negative church position on medications and medicine.
The Travoltas are Scientologists.
Early Show National Correspondent Hattie Kauffman reports that, since an autopsy showed Jett, 16, died of a seizure, his family now acknowledges Jett's been suffering seizures for many years.
The Travoltas have always been private about their son, Kauffman points out.
"John Travolta's friends who are lawyers indicated Jett had been on a psychiatric pharmaceutical drug that specifically intends to address issues about seizures," says University of Alberta Alternative Religions Prof. Stephen Kent. "They also went on to claim Jett was removed from that drug because it was causing organ damage."
One ex-Scientologist says when she suffered epileptic seizures 30 years ago, the church told her to stop her medication.
"So I started having grand mal seizures," recalls Tory Christman, "and I wasn't even off the medicine. I was only off part of the medicine, and I started having very bad grand mal seizures."
A Scientology spokesperson told CBS News the church doesn't get involved in medical decisions. The statement says, "Scientologists seek conventional medical treatment for medical conditions. Scientologists use prescription drugs when physically ill."
But skeptics point to the writings of the church founder.
"There are definitely some policies that L. Ron Hubbard wrote in the '60s where he was very critical of the medical profession,' says former Scientologist Bruce Hines.
Scientology's most famous member. Tom Cruise, has made it very clear the church is against psychiatric drugs.
"It sees psychiatrists as being enemies -- not only enemies on this earth, but also cosmic enemies," says the University of Alberta's Kent.
But Scientologists do believe in a purification program that Kelly Preston, John Travolta's wife, reported using to treat her son, notes Kauffman.
"People go thru periods of physical exercise combined with large doses of vitamins including niacin and then hours in the sauna," Kent says.
Thanks for reading CBS NEWS.
Create your free account or log in
for more features.