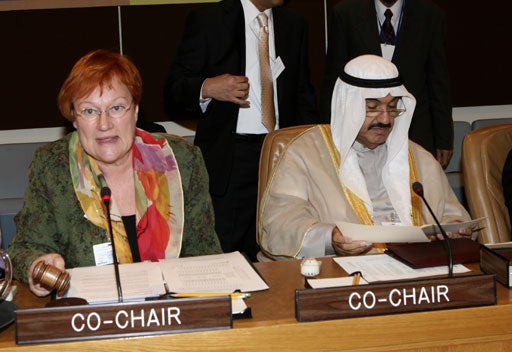 Usually during the Christmas season, armies of men and, sometimes, women, wearing white beards and red jumpsuits invade malls, holiday parties and the streets. Some of them actually go to school to become the jolly St. Nicholas. CBS News Sunday Morning Bill Geist visited one of the oldest training ground for Santas in Midland, Mich.
---
There are thousands of Santas out there right now.
But Geist can remember visiting Santas whose brown wingtips were plainly visible through cheap plastic shoe covers. And the elastic bands on their fake beards showed.
This is important stuff. There should be minimum federal standards, like a degree from an accredited Santa school.
Wait a minute, there is such a place. The Harvard of Santa institutions is the Charles W. Howard Santa school in Midland, Mich. The town is awash in students who all have a certain look about them.
"We'd like to start this class the way we've started it the past 66 years," said Tom Valent, the school's dean, just before he leads a group in prayer. "Thank you, Lord, for the safe journeys to Midland, Michigan, to study the art of Santa Claus. Let us strive to be the best Santas we can possibly be."
Among the students were veteran and first-time Santas.
"We have a Chicago policeman here, we have a Santa from Disney world, we have a farmer, and he's kinda special to me," says Valent. "He wants to be a good Santa for his neighbors and his church. He has no interest in going out commercially."
Tom's credentials are unparalleled in educational circles. A student at the school for 14 years, he plays Santa locally, he built a lavish Santa House, is married to a woman named Holly and he walks his reindeer when he goes home from work.
He gives students three days of intensive training in every conceivable aspect of "Santadom."
History class begins with a visit from St. Nicholas. There is a business course and a beard-and-hair-care seminar. There is even a Santa Hygiene 101.
"You need to be fresh," says Valent. "Personal hygiene is very important."
One Santa in the class says he changes gloves three or four times in a day, especially when working in a mall because kids are dirty.
Pupils learn Santa etiquette and decorum.
"Santa is a pure man; he's a pure spirit. You never use off-color jokes or flirt or anything like that," Valent explained to his class. "You have to be very careful where we touch the children, how we pick them up, how we set them on our knees. Keep your hands up on top visible. We don't want any Santas getting a bad rap."
The Santas must also pass a core curriculum of classes or they can't graduate.
"Remember Rudolph was born in 1939," Valent told his class. "[Children will] ask you, 'Well, what are the reindeer names?' And you gotta know. And there's only one way to know and that's to learn the song."
There are classes in singing, story telling and Santa dancing.
Of course, this student body takes many cookie breaks.
The Santas take field trips to learn how to conduct media interviews and handle call-in shows.
There is a visit to reindeer driving school and bus trips to the field.
After a stop at the fudge store, a Santa class visited Bronner's — the world's largest Christmas store — where, even out of uniform, they're celebrities.
They roam Toys 'R' Us to familiarize themselves with all the new toys their "elves" have been making.
But, the high point of Santa school is suiting up.
Accessories make the outfit. However, buckles and belts are hard to find for the plus-size Santas. Hats are tricky, because they fall off.
The hair and beard are critical to a perfect Santa presentation. Soon, the Santas were looked the part and laughed the famous St. Nicholas laugh. They tried out the throne and finally, they held a dress rehearsal with children.
The members of the class of 2002 earned their red suspenders, their keys and their degrees in the art of Santa Claus.
The Santas formally recognized the importance, privilege and responsibility of holding the position of St. Nicholas, pledging to uphold Santa principles and to carry the spirit of Christmas in their hearts.
A good outfit can make anyone look like Santa, but it is the person inside the suit that counts. That's what this school teaches.

Thanks for reading CBS NEWS.
Create your free account or log in
for more features.