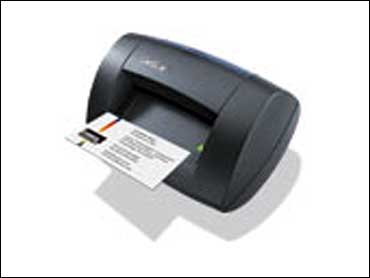 Scan Your Eyes Across This
When Ray Kurzweil decided to help blind people read the printed word, he developed an amazing "Reading Machine" and, as a consequence, the first flatbed scanner. Back in 1975, Kurzweil and his colleagues used this first CCD (or "Charge Coupled Device") scanner with a modest 500 pixel sensor that moved back and forth across a page. In addition, Kurzweil's team also developed the first OCR (or "Optical Character Recognition") software that turned scanned letters into digitally recognizable text coupled with voice synthesis to read the words aloud.
Today, desktop scanners are used for a myriad of purposes beyond the original mission of aiding the visually impaired. Happily, the desktop scanner has become ubiquitous and, in celebration, let me share some modern variants and unusual ways people are using these powerful scanner tools. First, we'll look at a reasonably priced scanner that does unreasonably great work. Then, a business-card scanner and software solution to help organize your drawer full of contacts. Plus a "pen" that scans and shares your chicken-scratch handwriting with your desktop. And, finally, a taste of the work of a marvelous artist, Katinka Matson, who has been using flatbed scanners to create art that marvelously fuses technology and nature.
Canoscan9900F
As we migrate from film to digital cameras, many wonder what to do with the old pictures, negatives and slides gathering mold in the basement drawers. Others need a quick way to get documents emailed or to upload images to the web. There are many desktop scanners you can buy for about $100 that do some of these tasks. But recently, I upgraded from one of these cheap single-purpose scanners to Canon's new "Canoscan 9900F" and now my life is filled with joy and rapture. Alright, that may be a bit over the top but I do love this thing. With astounding resolution (as high as 3200x6400 dpi), I can't think of a feature this scanner doesn't have. Scanning negatives, slides, or prints is as easy as a single button click. The scanner is blazingly fast and offers "281 trillion" possible colors (as if you could tell the difference.) But if you want to turn a document into a .pdf file, just push another button. Email a document? Push a button. Convert a scanned document into text using OCR? Another button. You get the idea. The scanner also comes with several easy to use software too, especially Adobe's not-too-shabby Photoshop Elements 2.0 (which, for the normal consumer, beats the snot out of user-hostile Photoshop!). There's even automatic film retouching and enhancement features. Oh, and did I mention it works for both Windows and the Mac? (How civilized.) Cost: less than $399.
Cardscan Executive
I should confess that the Cardscan Executive 600C isn't brand new… but after literally scanning in 500 business cards that have gathered all over my office, I'm so grateful it exists. At the heart of this color scanner is new CardScan Software V6.0.4 that uses OCR to quickly and logically recognize, categorize, organize and integrate new contacts into Outlook or into other various popular address book formats. The color scanner and new software is a vast improvement over other business card scanners available several years ago. $299 (Card Scan software, available separately, will work on other scanners as well.)

LOGITECH IO pen
With Logitech's new IO pen, capture your handwriting with the pen and transfer up to 40 pages at once in digital form to your computer. Using special paper, the pen records your notes, appointments, images, chicken-scratches, whatever… Insert the pen into the docking cradle (and battery recharging station) while you easily synchronize and transfer your handwriting to a variety of applications. There is a Post-It Note format that's fun to use as well as a larger notebook more ideal for saving class or work notes. Since my handwriting is appalling, the Logitech IO pen isn't really made for me, but for those who want to save and share their scribbling, this is a remarkable device. The pen is $199 and the special paper and pads, which helps the pen figure out where it is, costs extra.
Katinka Matson's Scanner Art
Finally, about Katinka's flowers! I hope you take a long look at our "photo" essay (really a "scanner" essay) of a few of Ms. Matson's remarkable studies. (I regret that to publish her work on our website, we had to make dumbed-down petite versions.) When printed on large paper or shown, as they should also be, on high-definition television screens, Katinka's scanned creations are towering, dense and richly hued. For several years, using the same digital flatbed scanners most of us simply copy documents with, this Manhattan-based artist unlocked the simple elegance of nature. Without cameras or special lenses, Katinka Matson captures the unfiltered raw vibrancy of lilies, tulips, and daisies. Closer to painting with nature than to containing and "capturing" it, Ms. Matson's work is raw, striking, if not shocking. There is honest power in this fusion of technology with nature and it's made possible by an inkjet printer and a humble scanner.
By Dan Dubno
Thanks for reading CBS NEWS.
Create your free account or log in
for more features.