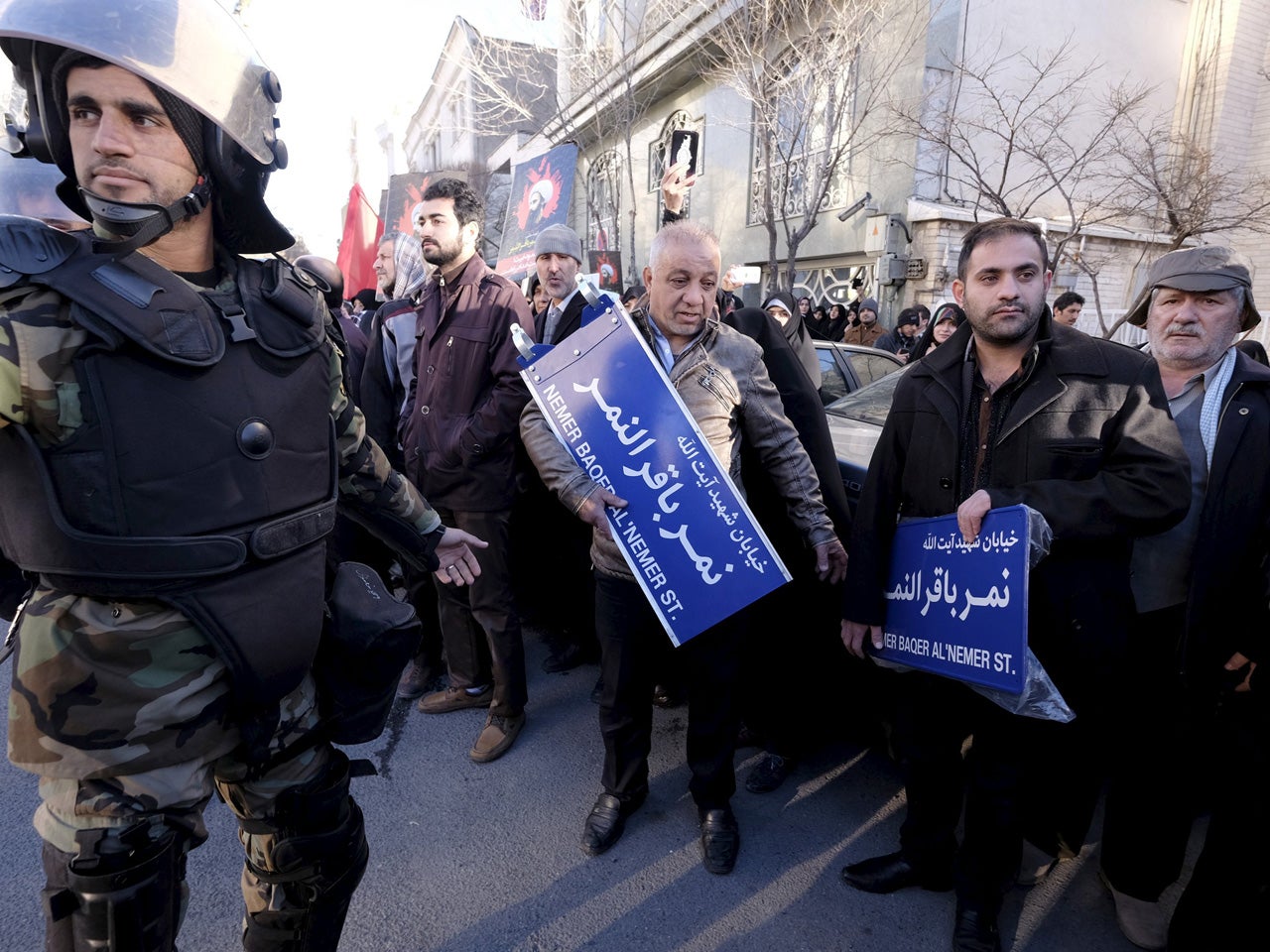 Saudi Arabia cuts ties with Iran
RIYADH - A top Saudi official announced Sunday his country had cut ties with Iran over the torching of its embassy in Tehran by protesters angry at the execution of a prominent Shiite cleric.
At a news conference, Foreign Minister Adel al-Jubeir said Iran's diplomats and all related personnel had been given 48 hours to leave the kingdom, according to Reuters.
Al-Jubeir said his country's official position is that the Iranians are trying to undermine Saudi Arabia's security.
The tensions began in earnest after Saudi Arabia announced the execution of Sheikh Nimr al-Nimr on Saturday along with 46 others, including three other Shiite dissidents and a number of al Qaeda militants. It was largest mass execution carried out by the kingdom in three and a half decades.
Al-Nimr was a central figure in protests by Saudi Arabia's Shiite minority until his arrest in 2012, and his execution was questioned around the world.
Iran's Supreme Leader Ayatollah Ali Khamenei condemned the execution Sunday in a statement on his website, saying the Saudis were inviting "divine revenge" because al-Nimr "neither invited people to take up arms nor hatched covert plots. The only thing he did was public criticism." Iran's powerful Revolutionary Guard said Saudi Arabia's "medieval act of savagery" in executing the cleric would lead to the "downfall" of the country's monarchy.
Sunni Saudi Arabia and Shiite Iran are locked in a bitter rivalry, and support opposite sides in the wars in Syria and Yemen. Iran accuses Saudi Arabia of supporting "terrorism" in part because it backs Syrian rebel groups, while Riyadh points to Iran's support for the Lebanese Hezbollah and other Shiite militant groups in the region.
In Tehran, the crowd gathered outside the Saudi Embassy early Sunday and chanted anti-Saudi slogans. Some protesters threw stones and Molotov cocktails at the embassy, setting off a fire in part of the building, said the country's top police official, Gen. Hossein Sajedinia, according to the semiofficial Tasnim news agency. He later said police had removed the protesters from the building and arrested some of them, adding that the situation had been "defused."
CBS News correspondent Holly Williams reports 42 people were later arrested for the incident, though Iran has now also named the street where the embassy sits in honor of Nimr Al-Nimr.
Hours later, Tehran prosecutor Abbas Jafari Dowlatabadi said investigators were pursuing other suspects in the incident, according to the semi-official ISNA news agency.
Iranian President Hassan Rouhani, while condemning Saudi Arabia's execution of al-Nimr, also branded those who attacked the Saudi Embassy as "extremists."
"It is unjustifiable," he said in a statement.
In Beirut, Hezbollah leader Hassan Nasrallah called al-Nimr "the martyr, the holy warrior," while protests erupted from Turkey to India to Pakistan.
The leader of Lebanese Shiite militant group Hezbollah offered condolences to the family of Nimr al-Nimr.
In a televised speech on Sunday, Hassan Nasrallah described al-Nimr as "the martyr, the holy warrior," and also gave condolences to the people of Saudi Arabia's Shiite eastern regions.
Earlier, protesters gathered in Beirut at the Saudi Embassy and United Nations buildings to denounce the execution carried out by Saudi Arabia.
Hezbollah also issued a statement, with Deputy Secretary General Sheikh Naim Qassem condemning the execution as "a sign of shame and weakness for Saudi Arabia."
He said Saudi Arabia has "arrived at its point of maximum weakness and is digging its own grave. It has taken the path of cowards."
Police in Bahrain have fired birdshot and used water cannons to push back demonstrators protesting Saudi Arabia over its execution of a Shiite cleric.
The protest happened Sunday on Sitra Island, south of Bahrain's capital, Manama. The demonstrators numbered into the hundreds and chanted that Nimr al-Nimr is "our martyr."
Hundreds also marched in al-Daih, west of Manama, chanting slogans against Saudi Arabia's ruling Al Saud family and the Sunni family ruling Bahrain.
The protests followed protests yesterday after Saudi Arabia announced it had executed al-Nimr. Bahrain's Interior Ministry announced Sunday it had arrested "several rioters and vandals ... along with a small number of people who misused social media for illegal purposes" over the protests.
Western powers sought to calm the tensions. In Washington, State Department spokeswoman Elizabeth Trudeau said the U.S. condemned the embassy attack and called on all sides "to avoid any actions that would further heighten tensions in the region." European Union foreign policy chief Federica Mogherini spoke to Iranian Foreign Minister Mohammad Javad Zarif by phone and urged Tehran to "defuse the tensions and protect the Saudi diplomats," according to a statement.
Thanks for reading CBS NEWS.
Create your free account or log in
for more features.