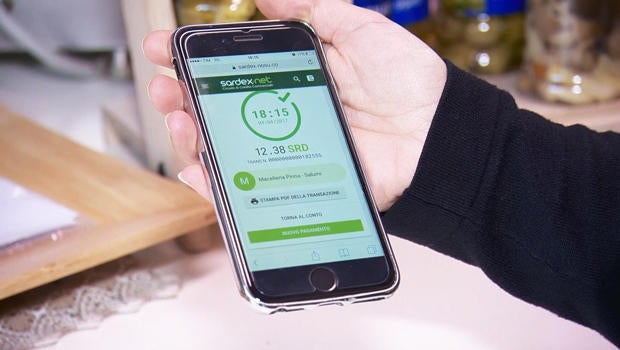 Creating new wealth on Sardinia, without cash
For folks on one sunny island, "Give 'em credit" is more than an expression; it's how they get a lot of day-to-day business done.
Seth Doane traveled to Sardinia to bring us this report:
An artichoke farmer … a cheese maker … a tile manufacturer … a butcher: They're all part of a network of thousands of businesses on the island of Sardinia that are not using traditional money to buy, sell, or pay salaries.
"We realized in 2009 that there were goods available, services available. Resources were there," said Giuseppe Littera. "The only missing thing was money."
Littera is one of the founders of a virtual currency called Sardex. It's a network of companies that exchange goods and services among each other in Sardinia without the need for cash.
This stunning Italian island seems far from Wall Street. But the 2009 financial crisis rocked this picturesque place. Companies couldn't get credit and went out of business. Unemployment hit 18 percent.
Littera and a group of friends hoped they might spur growth here by developing a system that would allow businesses to earn and spend without relying on the euro, or on banks that wouldn't lend.
Sardex gives businesses who want to join a credit line based on the product they have, as well as what they require. "You might have cheese, but you might need uranium. We don't have uranium in Sardinia," Literra said. "Sorry, you cannot join!"
"But if I have cheese and I want fruit?" asked Doane.
"Then there's a match. But it can be more than that. You might have cheese, but you might need a dentist for your daughter, and you don't have the euros to pay for the dentist. But by selling cheese you might get credits and pay the dentist."
Sardex is creating new businesses in Sardinia. Take Mario Mele, who grows a special Sardinian spiny artichoke at the farm Sa Marigosa, and does about 10 percent of his business in Sardex.
"We saw it as a way to get a new slice of the market and new clients," he explained. Crops he might not otherwise sell can now be traded for other goods. He's used Sardex to buy plastic containers and air conditioners.
One Sardex unit is equal to one euro. It's electronic -- there is no hard currency -- and each transaction is taxed like regular money.
The tile company Ceramica Mediterranea was in financial crisis two years ago when Annalisa Aru arrived. She says Sardex was a lifeline.
"Sardex gave gave us the liquidity that we needed when banks didn't help us," she told Doane.
Tomaso Fogu's family business specializes in making Sardinian percorino cheese. He was initially skeptical about Sardex. "Yes, but with time we've seen good results," Fogu explained. "Now a good number of our employees choose to receive part of their pay in Sardex."
Doane joined two of those employees, the Massini sisters, when they visited the butcher where they used Sardex to buy dinner.
Today there are 3,000 businesses using Sardex, with more than $100 million in transactions annually.
Doane asked Literra, "How can you be certain that if I come to you and say I have 10,000 euros worth of cheese, that I really have that much cheese? There's a liability here?"
"Wherever there is credit, there is trust," he replied.
This Mediterranean island is creating new wealth, not by relying on banks, but by connecting the community and businesses just next door.

For more info:
Thanks for reading CBS NEWS.
Create your free account or log in
for more features.