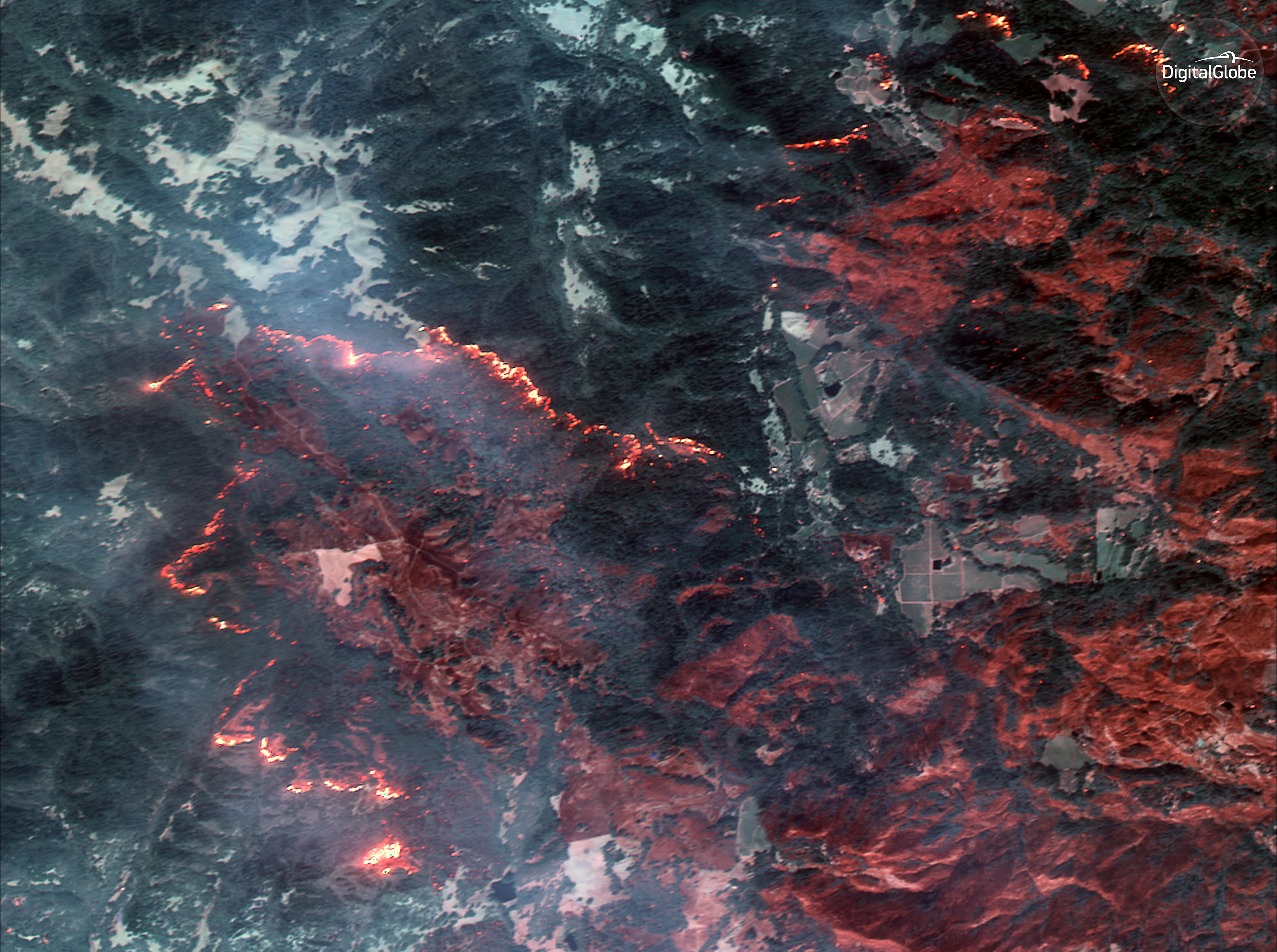 California wildfires: 23 dead, hundreds missing as blaze tears through wine country
SANTA ROSA, Calif. -- Desperate family members and friends pleaded on social media for help finding loved ones missing amid California's wildfires, as the number of people unaccounted for Wednesday was put at 670 in hard-hit Sonoma County alone.
As of Wednesday afternoon, fire officials said the death toll had climbed to 23, with 13 of those deaths in Sonoma County.
How many people overall were missing was unclear, and officials said the lists could include duplicated names and people who are safe but haven't told anyone, whether because of the general confusion or because cell phone service is out across wide areas.
"We get calls and people searching for lost folks and they're not lost, they're just staying with somebody and we don't know where it is," said Napa County Supervisor Brad Wagenknecht.
At least 3,500 homes and businesses were destroyed since the wildfires started Sunday, making them the third-most deadly and destructive blazes in state history.
CBS San Francisco reports the National Weather Service issued a red flag warning for the Bay Area, which will remain in effect until 5 p.m. Thursday. Forecasters say the next chance for showers in northern California will not arrive until Oct. 20 at the earliest.
"The red flags could push this fire in other directions," battalion chief Jonathan Cox told CBS News correspondent Carter Evans. "So, these firefighters are literally the line between the front of this fire and thousands of homes that are being impacted right now."
Nearly three days after the flames ignited in Northern California, firefighters were still unable to gain control the blazes, which were growing in number. California Department of Forestry and Fire Protection spokesman Daniel Berlant said 22 wildfires were burning, up from 17 on Tuesday.
Flames have raced across the wine-growing region and the coastal beauty of Mendocino further north, leaving little more than smoldering ashes and eye-stinging smoke in their wake. Whole neighborhoods are gone, with only brick chimneys and charred laundry machines to mark sites that were once family homes.
Authorities ordered more evacuations for parts of Sonoma Valley after a blaze grew to 44 square miles. Officials also cautioned that after a day of cooler weather and calmer winds, dangerous gusts will return Wednesday.
Sonoma County Sheriff Robert Giordano said the reports of missing people jumped to over 600, up from about 200 a day earlier. But officials believe many of those people will be found, saying that the chaotic evacuations and poor communications over the past few days made finding friends and family difficult.
Despite that, he expects the death toll will rise.
"The devastation is enormous," he said. "We can't even get into most areas. I would expect the number to go up."
Officials in Napa County say almost half of the population of Calistoga, a town of 5,000 people, were ordered to evacuate before sunrise. Officials went block by block, knocking on doors between 3 and 6 a.m. to warn people to leave, Napa County Supervisor Diane Dillon said.
New evacuation orders were also in place for Green Valley in Solano County.
Napa County Fire Chief Barry Biermann said high winds and low humidity fueled the fires and similar conditions were expected again.
"Yesterday was a very aggressive day for fire behavior with some rapid expansion for fires," he said at a news conference. "We are expecting some extreme fire behavior" on Wednesday.
In Southern California, cooler weather and moist ocean air helped firefighters gain ground against a wildfire that scorched more than a dozen square miles.
CBS Los Angeles reports the fire destroyed 15 homes and damaged 12 other structures. At this time, the blaze remains at 45 percent containment.
Orange County Fire Authority Capt. Steve Concialdi said the blaze was nearly halfway surrounded and full containment was expected by Saturday, but another round of gusty winds and low humidity levels could arrive late Thursday.
Thanks for reading CBS NEWS.
Create your free account or log in
for more features.