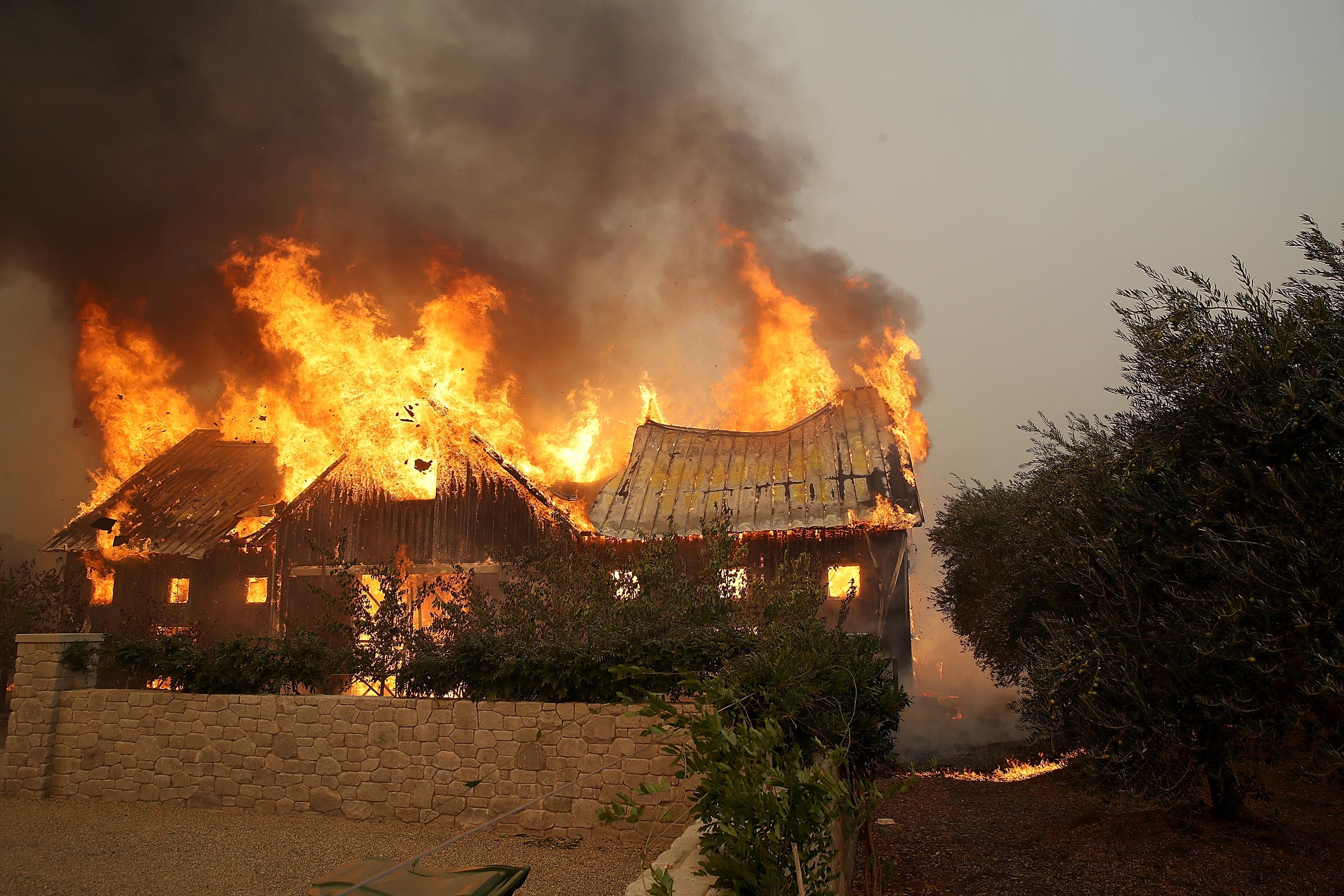 At least 13 dead as wildfires devour wide swaths of Northern California
SANTA ROSA, Calif. -- An onslaught of relentless wildfires across a wide swath of Northern California broke out almost simultaneously and then grew exponentially, swallowing up properties from wineries to trailer parks and tearing through both tiny rural towns and urban subdivisions.
At least 13 people are dead, at least 100 injured and at least 1,500 homes and businesses destroyed, authorities said. All three figures are expected to surge in coming days as more information is reported. Many homes and businesses were evacuated -- some just in the nick of time as flames approached.
Vice President Mike Pence, who is visiting California, announced that President Trump approved a "major disaster declaration" for the state to assist in the response. Pence, who received a briefing on the wildfires, said 17 were burning in Northern California.
"It's heartbreaking to think that many of the fallen represent our most vulnerable, in some cases senior citizens who simply were not able to escape the flames that overcame their homes," Pence said. "They're in our prayers."
Taken as a group, the wildfires are already among the deadliest in California history.
CBS San Francisco reports the fires have consumed nearly 107,000 acres and turned whole neighborhoods into piles of ashes.
Residents who gathered at emergency shelters and grocery stores said they were shocked by the speed and ferocity of the flames. They recalled all the possessions they had left behind.
"All that good stuff, I'm never going to see it again," said Jeff Okrepkie, who fled his neighborhood in Santa Rosa knowing it was probably the last time he would see his home of the past five years standing.
His worst fears were confirmed Monday, when a friend sent him a photo of what was left: a smoldering heap of burnt metal and debris.
Some of the largest of the blazes burning over a 200-mile region were in Napa and Sonoma counties, home to dozens of wineries that attract tourists from around the world. They sent smoke as far south as San Francisco, about 60 miles away.
Sonoma County said it has received more than 100 missing-person reports as family and friends scramble to locate loved ones.
The reports have come via calls to a hotline the county set up for the missing, according to Scott Alonso, communications director for Sonoma County.
It's possible that many or most of the missing are safe but simply can't be reached because of the widespread loss of cell service and other communications.
As of Monday evening, 99,000 Pacific Gas & Electric customers were without power because of the wildfires in Northern California, a majority in Napa and Sonoma counties, PG&E officials told CBS San Francisco.
In addition, PG&E crews had shut off gas service to about 26,000 customers as a precaution because flames can damage a gas pipe or meter, the station said.
Workers in the renowned Northern California wine country picked through charred debris and struggled with what to do after wildfires swept through lush vineyards, destroying at least two wineries and damaging many others.
The wind-driven wildfires came as Napa and Sonoma counties were finishing highly anticipated harvests of wine grapes. Monday normally would have found workers picking and processing the ripe grapes to make chardonnay and other wines.
Instead, melted and blackened wine bottles decorated the ruined Signorello Estate winery in Napa Valley. People at Paradise Ridge Winery in Sonoma County posted photos of debris and haze, saying they were "heartbroken to share the news" that the winery had burned.
Much of the damage in Northern California was in Santa Rosa, a far larger and more developed city than usually finds itself at the mercy of a wildfire. The city is home to 175,000 residents, including both the wine-country wealthy and the working class.
The flames were unforgiving to both groups. Hundreds of homes of all sizes were leveled by flames so hot they melted the glass off cars and turned aluminum wheels into liquid.
Former San Francisco Giants pitcher Noah Lowry, who now runs an outdoor sporting goods store in Santa Rosa, was forced to flee in minutes along with his wife, two daughters and a son just over 2 weeks old.
"I can't shake hearing people scream in terror as the flames barreled down on us," Lowry said.
His family and another evacuating with them tried to take U.S. 101 but found it blocked by flames, and had to take country roads to get to the family friends who took them in.
To the south, in Orange County, more than 5,000 homes were evacuated because of a rapidly spreading brush fire in the Anaheim area. The blaze had grown to nearly 10 square miles and had destroyed dozens of structures.
The blaze has scorched 6,000 acres and destroyed dozens of structures in Orange County.
Plumes of smoke were visible over Disneyland, and officials issued air quality warnings for parts of Los Angeles County.
An Anaheim police spokesman says there's been no containment so far.
Among those fleeing the flames in Northern California were what the San Francisco Chronicle calls "a who's who of athletes -- Olympians, Hall of Famers."
The newspaper says they'd gathered to attend retired football star Ronnie Lott's celebrity fundraiser at Mayacama Golf Club in Santa Rosa.
"Former Giants outfielder Barry Bonds wound up shuttling guests who did not have rides away from Mayacama when the villas at the course were evacuated," the Chronicle reports. "Longtime Kansas City pitcher Bret Saberhagen left his golf clubs in the parking lot in order to fit Olympic speedskater Dan Jansen and his wife into his rental car. And onetime Dodgers closer Eric Gagne raised the alarm at a second hotel to which the celebrities were sent, pounding on doors to make sure occupants were out."
A 90-mile stretch of the highway is framed by the flames and has been a major concern overnight, said Brad Alexander, a spokesman for the California Office of Emergency Services.
Highway 12, which winds through the heart of wine country, was also rendered unusable by the flames.
"Sonoma and Napa counties have been hit very hard," Alexander said.
The ferocity of the flames forced authorities to focus primarily on getting people out safely, even if it meant abandoning structures to the fire.
Firefighters rushed to a state home for the severely disabled when flames reached one side of the center's sprawling campus in the historic Sonoma County town of Glen Ellen.
Crews got the more than 200 people from the threatened buildings, one firefighter said, as flames closed within a few dozen feet.
Fires from ruptured gas lines dotted the smoky landscapes of blackened Santa Rosa hillsides. Fire trucks raced by smoldering roadside landscaping in search of higher priorities.
The flames were fickle in some corners of the city. One hillside home remained unscathed while a dozen surrounding it were destroyed.
Kim Hoe, a 33-year-old tech worker from Penang, Malaysia, was staying at the Hilton Sonoma Wine Country, which was gutted by flames. He said the power went out around 1 a.m., and he and his colleagues started packing up when someone knocked on the door and told them to run.
"We just had to run and run. It was full of smoke. We could barely breathe," Hoe said.
The large majority of the injured were treated for smoke inhalation, according to St. Joseph Health, which operates hospitals in the Santa Rosa area. Two were in critical condition and one was in serious condition. The number of injured is expected to climb as information comes in for all the other areas affected by the firestorm consuming the state.
October has generally been the most destructive time of year for California wildfires. What was unusual Sunday, however, was to have so many fires take off at the same time.
Other than the windy conditions that helped drive them all, there was no known connection between the fires, and no cause has been released for any of them.
But the conditions late Monday and early Tuesday were calmer than they were 24 hours earlier, bringing hopes of progress against the flames.
Gov. Jerry Brown declared a state of emergency for the fire areas, and asked the federal government to do the same. Pence said at an event near Sacramento that the federal government stands with California as it takes on the blazes, but he made no specific promises.
Thanks for reading CBS NEWS.
Create your free account or log in
for more features.