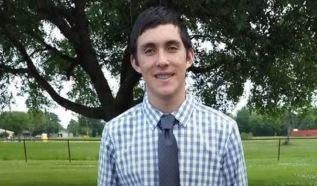 Santa Fe shooting: Student killed while blocking door from gunman hailed as hero
SANTA FE, Texas -- A victim killed in the shooting rampage at a Houston-area high school Friday is being hailed as a hero for trying to protect other students from gunfire, reports CBS affiliate KHOU. Christian "Riley" Garcia, 15, was among the 10 killed when a gunman police identified 17-year-old student Dimitrios Pagourtzis stormed Santa Fe High School during first period art class.
Keenan Smith, Garcia's family pastor at Crosby Church, told the station the teen held a door shut in the art hallway, giving other students time to escape the shooter. Smith said the shooter fired through the door, striking and killing Garcia and several other students. Others were able to escape out a back corridor, Smith said.
Garcia's friend Jai Gillard told The Associated Press on Monday she saw Garcia leaning against the door to prevent the gunman from getting inside. Gillard says she saw Garcia move to help two others get off the floor before she fled.
Garcia, the two he tried to assist and seven others were killed. Eight of the 10 victims killed were students: Kimberly Vaughan, Shana Fisher, Angelique Ramirez, Christian Riley Garcia, Jared Black, Sabika Sheikh, Christopher Jake Stone and Aaron Kyle McLeod. The other two, Glenda Perkins and Cynthia Tisdale, were substitute teachers.
Gillard says the gunman kept shooting despite a fire alarm to alert authorities. She says she still hears the bullets and remembers the "fear on people's faces."
Another student killed, 17-year-old Christopher Stone, is also being hailed for his bravery, his family told CBS News' Mireya Villareal. Stone was also trying to hold a door closed, inside a closet with other students, when he was shot and killed, his sister Angelica Stone said.
Smith told KHOU he baptized Garcia in 2013 and watched him grow up in the church. He said his family gave him permission to speak on their behalf and share photos of him. The family had recently moved from Crosby to Santa Fe because they were building a home in the area, he said.
"Riley loved the outdoors. He was the kind of kid if you were doing something, he would jump in and help you do it," Smith said. "Always very respectful to everybody. Always willing to pitching in and help."
Smith said he wanted to stress that Garcia was a good kid.
"The narrative has been out some about bullying and those types of things," Smith said. "Riley was not a bully. He was a good kid, he was compassionate, he was loving, caring and caring for other people, to the point that he desired to serve in the military when he was of age."
The mother of 16-year-old Shana Fisher believes that her daughter was intentionally targeted by Pagourtzis.
Sadie Rodriguez said Pagourtzis repeatedly made advances toward Fisher in the four months leading up to the shooting. Pagourtzis was an ex-boyfriend of Fisher's best friend, she said.
"He kept making advances on her and she repeatedly told him 'no,'" said Rodriguez over Facebook Messenger. "He continued to get more aggressive."
Pagourtzis is being held on capital murder charges.
On Monday, students placed photos and flowers at the crosses erected outside the school for each person who died in the attack. More than a dozen other people were injured.
Earlier Monday, the students joined dozens of other people who gathered at the school for a moment of silence to honor the victims of the attack.
Thanks for reading CBS NEWS.
Create your free account or log in
for more features.