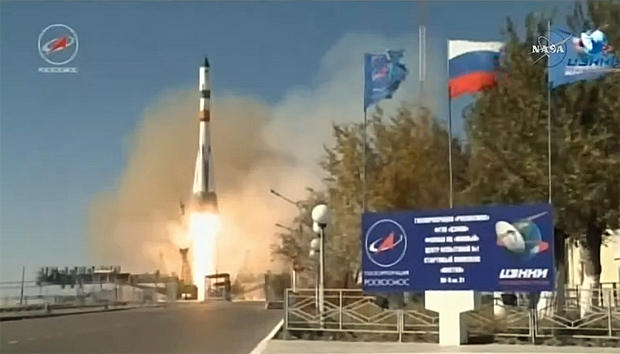 Russian cargo ship blasts off, heads for space station
A Russian Progress cargo ship blasted off from Kazakhstan Saturday and set off after the International Space Station (ISS) to deliver 2.9 tons of propellant, water and crew supplies.
The launch was originally planned for Thursday, but a last-second glitch prevented main engine ignition and the flight was aborted pending a review. The problem was quickly corrected and the booster was cleared for a second try Saturday.
This time around it was clear sailing, and the Progress took off from the Baikonur Cosmodrome at 4:46:53 a.m. EDT (GMT-4; 2:46 p.m. local time), climbing away to the northeast as Earth's rotation carried the pad into the plane of the space station's orbit.
The cargo craft, loaded with 1,940 pounds of propellant, 296 pounds of water, 2,976 pounds of crew supplies, spare parts and other gear, came through its launching in good shape and was released to fly on its own eight minutes and 46 seconds after liftoff.
If all goes well, the Progress will fly a two-day 34-orbit rendezvous, catching up with the space station early Monday. Docking at the Russian Pirs module is expected around 7:10 a.m.
Because of the launch delay, plans to test an accelerated two-orbit rendezvous were put on hold, ruled out for Saturday's flight due to the changing position of the station in its orbit.
The two-day rendezvous procedure used to be routine for both unpiloted Progress and Soyuz crew ships. But over the past several years, the Russians implemented a four-orbit six-hour rendezvous, reducing the time crews spent cooped up in the cramped ferry craft.
Now, Russian flight planners hope to implement an even faster, two-orbit rendezvous when orbital mechanics permits, testing it with an unpiloted Progress flight before clearing a Soyuz crew for the same procedure. But Saturday's launch marked the last Progress flight of the year, so the test now will be pushed into 2018.
Anton Shkaplerov, a veteran cosmonaut who will command a December flight to the station, said in an interview Wednesday that "the faster you fly to the ISS the better."
"My first flight to the ISS took two days and the second flight to the ISS took six hours," he said, speaking through a translator. "The Soyuz and subsequent vehicles are rather small, they have confined space, there is no hot food, you have no separate crew quarters and other conveniences you can find on the ISS.
"So it's much better to arrive on board the ISS faster, go to your crew quarters, change your clothes, take off your spacesuit."
Shkaplerov and his two crewmates -- NASA astronaut Scott Tingle and Japanese flier Norishige Kanai -- will fly a 34-orbit rendezvous.
"Our original launch date was Dec. 27 and we were expected to follow the short (4-orbit) rendezvous profile," he said. "Since Dec. 25 is a big holiday -- it's Christmas in the U.S. and pretty much all of Europe -- people want to spend time with their families, recently they moved our launch date to the left by 10 days.
"For that launch date, the ballistic numbers do not align for us to have a short rendezvous profile so we'll spend two days flying to the ISS. But we do not mind, because that increases our increment duration by 10 days!"
Thanks for reading CBS NEWS.
Create your free account or log in
for more features.