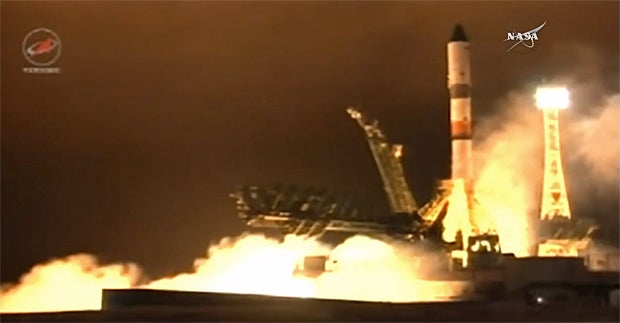 Russian cargo ship blasts off on flight to space station
A Russian Progress supply ship, the second featuring upgraded guidance and communications equipment, vaulted away from the Baikonur Cosmodrome in Kazakhstan Thursday, on course for a docking at the International Space Station on Saturday.
Loaded with more than 3 tons of supplies and equipment, the Progress MS-02/63P spacecraft blasted off at 12:23 p.m. EDT (GMT-4; 10:23 p.m. local time) just as Earth's rotation carried the launch complex into the plane of the space station's orbit.
Eight minutes and 45 seconds later, the booster's upper stage shut down and the Progress was released to fly on its own. A few moments after that, telemetry confirmed the deployment of the spacecraft's solar arrays and antennas.
"All of the navigational antennas and solar arrays have deployed normally," confirmed NASA launch commentator Rob Navias at the Johnson Space Center in Houston. "A flawless ascent for the Progress 63 cargo craft."
If all goes well, the supply ship will glide in for an automated docking at the aft port of the station's Zvezda module around 1:58 p.m. Saturday, bringing 1,940 pounds of propellant for space station orbit adjustments, 110 pounds of oxygen, 920 pounds of water and 3,161 pounds of dry cargo.
The docking will come just one week after arrival of an Orbital ATK Cygnus cargo ship last Saturday and just six days before launch of a SpaceX Dragon cargo ship from Cape Canaveral next Friday. All told, the three supply ships will deliver about 12 tons of equipment and supplies in 15 days.
The Russian MS-series spacecraft feature a variety of improvements, including additional redundancy in its docking mechanism, better shielding against micrometeoroids and space debris, radio gear to relay telemetry to the ground via Russian communications satellites and a new digital radio system.
It also features an improved KURS rendezvous system, using one antenna instead of five.
The MS-series Progress made its first flight last December. With a second successful flight this week, the Russians will press ahead with plans to launch an MS-series Soyuz crew ferry craft in June to carry a Russian cosmonaut, a NASA astronaut and a Japanese flier to the lab complex.
Thanks for reading CBS NEWS.
Create your free account or log in
for more features.