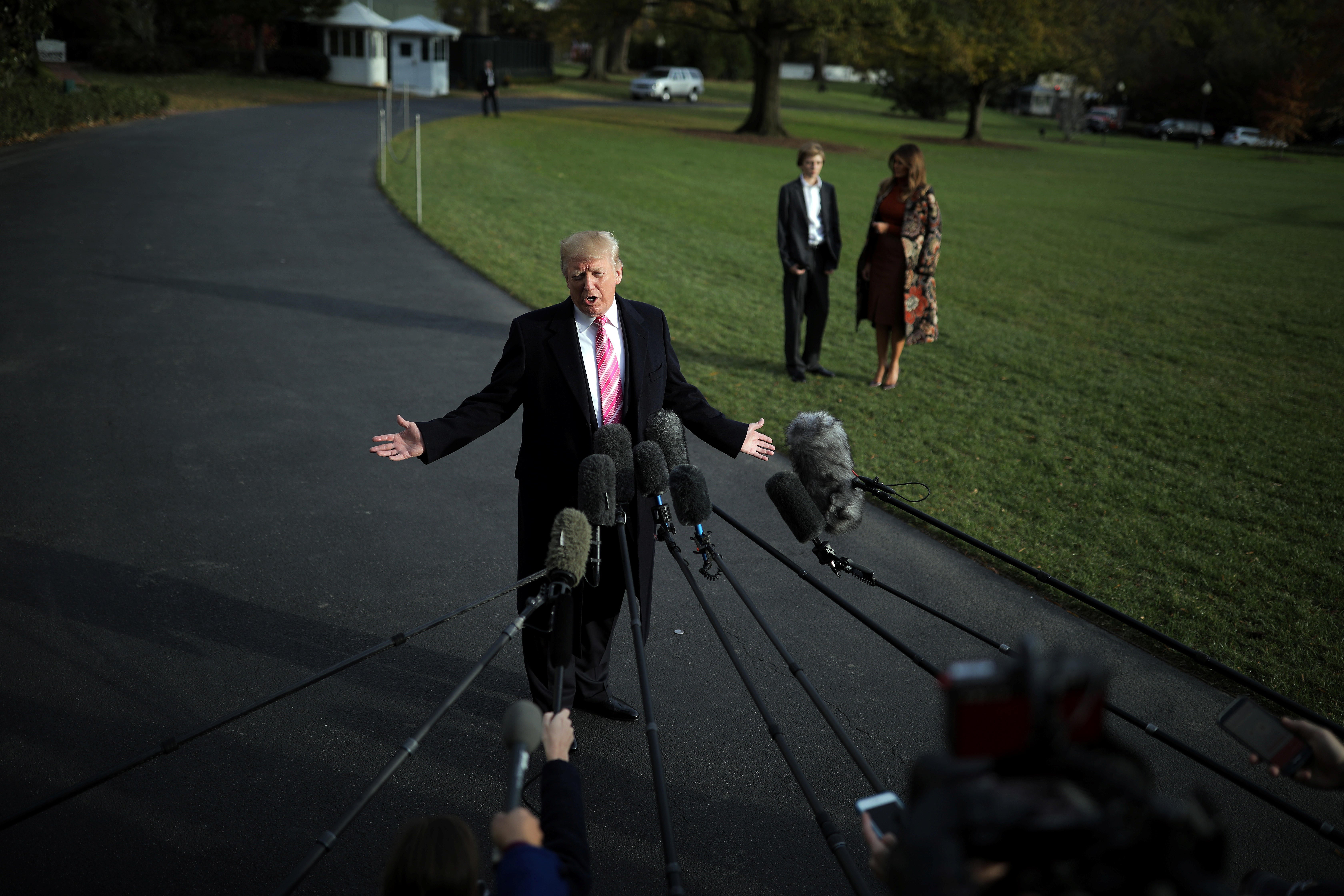 "We don't need a liberal person in there": Trump says of Roy Moore
Speaking to reporters Tuesday afternoon before departing for Mar-a-lago, President Trump said that "we don't need a liberal person in there" regarding the vacant Alabama Senate seat. Roy Moore, the Republican candidate for the position, has multiple accusations of sexual misconduct against him from women who claim Moore approached them as teenage girls.
"I can tell you one thing for sure, we don't need a liberal person in there, a Democrat, Jones," Mr. Trump said. "I've looked at his record— it's terrible on crime. It's terrible at the borders. I can tell you, we do not need somebody that's going to be bad on crime, bad on borders, bad with the military, bad with the Second Amendment."
While Mr. Trump did not say whether he believed Moore's claims of innocence, he asserted that Moore "totally denies" the sexual misconduct of minors allegations.
"He denies it, look he denies it," Mr. Trump said. "If you look at what is really going on, if you look at all the things that have happened over the last 48 hours, he totally denies it. He says it didn't happen. And you know, you have to listen to him also."
Mr. Trump suggested he'll "be letting you know next week" whether he'll campaign for Moore.
"Roy Moore denies it. That's all I can say, he denies it. And by the way, he totally denies it," he said.
The president maintained this stance when asked again whether or not he believes Moore.
"Well he denies, I mean, Roy Moore denies. And by the way he is a totally denial. And I do have to say 40 years is a long time. He's run eight races, and this has never come up. So 40 years is a long time. The women are Trump voters, most of them are Trump voters. And all you can do is, you have to do what you have to do. He totally denies it," he said.
Though he wouldn't say whether he finds Moore's denials convincing, the president also weighed in on the larger cultural moment for women in general, as several of the most powerful men in the U.S. have been forced to account for their shoddy treatment of women.
"Women are very special, I think it's a very special time," he said. "There's a lots of things that are coming out and I think that's good for society. And I think it's very, very good for women," Mr. Trump said. "I'm very happy it's being exposed," he later added.
He also declined to comment on the allegations about either Sen. Al Franken, D-Minnesota, or Rep. John Conyers, D-Michigan.
He also told reporters about his conversation with Russian President Vladimir Putin, which he said lasted almost an hour and a half and was largely about international affairs, in particular, about Syria.
"We're talking very strongly about bringing peace to Syria, we're talking very strongly about North Korea and Ukraine," he said.
On the AT&T and Time Warner merger, Mr. Trump said that while he is "not going to get involved with litigation," he feels that it's a "deal that's not good for the country."
The president has been making a habit of speaking to reporters as he leaves the White House. He has, notes CBS News' Mark Knoller, held seven impromptu press conferences prior to his departures on Air Force One. Mr. Trump will remain at his Florida resort for the Thanksgiving holiday until Sunday.
Thanks for reading CBS NEWS.
Create your free account or log in
for more features.