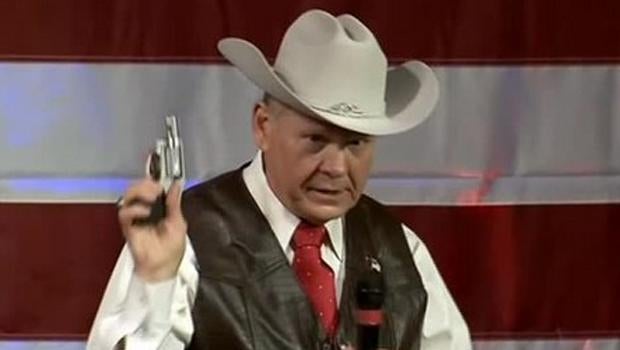 Roy Moore pulls out gun on stage at rally on Alabama election eve
FAIRHOPE, Ala. — Sen. Luther Strange and firebrand jurist Roy Moore face off in Alabama's U.S. Senate runoff Tuesday in a race that will reverberate through the Republican Party and has pitted President Donald Trump against his former strategist, Steve Bannon.
Trailing in the polls, Strange has looked to the White House to help make up ground against Moore, who is best known for defiant stands against gay marriage and for the public display Ten Commandments. Vice President Mike Pence campaigned for Strange in Birmingham, Alabama, while Bannon, speaking at a Moore rally, argued Moore is a better fit for Trump's "populist" movement.
"All of Washington is watching to see what Alabama does," Moore said at a south Alabama rally attended by Bannon, Brexit leader Nigel Farage, and "Duck Dynasty" star Phil Robertson.
Wearing a white cowboy hat and leather vest at a Monday night rally, Moore repeated the conservative Christian themes he has used his entire public career. He also lashed out at attack ads run against him in the race, including one suggesting he was weak on gun rights. "I believe in the Second Amendment," Moore said as he pulled a handgun from his pocket.
A super PAC aligned with Senate Majority Leader Mitch McConnell has pumped millions of dollars into the Alabama race on behalf of Strange. "Mitch McConnell needs to be replaced and your vote tomorrow may determine that," Moore said in a line that garnered some of his loudest applause of the night.
Bannon told the crowd that Alabama can show the world "that this populist, nationalist, conservative movement is on the rise."
Propelled by his support from evangelical voters, Moore led Strange by about 25,000 votes in the crowded August primary and runoff polls have shown him leading, or in a dead heat with, Strange.
Trump on Monday continued his push for Strange. Speaking to several hundred supporters at an airplane hangar in Birmingham, Pence said Strange had been a "real friend" to the Trump administration.
"I'm here tonight to say I stand with Luther. I stand with President Donald Trump — and I will always stand for our national anthem," Pence said in a nod to Trump's criticisms of athletes who kneel in protest during the national anthem.
Trump on Monday morning called into a popular Alabama radio show to urge Republicans to pick Strange.
"Luther Strange is going to be a great senator. He already has, and he has already helped me," Trump said on the "Rick & Bubba" radio show. Trump predicted that Moore, whom he mistakenly called "Ray," would have a "hard time" in the December election against Democrat Doug Jones.
"Tomorrow, there's a lot on the line," Strange said, speaking in front of a large American flag in the rally with Pence. "For the vice president and the president of the United States to come here on my behalf means more than I can possibly say."
In addition to the national backdrop, a number of state factors are at play in the race. Moore's loyal following is able to pack a greater punch in the low-turnout special election. Strange has also been dogged by criticisms for accepting the interim Senate appointment from a scandal-battered governor when Strange's office was in charge of public corruption investigations.
Walking into the humid hangar to hear Pence, 57-year-old Randy Beasley of Springville said he had been undecided in the race but was swayed to vote for Strange because of his backing from the National Rifle Association. Beasley said he also had concerns that the twice-ousted chief justice "might have more of a negative image for the state."
Although Trump has endorsed Strange, many in the crowd at the Moore rally wore Trump T-shirts or "Make America Great Again" hats.
Chu Green, 71, of Mobile said she arrived five hours early to snag a front row spot just feet from the speaker's microphone. She held up a sign reading: "Mr. President and Mr. V.P. I love you but you are wrong! America needs Judge Moore."
"It's how I feel in my heart," Green said. "I think (Trump) knows he made a mistake. He had an obligation to Strange."
Thanks for reading CBS NEWS.
Create your free account or log in
for more features.