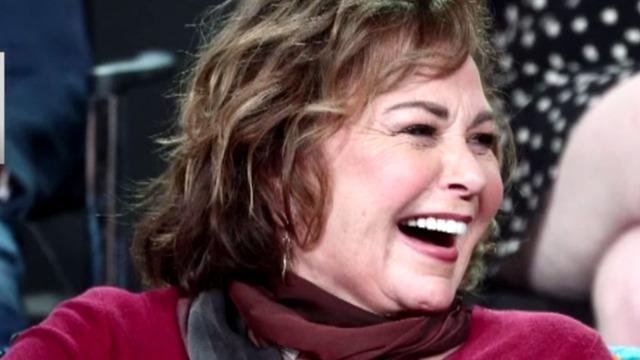 Roseanne says she "feels bad" for President Trump amid Twitter backlash
After a racist tweet left Roseanne Barr without a job, the comedian apologized and told fans not to feel sorry for her or defend her "unforgiveable" comment. But early Wednesday, after a barrage of online criticism, Barr expressed empathy for someone else: President Trump.
She tweeted: "i feel bad for @POTUS-he goes thru this every single day."
Tuesday night, after re-tweeting several bizarre posts from fans who came to her defense, Barr tweeted "I did something unforgiveable so do not defend me. It was 2 in the morning and I was ambien tweeting-it was memorial day too-i went 2 far & do not want it defended-it was egregious Indefensible. I made a mistake I wish I hadn't but...don't defend it please."
In the time it took to compose a 53-character tweet, Barr went from a hero that ABC was banking upon to unemployed.
The network canceled its hit reboot of "Roseanne" Tuesday after Barr's racist tweet that referred to Valerie Jarrett, an adviser to former President Barack Obama, as a cross between the Muslim Brotherhood and the "Planet of the Apes." Her agent dropped her, and other services pulled "Roseanne" reruns.
The swift developments rendered Mr. Trump at least temporarily mum.
Trump, who reveled in the success of "Roseanne" after Barr's character in the show came out as a supporter of his presidency, made no mention of the firing in a campaign-style rally in Tennessee on Tuesday evening.
"We have a lot bigger things going on in the country right now, certainly, that the president is spending his time on," said White House Press Secretary Sarah Huckabee Sanders.
Jarrett, a black woman who said she was "fine" after the slur, urged in an MSNBC special Tuesday about racism that the incident become a teaching moment. She said that Robert Iger, chief executive of ABC parent Walt Disney Co., called to apologize and told her before it became public that the show was being canceled.
Mr. Trump reacted to that news on Twitter.
"Tone does start at the top, and we like to look up to our president and feel as though he reflects the values of our country," Jarrett said. "But I also think that every individual citizen has a responsibility too, and it's up to all of us to push back. Our government is only going to be as good as we make it be."
Thanks for reading CBS NEWS.
Create your free account or log in
for more features.