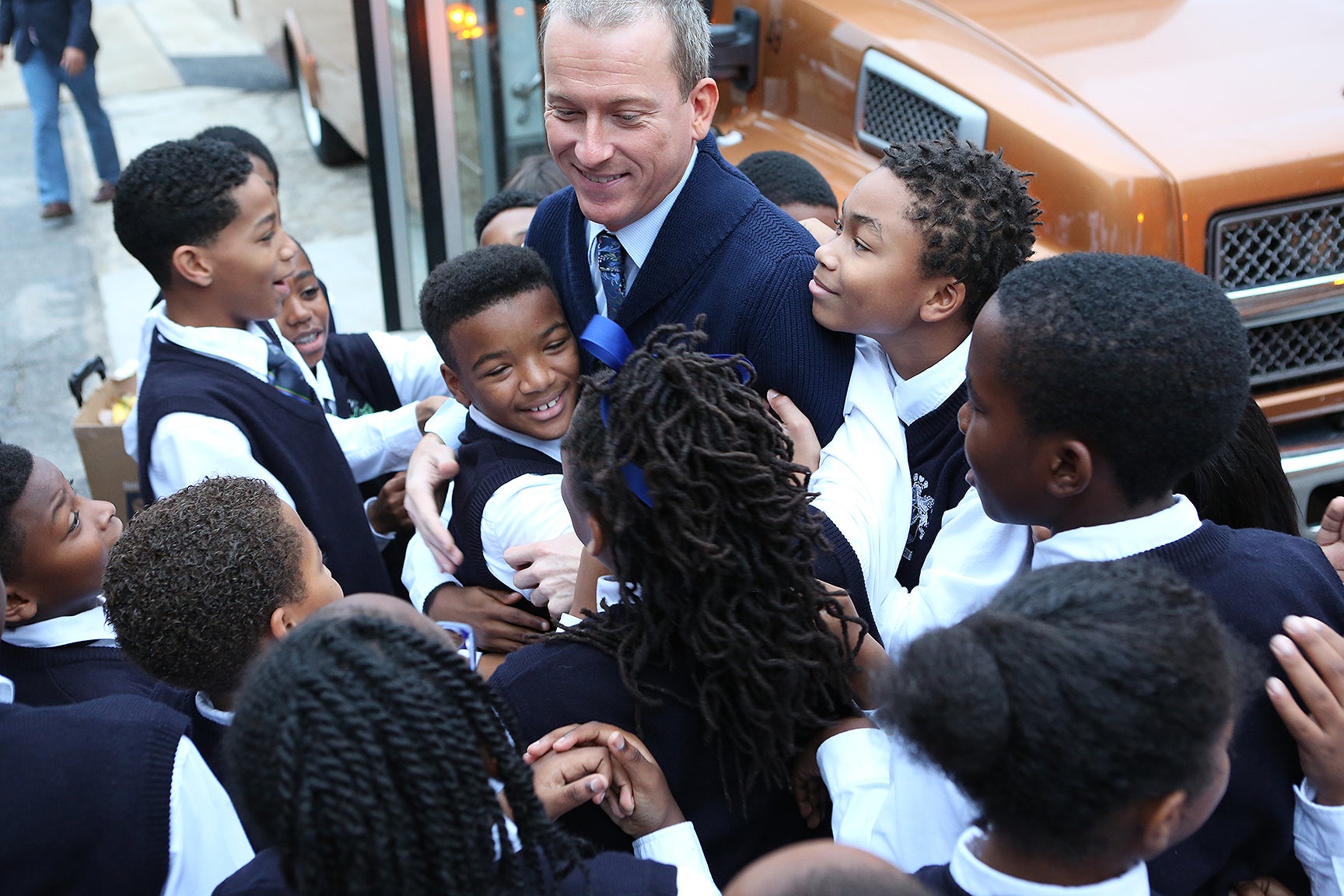 Hogwarts-inspired middle school in the heart of Atlanta
Math and history are just some of the subjects at the Ron Clark Academy. The Atlanta middle school teaches everything from eye contact to the value of friendly competition -- a method that makes kids want to attend class, reports CBS News correspondent Mark Strassmann.
"It's hard to explain the Ron Clark Academy. It is a place that's about passion, energy," co-founder Ron Clark said. "I wanted to create a school where you could feel the spirit, wanted kids to walk into this school and say, 'I love coming here.' If you've got individuals who are passionate about making a difference in the lives of kids, they're going to be successful."
The building is a 50,000 square foot warehouse in South Atlanta, transformed into the sort of place J.K. Rowling dreamed up for "Harry Potter."
Every classroom has an elaborate theme -- there's a dragon and a two-story bungee jump and all 112 kids have to be "slide-certified" -- a symbol they've signed on for something different.
"I love Hogwarts and 'Harry Potter' and the kids do too and so we wanted to bring that book to life and that feeling to life for these kids," Clark said.
He's a former National Teacher of the Year in Harlem who opened the school in 2007. It's private, non-profit and educates students grades five through eight.
Students describe the school as "truly extravagant" "challenging" and "powerful," and they see the biggest difference in themselves.
"I wasn't as shy as some kids are when they first come into the school, but I wasn't even able to physically have a full conversation with someone of your caliber or somebody who was in a higher level position," eighth-grader Zyan Winn said.
But there's a rigor to the magic, a drive to thrive. Clark has 55 rules, a code of conduct that covers shaking hands, maintaining eye contact and answering questions in complete sentences.
"I believe the hardest part is getting used to the 'fuss outs,'" seventh-grader Emmett Eckert said. "You basically get 'fussed out' every day for different things such as not speaking up in class, that's one of the hardest things to get used to."
Clark sets the bar high and holds his kids accountable.
"Why does every kid in America who plays on a little league team have to get a trophy? They all ain't that good," Clark said. "You know who should get the trophy? The MVP. And when your baby says, 'Why didn't I get a trophy?' 'You ain't the MVP."
During one week, students competed to be MVP of the "amazing shake;" five rounds that tested poise under pressure. They were interviewed by lawyers and business executives and grilled about current events in a mock-presidential press conference.
Students were asked about the Islamic State of Iraq and Syria (ISIS) and if they would consider involving American troops in the fight.
"Yes I am, and I am considering putting boots on the ground," one student said.
The five finalists were in for a surprise trip to New York. They visited "CBS This Morning" and O Magazine and had a surprise pep talk on Skype from Oprah Winfrey herself.
"I watch you all the time and you're just a role model for me and my mom. I just love you," student Kaitlin Britton-Wheeler said.
"Oh, Kaitlin, you're going to make me cry," Winfrey said.
Real estate mogul Barbara Corcoran judged the two finalists, seventh-grader Kaitlin and eight-grader Jacobi Copeland. She quizzed them about their lives and dreams.
The winner was Kaitlin.
For Clark, his aim is for his students to walk into the world without any sense of fear.
"I want them to go out into this world and to know, 'I am confident because I have the ability, I can achieve this.' I want kids to leave here and go for it and make an impact," he said.
At the Ron Clark Academy, they go for it every day, like no other school in America.
Thanks for reading CBS NEWS.
Create your free account or log in
for more features.