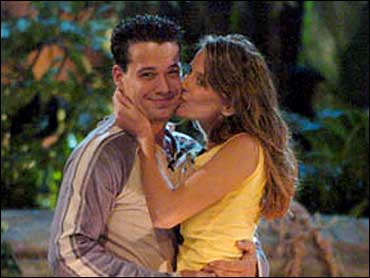 Romantic Finish For 'Survivor'
It was "Survivor" meets "The Bachelor" at Madison Square Garden.
The country's most popular reality game was thrown a curve Sunday night when one of the final two "Survivor: All-Stars" contestants, "Boston Rob" Mariano, pulled out a ring and proposed to the other one, Amber Brkich.
Brkich, who wore a T-shirt proclaiming her love for Mariano, quickly accepted.
Then her night got even better when host Jeff Probst counted the votes from the all-star "Survivor" edition. Brkich, of Beaver, Pa., beat Mariano by a 4-3 margin. She wins $1 million.
But despite some Sunday night fence-mending, Boston Rob failed to lose his swagger. As he appealed to the jury to give him the top prize, it looked as if for a moment he was contrite. He talked about second-guessing his game particularly after Big Tom Buchanan offered his statement.
But on The Early Show Mariano clarifies for the viewers what really was going on in his mind.
He says, "Big Tom's question to me was, 'Why should I give you a million dollars?' And in my heart, what I wanted to say was, 'Because I told you to. And you've done everything I told to you do all game long.' But, I mean, you can't really say that. You know what I mean? You can't stick it to him like that."
Brkich notes, "It would be very different if we could answer those questions now, answer them honestly, what you would really like to say. But you're up there begging for a million dollars."
So is the way Boston Rob played the game an indication on how he will rule his upcoming marriage?
Confident, Brkich answers by saying, "He can tell everybody else what to do, but I tell him what to do."
The proposal was a twist that seemed to take even Probst by surprise.
But it wasn't a surprise for everyone: Mariano says he'd tipped off both his parents, and Brkich's parents, on his plans for the big proposal.
Showing her ring on The Early Show, Brkich tells co-anchor Harry Smith they had talked about marriage but she was surprised when he actually proposed on national TV.
"I had no clue he had enough guts to stand up in front of 30 million people and do that in front of everybody. I give him a lot of credit," she says.
Mariano points out he told executive producer Mark Burnett he was going to propose ten minutes before the show. To Brkich, it all still seems unreal to her.
"I'm trying to soak it all in and actually really believe that this is actually happening," she says. "Even just talking about our experience out there in Pearl Island's I feel like I'm talking about a dream. So it's just all of this is just a huge dream and I'm so glad we have it all on tape so we can remember it."
So the question is, did he marry her for her money?
"I mean, you're talking about a life-long commitment with a most amazing girl," Mariano says. "Either way, I'm a winner."
Some may think the outcome was not fair. Mariano dominated the game in such a way taking all the risks and Brkich rode on his coattails.
But she says, "I definitely did not ride his coattails. I think we were in there together. We made every single decision together. It's just for some reason, Rob has this outgoing, you know, temper a little bit and people tend to blame him a not me. That was exactly what I wanted."
And though he portrayed the bad guy role she says, "I think he's a gentleman."
As for what she will do with the million dollars, Brkich says, "I would love to help some people out if I can, but I'm also going to help myself out."
Who's got the power now?
"I always had it," Brkich says.
Mariano, who made his mark on "Survivor: Marquesas," is a busy guy: a construction foreman and part-time bartender, as well as head coach for Boston University's Inline Hockey.
Brkich is no slouch, either. Since first hitting the limelight in "Survivor: The Australian Outback," Brkich has been making tracks doing commercials and public appearances.
Mariano, known for his swaggering demeanor and Boston Red Sox cap, called most of the shots in the game, which pitted some of the best and most memorable characters from the popular show. "Survivor" has remained a Top Ten show in the Nielsen Media Research ratings all season.
Thanks for reading CBS NEWS.
Create your free account or log in
for more features.