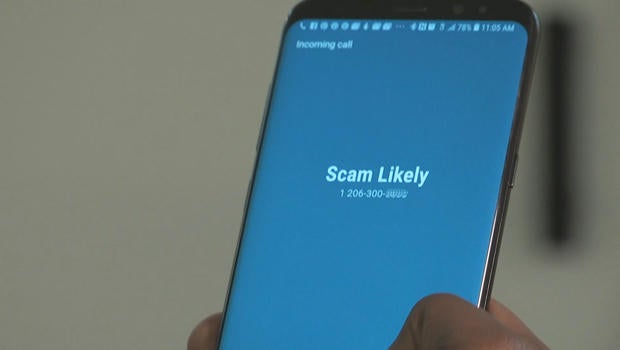 How the fight against robocalls has become an escalating "arms race" against scammers
It is estimated that by early next year, nearly 50 percent of all the calls you get on your cellphone will be robocalls. Last month alone, more than five billion robocalls were made.
Lawmakers last week proposed bipartisan legislation to fine scam robocallers up to $10,000 per call; and the FCC is demanding telecommunications companies lay out their plans to meet new standards, so that scam calls can be identified and stopped.
CBS News asked major companies what they're doing to stop illegal robocallers and one, T-Mobile, offered to show us.
T-Mobile's programs to stop robocalls begin in a lab packed with computer servers. "This is where we test everything that we put into our network," said company vice president Grant Castle.
From that noisy room came T-Mobile's Scam ID program. It alerts customers to problem calls they won't want to pick up.
"Although the caller is going to use a phone number close to mine, I'm still going to know it's a scam," Castle told correspondent Anna Werner. "I knew the phone number, I could see it was a scam, so I can send it away."
Castle believes T-Mobile is ahead of its competitors, and the robocallers. "Every time we make an improvement, the scammers make a change. So, it's an arms race to see who can trick who," he said.
And the arms race is escalating: "The scammers are trying new technologies, new ways to scam people. So, we're upping our technology to keep up with them."
Customers can use the Scam ID feature to screen unfamiliar calls, or block them completely.
And this week, T-Mobile is launching a new app, Name ID, that will allow users to choose the type of call they want to block – everything from nuisance calls, to political or charity calls, even prison calls.
"With this new app, customers have better control over what they would like to see, and what they don't want to see," said Castle.
But the FCC is also pushing companies to meet new standards known by the acronym SHAKEN/STIR. (SHAKEN = Signature-based Handling of Asserted information using toKENs. STIR = Secure Telephone Identity Revisited.) They would allow carriers to verify calls with a digital fingerprint, to show that the person making the call and the person receiving the call are who they say they are, not a scammer trying to "spoof" or imitate a phone number.
Castle said, "The standard is essentially, two operators have certificates or tokens that they exchange with each other in each call, and more or less it just says I am who I am."
T-Mobile says it's ready, and other major carriers say they're working on it. But others apparently are not: in letters the FCC asked them why not, and gave all 14 companies until today to detail their plans to the agency.
As FCC chairman Ajit Pai told "CBS This Morning" in March, "For those things that are within our authority, we're pursuing them very aggressively."
But in order for that plan to work, all carriers have to get on board. And industry expert Aaron Foss said, even if that happens, "scammers are going to go where they can find victims."
Foss founded Nomorobo, a robocall-blocking app for phones. He says those new SHAKEN/STIR standards are good, up to a point.
"But what it doesn't do is, it doesn't say if that call is legal," said Foss. "It doesn't say anything about the content. It just says that that number is allowed to be called. So, it will stop what is called 'neighbor spoofing,' but it's absolutely not going to solve the whole robocall problem."
Which is why Foss says Nomorobo takes an "editorial" approach to robocalls – blocking them entirely.
"A lot of the other competitors are labeling it or saying things like 'spam likely,' 'scam likely,' 'telemarketer.' We know that consumers just don't want the phone to even ring, and that's what we're doing," said Foss.
Nomorobo and T-Mobile's Name ID app both have a small monthly fee.
CBS News reached out to all 14 phone carriers that received a letter from the FCC. The majority responded and said they will tell the FCC today what they are preparing to do to adopt the new call authentication system in 2019.
Whether the carriers will all be able to deploy the system in 2019 remains to be seen.
Thanks for reading CBS NEWS.
Create your free account or log in
for more features.