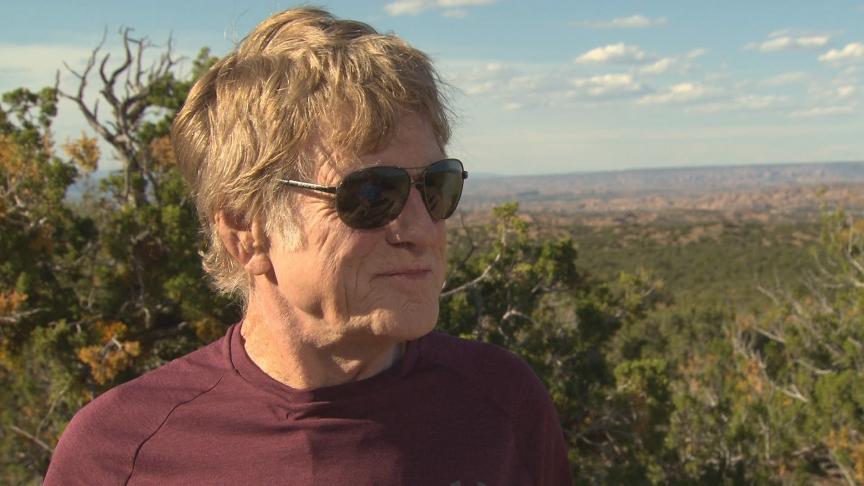 Robert Redford: "There's only the trying"
He's a Hollywood Legend. Those of you who tuned in for our Friday night special, saw some of Lee Cowan's chat with Robert Redford. But we wanted more. Which is why, happily, this morning their conversation continues...
Robert Redford just wouldn't look right in a city. He's spent most of his life in places with more rocks than people, like his 250-acre ranch outside Santa Fe, New Mexico.
"You can see why this had impact on me," he said. "When I saw that and I realized, well, there was a great part of America that used to look that way. But there's less and less of it now. So, why don't I buy some land here where I can preserve at least this view?"
His love of nature is as much his signature as his windswept hair.
But it's perhaps one scene from one of his most famous movies, "Butch Cassidy & the Sundance Kid," that best sums up how Redford has lived his life:
Sundance Kid, gunfighter: "Can I move?
Man: "Move? What the hell ya' mean, move?"
Sundance shoots, hits his target.
"Sundance Kid: "I'm better when I move."
Cowan asked, "Is that true for you in real life?"
"Yeah, I think so. I like movement. I always have."
At 82, he says it's time to move on from acting. "It's hard for me to hear that when you say it might be your last [role]," Cowan said.
"It's hard for me to say it!" Redford replied. "You don't like talking about your end. I mean, who does? I can't do this forever. I've been doing it since I was 21. As you move into your 80s, you say, hey, that's enough, that's enough."
It's not exactly retirement; he'll still direct and produce. But as far as big screen performances, he says, it's time to go.
His last role offers one more chance to show off his charm and wry smile.
In "The Old Man & the Gun," he plays an aging bank robber on the run. The story is based on a real man, Forrest Tucker, who started robbing banks as a teenager in the late 1930s and never stopped.
"This is not only a true story, but I can connect with it very, very easily, because of the whole idea of an outlaw," Redford said. "I think probably I must've been born with an outlaw sensibility, in terms of my nature, yeah. Because from the time I was just a little kid, I was always wanting to go away from the rules. I wanted to – I didn't want to break any, I just didn't want to be held by them. In kindergarten, I ran away three times!"
He was born in Santa Monica, Calif., in the shadow of Hollywood, but had no interest in movies as a career.
"I grew up in kind of a rough neighborhood," he said. "We'd go to matinees, any time there was a love scene on the screen, we'd go, 'Oh boo, you tell 'em lover,' you know, and make fun of the scene. Suddenly, the idea that I would be that guy is just too much for me to take!"
He, of course, came to define what a leading man was – full of character and charisma. The camera loved him.
Cowan said, "I'd read where you said, as the success got bigger and bigger, that you felt a certain danger in the air. What was the danger?"
"Success," said Redford. "I think success is a double-edged sword. You want to shadowbox with it, but you don't want to embrace it or dance too close."
"Obviously, good looks are not something to be shy about, but did you feel that sometimes people were looking at that instead of looking at the work?"
"Yeah. I did. And in the beginning, it was a surprise to me, because I didn't see myself that way."
"You didn't see yourself as good-looking?"
"No, no, no, I didn't."
"Really?"
"So therefore, when it happened, I was kind of taken back. And I thought, well, I guess it could be worse."
Redford starred in hit after hit, but many of those films he's never watched. Cowan asked, "How many have you not seen?"
"I don't know. I haven't ever counted 'em, but a lot. 'Cause I thought if I look at myself too much, I'm gonna be too aware of myself and that means when I go to do something new, I won't be able to do it without being slightly aware of what I'm doing rather than just being free. How about you? How do you feel about it? You must see yourself on these shows as the interviewer."
"You know, I've got to be honest, I don't watch myself, either," Cowan said.
"Then we have that in common. This is really great!"
"You really don't like anything you've done?"
"Not much," Redford said.
"Really?"
"Uh-huh."
"Because?"
"I guess it has a lot to do with, you do something, then move on."
He moved on to directing, where he won an Oscar for "Ordinary People." Its tale of depression wasn't an easy lift, but that's what Redford was looking for – something different.
He produced and acted in "All the President's Men," which was another hard sell. "Watergate: The Movies" was an idea few relished, including the publisher of The Washington Post, Katharine Graham, who begged Redford not to make it. "She said, 'Okay, I can't stop you from making the film, but, please, do not have me in it. You have to honor me that.' So I said, 'Okay, I will.'
"When she saw the film, she said, 'I'm sorry I told you not to have me in the film!'" he laughed.
Cowan asked, "With all the political involvement that you've had over your career, I've never seen you stump for any individual candidate."
"No."
"Why is that?"
"I think I first learned that when I was just starting out. I was an actor who was suddenly being asked to appear with candidates that were political. I thought, 'Wow, that's an honor, somebody wants to have me stand up there with them.' No; they wanted me there to attract a crowd. I realized I was being used. So, okay, no more of this."
"Did you ever think of running for anything yourself?"
"No. That would be a disaster!"
He's had great success as a protector of independent film. His Sundance Institute, in Utah, and later the Sundance Film festival, became the garden from which many Oscar-winning independent films grew.
Redford says he didn't expect Sundance to grow into what it has become: "I didn't think it would last past two or three years."
It's almost too big now, he confesses, at least for a man as private as Redford. Like most things, he's proud of it, but that's about as far as he'll go.
He's fond of a saying by T.S. Eliot: "'There's only the trying. The rest is not our business.' It's one of my favorite phrases. Because you can't guarantee where the trying is going to get you. So, you can't guarantee the result. The only thing there is in its place is the trying. That's where the action is."
For a man so at home in the mountains, it seems he's enjoyed the climb more than his time at the summit, but easing into retirement, he admits the view from the top wasn't half-bad.
"At a certain point, I was getting so much attention that I began to think, Hey, I guess maybe I am a pretty big deal!" he laughed.

See also:

For more info:

Story produced by Peter Goodman.
Thanks for reading CBS NEWS.
Create your free account or log in
for more features.