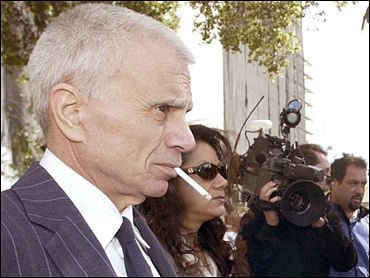 Robert Blake Faces Murder Trial
The judge in Robert Blake's murder case on Friday dismissed the lone conspiracy charge against the actor's handyman Earle Caldwell, saying there was nothing more than speculative evidence against him.
The judge, however, did allow the murder charge to stand against Blake, who was ordered to trial on Feb. 9.
"I cannot find a strong suspicion," Superior Court Judge Darlene Schempp said of the case against Caldwell. "I think the evidence here is so speculative it carries very little weight. I simply don't find there is probable cause."
Outside the Van Nuys courthouse, as the hearing was under way, a person was shot and the courthouse was locked down. The Blake hearing was in session when the shooting occurred on a public walkway.
Los Angeles police spokesman Officer James Chong said an attorney was shot by his client and a male suspect was taken into custody by police immediately after the shooting.
During the Blake hearing, Caldwell smiled as the decision was announced in response to dismissal motions filed by lawyers for him and Blake.
Outside court, Caldwell told reporters, "A great weight has been lifted ... As far as what they wanted me to say, I wasn't going to lie."
He said prosecutors offered no direct effort at plea bargaining.
Caldwell's lawyer, Dana Cole, argued there was nothing suspicious about Caldwell's actions prior to the killing of Bonny Lee Bakley.
Blake, 69, star of the old "Baretta" TV show, is awaiting trial on charges of murdering Bakley, whom he married after tests showed he was the father of her daughter. The judge allowed the murder charge to stand against Blake, who was ordered to trial on Feb. 9.
"It appears there was probable cause to hold defendant Blake to answer," Schempp said.
She rejected an extensive argument by his lawyer, Thomas Mesereau Jr., that there was insufficient evidence to link Blake to the crime and no evidence to support the charge of lying in wait.
The lying in wait plan alleges Blake left Bakley in a secluded area in a car where there was opportunity and time to kill her.
A new prosecutor in the case, Shellie Samuels, argued that Bakley was "a sitting duck."
"The defendant had a very strong motive. He called her the scum of the earth. He despised Bonny Lee Bakley," Samuels said. "His intent was to get the baby and get rid of Bonny."
Bakley was 44 when she was shot and killed outside the Studio City restaurant where she and Blake had dined.
Mesereau argued it was unbelievable that Blake would commit such a crime outside a restaurant where he was well known and in a neighborhood that was only a few blocks from his home.
Mesereau said there was no link between Blake and the murder weapon.
Bakley was killed on May 4, 2001. Blake was charged with murder a year later. Amended charges later alleged that Blake personally used a firearm to kill Bakley.
The key evidence against Caldwell was a written list that included such items as shovels, a sledge, duct tape, lye, pool acid and the notation: "Get blank gun ready." His attorneys had argued those were typical handyman items.
The judge ordered his $1 million bail lifted and returned.

Thanks for reading CBS NEWS.
Create your free account or log in
for more features.