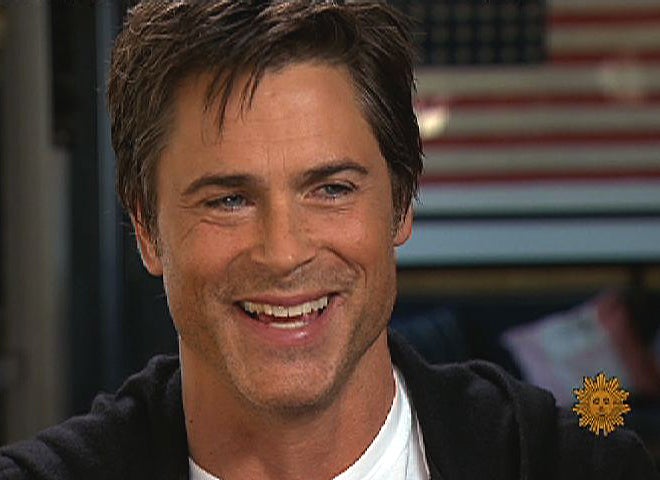 Rob Lowe shares stories he only tells his friends
Rob Lowe is a long way from the teen-focused movies in which he first achieved stardom. These days you can find him reflecting on the ups and downs of a sometimes rocky life and career. Rita Braver now with a Sunday Profile:
It's the kind of nostalgia a lot of us have for our adolescence ... "They're magical years," said Robe Lowe.
But for the actor, memories of life in Malibu center on making home movies with his film-struck friends, even if meant leaping off a roof:
"I jumped off backwards into a bean bag chair, I think it was," he told Braver. "And of course I broke my ankle! But that's when I knew I was a true actor, 'cause I came up in pain and went, 'Did you get the shot?' And they said yes, and I was happy!"
In fact, 47-year-old Rob Lowe was so young when he became an actor - and we've become so used to seeing him in the movies and on TV - that a lot of us don't realize the sheer force of will it took for him to become a star, starting when he was 8 and still living in Dayton, Ohio.
"My mother took me to a local production of 'Oliver,'" he recalled. "And it was like a cliched moment of, like, the light hitting me and I literally saw what I wanted to do with my life."
He got cast so much in Dayton that when his parents divorced, and his mom moved him and his brother Chad to California, Lowe was devastated.
He was also overwhelmed coming from the Midwest to the West Coast. "This is not what I was used to," he said. "I mean just sensorially, culturally."
So Lowe found refuge with that gang of fellow film freaks ... and what a gang it was!
"I'm talking 13-, 14-year-old kids led by Chris Penn, his brother Sean Penn," he said, "And of course Charlie Sheen and Emilio [Estevez]" - referring to the sons of actor Martin Sheen.
"And we would get Martin sometimes, and use him," Lowe said. "It's amazing to me now to think of how gracious he was. He is an amazingly accomplished actor. And he would come and play, you know, 'The Captain' in our little ridiculous 8-millimeter Vietnam movie!"
"How about Charlie Sheen?" Braver asked. "Did you know he was going to be a little wacky when he got older?"
"Well, Charlie, his gift is his irreverence," said Lowe, "and his unique, you know, wild nature. He's always been that way."
Alas, Lowe does not have those old films.
But those neighborhood exploits, and much more, are related in Lowe's new book, "Stories I Only Tell My Friends." Already a bestseller, it goes behind the scenes of films like "The Outsiders."
Directed by Francis Ford Coppola, the film gave Lowe a chance to perform with some of the finest actors of his generation: Matt Dillon, Tom Cruise, Patrick Swayze.
"This was a high octane, Type-A personality group that had the ability to be uber-competitive with each other, and yet so generous and kind and loving and full of friendship," he said.
Today, on a re-edited video release, you can see Lowe's emotional performance. But back in 1983 when the film opened, his key scenes were left on the cutting room floor.
"I was devastated," he said. "I was barely 18 years old. I had literally poured my heart and soul into that part."
But his career was launched! The reception at a recent book signing is but a faint echo of the frenzy he whipped up as a teenager.
Of course, Lowe knew a lot of it had to do with his looks, which bothered him.
"Do you think people underestimated you because of it?" Braver asked.
"I would have underestimated me because of it!" he said. "I mean, look at some of those photos. They're ridiculous. I mean, I make Brooke Shields look like Clint Eastwood!"
Laughing, Braver agrees: "I have to say, you're right."
He kept working, making hit films like "St. Elmo's Fire" and "About Last Night."
But sometimes his personal life became the story. Lowe's drinking and his womanzing, with girlfriends like actresses Melissa Gilbert and Demi Moore, as well as Princess Stephanie of Monaco: "Yeah, that was the definition of immediate fireworks," he said.
But the real fireworks came when a sex tape surfaced of an encounter he had with two girls, one of them underage, at the Democratic National Convention in 1988.
"Were you hurt, angry at yourself for getting in this kind of situation?" Braver asked.
"It was sort of, I think, so overwhelming that I was just trying to put one foot in front of the other and try to live my life," he said. "But you know, again looking back on it, it's sort of hard for me to believe it was as big a deal as it was. And I thank God every day it happened."
"You thank God it happened?"
"Sure," Lowe said. "Because it got me to reexamine my life. I don't know what [else] would've done it. It had to be something pretty big."
"You decided you wanted to get sober?" Braver asked.
"I wanted to get sober for me," Lowe said. "Now, behind that is because I knew that I had somebody in my life that I wanted to make a go of it with, and that's my now-wife Sheryl."
Lowe has been sober 21 years; married to Sheryl Berkoff, a former Hollywood make-up artist, for twenty. They have two teen-aged sons.
"What's been their response to reading these stories about their wild and crazy dad and his wild and crazy past?" Braver asked.
"They're teenage boys, so of course their father bores them," Lowe said. "I bore them."
"They didn't say, 'Dad, you did that?"
"No, I think that they're well versed in Wikipedia."
Lowe's career began a remarkable rebound, with the TV drama "The West Wing," where he played a young White House staffer, serving a president played by his old neighbor, Martin Sheen.
"The subtext of that approval and that love and of that history, I think, was extraordinary," said Lowe.
And it also turns out that Lowe has a knack for comedy, discovered when producer Lorne Michaels had him host "Saturday Night Live," and honed in films like "Wayne's World."
"That was Mike Meyers and Dana Carvey, and Lorne came to me and said, 'We need a movie star for this.' And I said, 'Well, you'd better call somebody else.' But that's how that came to be."
Now, he happily spoofs himself on "Parks and Recreation."
And looking back, even Rob Lowe marvels at the career he's had ...
When asked what he thinks is the secret to his staying power," he responded, "It's what you do when the phone isn't ringing: how do you reinvent yourself? How do you keep yourself fresh and engaged and positive? And that's a little bit of a gift. I'm sort of like the slow-but-steady guy, you know, I'm just always right there."
For more info:
Thanks for reading CBS NEWS.
Create your free account or log in
for more features.