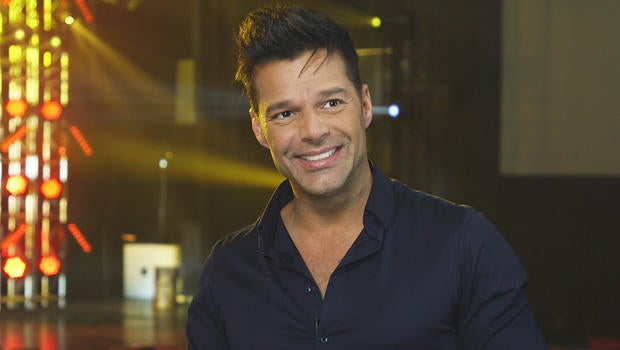 Ricky Martin on performing, coming out, and fatherhood
Hit songs like "La Copa de la Vida" made RICKY MARTIN a superstar. And to hear him tell it, openness about his life has made him a very happy man. With Tracy Smith, we TAKE NOTE:
"She's into new sensation,
New kicks in the candlelight…"
This is what happens when Las Vegas, a place not known for subtlety, meets Ricky Martin.
"The artist just walks on stage ready for fire," Martin said, "Me as an artist, I don't settle for little things."
Martin's joining a rarified club: Stars big enough to have a Las Vegas residency. From now until September, he'll be playing Park Theater at Monte Carlo -- more intimate than a stadium, but still intimidating.
"5,200 seats every night," said Smith. "Does that worry you, filling those seats?"
"Of course," he replied. "I mean, you don't want to sing to an empty house!"
What draws people in, Martin says, is 90 minutes of pure adrenaline. "It's a tough audience," he admitted. "You have these high-rollers. All of a sudden, if they're not having a good time, they go straight to their phone. And I'm like, 'Hey, hey, shh, come here! Come back!'"
Those high-rollers expect a lot of flash, and Martin doesn't want to disappoint. So at a rehearsal a few weeks ago in Los Angeles, director Jamie King went over every detail, down to the last thread.
King's worked with Madonna, Prince and Michael Jackson, and ranks Ricky Martin right up there with them. "When he gets on stage, it's like, you're captivated, you're moved to just watch this man. He's so fantastic!" he said.
After all, Martin's spent most of his life on stage. He was born Enrique Martin IV in San Juan, Puerto Rico on Christmas Eve in 1971. Early on, it was clear Little Ricky loved the spotlight.
It began when he was six years old: "I would grab a wooden spoon and I would perform on the balcony of my grandparents' house. I always needed to perform some way, somehow. I needed it. I needed it. Actually I became an altar boy to be on stage!"
By age 7, the Catholic schoolboy was doing TV commercials. Five years later, he joined the Latin boy band Menudo.
To teenage girls, they were the Beatles. To Martin, they were the Marines. "It was military," he said. "But I would do it all over again. You're here. You're following instructions: So this is what you're gonna sing. This is what you're gonna wear. This is what you're gonna say in interviews. And when you've had it, you leave."
"You had it after about, what?" Smith asked.
"I was in the band for five years, yeah. I needed more."
He acted on Broadway and TV, and set out to find his own musical sound.
Tu y yo! Allez, allez, allez!
Go, go, go! Allez, allez, allez!
Arriba va!
El mundo esta de pie!
Ricky Martin's made 15 albums -- in Spanish and English -- won five Grammy Awards, and captivated audiences all over the world.
Smith asked, "Do you still have that same feeling that you got when you were six years old?"
"I'm addicted, yes. I am. I am hooked on this," he replied. "It forces me to analyze my emotions because that's what the audience wants. The audience wants you to be transparent, to be real, to be honest. And even when I had to hide things about my persona, on stage I wasn't. On stage I was just completely open."
Off-stage, Martin had secrets. But when his twin sons, Matteo and Valentino, were born to a surrogate mother in 2008, he had an epiphany. "If I am not honest with my kids," he said, "what am I teaching them? I'm teaching them to lie."
So after years of denying his sexuality during interviews, Martin posted this message to his fan website in 2010: "I am proud to say that I am a fortunate homosexual man. I am very blessed to be who I am."
"It was: Wow, I struggled so much," Martin said. "It was extremely painful. And when I finally sent that tweet and I shared with the world my sexual orientation, I was like, 'Oh, my God, this is it?' Perfect. Perfection."
"Why do you think you didn't do it sooner?" Smith asked.
"'Cause I was afraid," he replied. "I was, well, I was afraid of rejection, 'cause unfortunately, first of all, for many years everyone, a lot of people told me that my feelings were evil -- 'What you're feeling is not godly.' I'm not a good person. If I'm feeling this, I'm not a good person.
"Not more of that. I'm a good person. And there's absolutely nothing wrong with me. No. No. Enough. Not more of that."
He laughed. "And I've been the happiest man ever since!"
And if there's one thing 45-year-old Ricky Martin sings about, it's living a happy (if sometimes crazy) life.
Smith asked, "Now as a father of two, do you still have la vida loca in some sense?"
"No," he replied. "Definitely the decisions that I make today, even for my career, are based on the well-being of my children."
"How has fatherhood changed you?"
"Everything changes. It's not about you anymore. There's no more sleeping late! And I'm only starting; I want a big family. I like the noise of children running around the house. I want Daddy's little girl now. See what happens!"
"Girl next?"
"I think so, yeah, of course. We have to have a balance in the house!"
"Are you making plans for that?"
"We're making plans," he said. "Now it's we. We are making plans."
"We" is Ricky and his Syrian-born fiancé, artist Jwan Yosef. They met on Instagram. "And we talked for, like, six months about art and about life -- nothing sexy," Martin recalled. "And then I saw him. Love at first sight!"
Was it? "That's it. This is the, it's him."
"And there's a big day coming up, a wedding?
"Well, we don't know the day yet," he laughed. "But yes, I mean, we're engaged, and we're having a really good time. But yeah, maybe this year. I want a big wedding. I want a three-day celebration, at least!"
And will Martin sing at his wedding? "No, I want people singing for me at my wedding!" Martin laughed.
When he considers his life, sometimes he tries to imagine what Ricky Martin the boy would think of Ricky Martin the man. Does he think his younger self would be proud of the person he is today?
"Now he is proud," Martin said. "He wasn't that proud a few years ago, you know, maybe ten years ago. But now he'd be very proud. In my family, they call me Kiki. My friends call me Kiki. So he would be saying, 'Well done, older Kiki!'"

For more info:
Thanks for reading CBS NEWS.
Create your free account or log in
for more features.