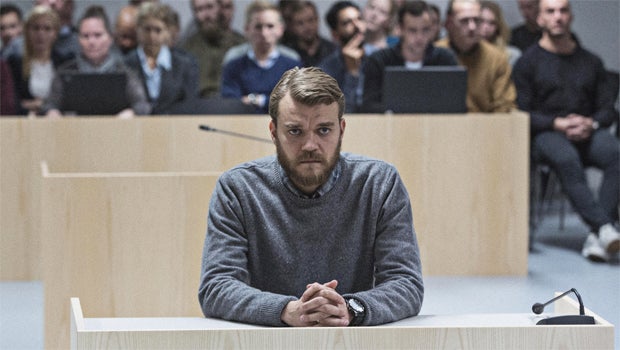 ​Review: An ethical battle in "A War"
By all appearances, the European soldiers patrolling an Afghan province as part of a peacekeeping mission are merely men in uniform, keeping eyes peeled for IEDs, and for insurgents whose uniform is native dress. It's their job, and it's pretty unforgiving. And in any other movie they might be merely expendable characters representing a narrative convention, on one side of a political divide or the other.
But in the new Danish film, "A War" (an Oscar nominee for Best Foreign Language Film), the soldiers are not solely defined by their job, or by a political agenda. As the film unfolds, we realize that the true parameters of their job -- and their duty to themselves and their country -- in fact may be unknowable.
Written and directed by Tobias Lindholm, "A War" expertly navigates the humanity and moral complexities found on two fronts in the War on Terror: Afghanistan, where Claus Pedersen (Pilou Asbæk) commands a Danish contingent of soldiers at a far-flung base; and the home front, where Pedersen's wife, Maria (Tuva Novotny), must serve as a de facto single parent to their three children without her partner and main source of moral support.
The action is split between the two settings -- joined sometimes by pre-scheduled phone calls, but otherwise distressingly of two different universes. Maria deals with school administrators, homework and emergency room visits, as Claus' absence leads one son to act out in school.
Claus, meanwhile, must tend to his men's state of mind, the logistics of fulfilling his mission, and the decisions that must be made when aiding the local population, when any help from the West is countered by retribution from the Taliban. And when, on a mission to assist an Afghan family that has been threatened by insurgents, Pedersen's men come under heavy fire, the commander is forced to make decisions that have awful consequences.
At a recent screening of "A War" in New York City, Lindholm said, "The movies that meant most to me in film school were all the war films coming out of the U.S. in the '70s and early '80s. I knew that I wanted to do a war film, but I wanted to do my version of it."
He described those formative films as stories of dehumanization: "You take a young man, you send him to war and you follow how he falls apart as a human being. And I thought, if we do the opposite, we will humanize these guys, and a way to do that is to make the soldier somebody's father and somebody's husband. Suddenly there's a full person there. It's not just a guy in a uniform, [where] individual expression is lost and you kind of forget that you're looking at a human being; you're just looking at a soldier.
"But to build an emotional relationship with his family made him more real to me. That was basically my aim in writing it. I had to ask myself, when do I feel that he is just a soldier? And if I ever detected that, I needed to put something in there to remind me that he was a human being."
Consequently, the scenes in Afghanistan have a low-key realism uncharacteristic of many war films. Soldiers hang out, work out, play cards, and talk on the phone to loved ones thousands of miles away. And in their interactions with locals, the soldiers exude a constant push-pull between wanting to treat people with dignity, and keeping a suspicious eye for any who might be insurgents. It's a dirty job, but not always easy to wash one's hands of responsibility.
And that is also true back home. After an air strike is ordered on a suspected insurgent stronghold, it is discovered that several civilians, including children, were killed. Pedersen is sent back home, only to face a military tribunal for having broken the rules of engagement. He must then make ethical choices that will affect his family.
Asbæk (who starred in Lindholm's 2012 film, "A Hijacking") leads a fine cast, some of whom are recognizable from the Danish political TV drama "Borgen" (which Lindholm helped write and direct).
The film's direction, along with the camerawork and sound (which eschew bombast and focus on character) make "A War" an engrossing and thought-provoking tale -- part war film, part marital drama, part courtroom drama -- which treats its characters with rare compassion and empathy.
When asked about the response to "A War" in Denmark, Lindholm spoke of having been invited by a far-right party in Parliament to come speak to them, "because they felt that this movie represented their point of view" -- and then having members of a far-left party invite him because they, too, felt the film represented their point of view.
"And I've never been so pleased!" he laughed. "OK, we did good in showing every aspect of this."
"A War," in Danish with English subtitles, is rated R (for war violence and language). 115 mins. Distributed by Magnolia Pictures. Currently playing in select cities; opens wider on Friday, Feb. 26, including in Chicago, Cincinnati, Denver, Portland, San Diego, Seattle and Tucson. (Click here for cities and playdates.)
To watch a trailer for "A War" click on the video player below.
For more info:
Download ballot -- Print out this pdf file for your office pool or Oscar party
Thanks for reading CBS NEWS.
Create your free account or log in
for more features.