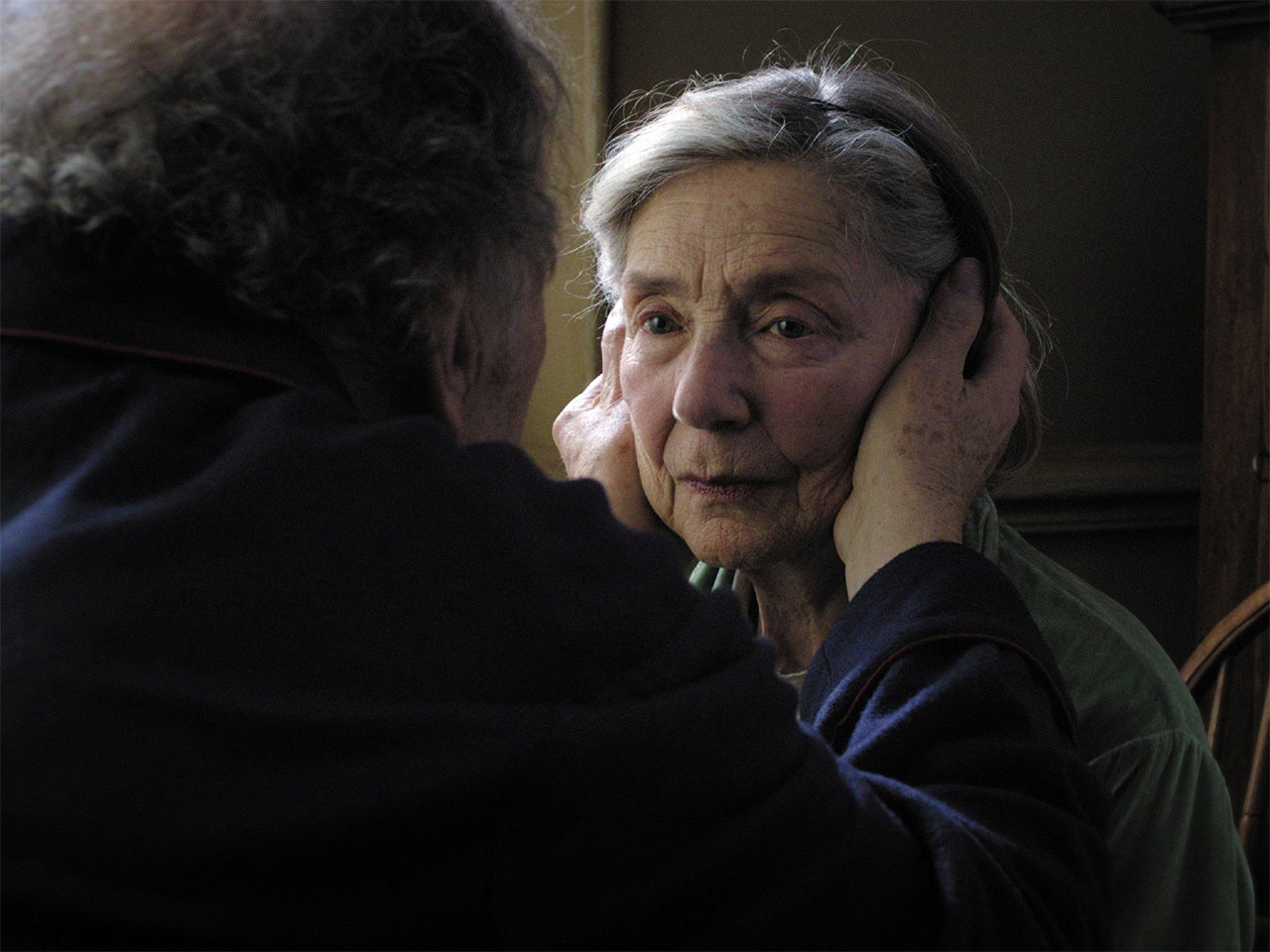 Review: "Amour," a lifetime's love tested
NEW YORK The backstory of Georges and Anne's marriage is unspoken, but palpable in their gestures, their easy intimacy over the most routine domestic tasks. Verbal shorthand is used. The space they share in their large Parisian apartment may seem to some big enough to get lost in, but it's also large enough to contain a shared lifetime of experience.
We learn that the octogenarian husband and wife were music teachers, and music seems a tremendous bond between them; they celebrate the success of former students. But curiously, in Michael Haneke's wrenching drama "Amour," music is barely heard, perhaps because the playing of it can stir up emotions that are too much for them to handle.
The story of "Amour" is about accepting the end of a lifetime's passion, as Anne (Emmanuelle Riva) suffers a debilitating stroke. Through her slow recovery and then decline, her husband Georges (Jean-Louis Trintignant) takes on her care almost single-handedly, eager to protect her from the unfeeling care of an assisted care home or an impersonal hired nurse.
But Georges' attempt to protect his wife is questioned by their daughter, Eva (Isabelle Huppert), who feels shunted aside from the crisis facing her mother.
With the precision that has characterized the work of the Austrian director Haneke (his best-known films being "Cache" and "The White Ribbon"), "Amour" shows the lengths to which Georges goes to care for his wife despite the enormous stress her declining state places on him.
Yet he refuses advice that runs counter to his desire to fulfill Anne's perceived wishes, to honor his decades-long marriage:
EVA: You can't go on like this, Dad.
GEORGES: Can't I? What do you suggest?
EVA: Can't we have a serious talk, you and me?
GEORGES: What do you call "a serious talk"? What do you want to suggest? Do you want to have Mom live with you? Do you want to pack her off to a care home? Do you? What do you want? Go on, talk to me "seriously"!
Trintignant, whose credits include "A Man and a Woman," "Z," "The Conformist," and "Confidentially Yours," has in the past played characters skirting the divide (as director Bernardo Bertolucci once described) between "moving and sinister." His Georges is clearly a man of love and devotion, but also one of impatience, sourness and remorse. He is torn between his desire to preserve what cannot be, and resignation over his ineffectualness against the cruelties of aging.
Emmanuelle Riva, who became an international presence in Alain Resnais' "Hiroshima, Mon Amour" in 1959, and later starred in films by directors Jean-Pierre Melville, Marco Bellocchio and Krzysztof Kieslowski, gives a wrenching performance as a woman first almost bemused and then terrified by her physical deterioration.
Yet "Amour" is not a depressing litany of ill health. It is in fact a celebration of the bond of partners who are facing a fact of life: that life does come to an end, and rarely in a manner under our control.
"Amour," which won the top prize at the Cannes International Film Festival, was named Best Picture of 2012 by the Los Angeles Film Critics Association, and Best Foreign-Language Film by the New York Film Critics Circle.
The film opens Wednesday in New York and Los Angeles, before opening wider across the U.S.
Thanks for reading CBS NEWS.
Create your free account or log in
for more features.