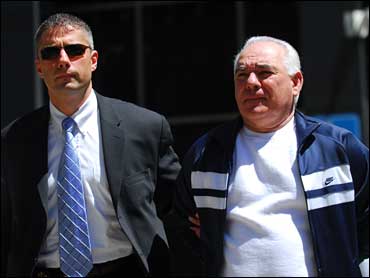 Reputed Mob Boss Arrested In New York
On the run for nearly four months, a reputed Mafia captain strolled up to the FBI's New York City office on Thursday and surrendered on charges he ordered a decades-old gangland hit that took an innocent bystander's life.
Nicholas "Little Nick" Corozzo, who authorities say was a one-time crony of notorious mob boss John Gotti, was ordered held without bail after pleading not guilty to racketeering, extortion and murder charges.
The charges were part of a sprawling federal case against the once-mighty Gambino organized crime family.
So where had the balding, 68-year-old fugitive been?
"I really don't know," defense attorney Diarmuid White told reporters outside court.
Prosecutors claimed they didn't know either.
White said Corozzo contacted him two weeks ago about arranging a surrender — around the time his case was featured on the popular television show "America's Most Wanted."
On Thursday morning, Corozzo donned a blue sweat suit-white sneaker ensemble, met the lawyer on a street corner in lower Manhattan and walked two blocks to the FBI office, where they were greeted outside by four agents.
"He knew what he was doing," White said.
Corozzo had fled his suburban Long Island home in early February amid a massive pre-dawn roundup of 62 reputed mobsters named in an indictment unsealed in Brooklyn.
Authorities say he was a soldier in the Gambino family from the mid-1970s until 1992 when he was promoted to capo, or captain.
They say he was part of a three-man committee of capos formed in 1994 to help John "Junior" Gotti run New York's Gambino family while his father was in prison, serving a life sentence for murder and racketeering; the elder Gotti died behind bars in 2002.
Corozzo, also known as "the Little Guy," was considered a candidate to take over the crime family, but racketeering convictions in the late 1990s in Florida and New York took him out of the running, prosecutors say.
The Gambinos have been crippled by a steady stream of government indictments and prosecutions since the 1990s.
Authorities brought the new charges against Corozzo as part of a case aimed at delivering a knock-out blow, with charges accusing reputed mobsters with offenses stretching back three decades.
The indictment alleges Corozzo ordered the Jan. 26, 1996, the murder of a rival mobster, resulting in the death of the intended target and the bystander. So far, about 30 of his co-defendants have pleaded guilty.
Corozzo is part of a case accusing reputed mobsters with offenses stretching back three decades.
He is charged with extorting construction companies, running a major illegal gambling operation and ordering a gangland hit that also took a bystander's life in 1996.
The case brought in February marks one of the largest Mafia takedowns in recent memory. Besides the federal indictment naming 62 defendants, authorities said a separate state investigation resulted in charges against 26 others.
In Februrary, federal prosecutors said offers would be extended to all but two defendants - reputed Gambino soldier Charles Carneglia and Corozzo, who was considered a fugitive at the time.
Carneglia is accused of involvement in five killings over three decades, including that of a state court officer gunned down in 1976. He has pleaded not guilty.
Thanks for reading CBS NEWS.
Create your free account or log in
for more features.