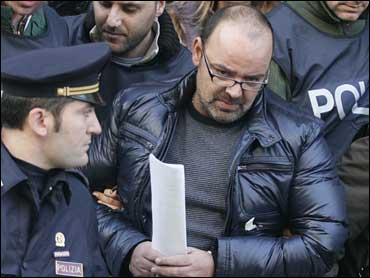 Plea Offers Made To Most In Mafia Case
Prosecutors have offered plea deals to nearly all the 62 people indicted in a sprawling federal mob case charging reputed members of the Gambino crime family with offenses stretching back three decades.
Letters containing the offers were distributed at a crowded hearing Wednesday in a federal court in Brooklyn. Jailed defendants jammed the jury box, those out on bail crammed rows of seats in the courtroom gallery, and, together, they represented only some of the defendants. The rest were scheduled to appear another day.
"As a practical matter, it is highly unlikely that all 62 defendants will proceed to trial," Assistant U.S. attorney Joey Lipton wrote in court papers. "Plea agreements will likely reduce the numbers."
Federal prosecutors said offers would be extended to all but two defendants - reputed Gambino soldier Charles Carneglia and Nicholas Corozzo, who is considered a fugitive.
Corozzo is charged with extorting construction companies, running a major illegal gambling operation and ordering a gangland hit that also took a bystander's life in 1996.
Carneglia is accused of involvement in five killings over three decades, including that of a state court officer gunned down in 1976. He has pleaded not guilty.
Calling Carneglia "the main sensation," his lawyer, Curtis Farber, said he wasn't surprised prosecutors were "not giving that case away."
The case, unveiled Feb. 7, marks one of the largest Mafia takedowns in recent memory. Besides the federal indictment naming 62 defendants, authorities said a separate state investigation resulted in charges against 26 others.
Thanks for reading CBS NEWS.
Create your free account or log in
for more features.