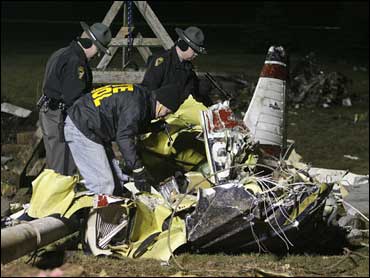 Republican IT Guru Dies In Plane Crash
Federal investigators are looking into a small plane crash in Ohio which claimed the life of its pilot, a Republican media consultant who was instrumental in the presidential and gubernatorial campaigns of three members of the Bush Family.
Michael Connell,45, of Akron died Friday when his plane crashed near a vacant house in Uniontown while attempting to land at nearby Akron-Canton Airport.
But the fatal accident is also raising questions about Connell and his work for key political figures and lobbyists, which has targeted him in investigations over missing White House e-mails and a lawsuit alleging electronic voting fraud.
Following Last Friday's fatal accident, CBS Affiliate WOIO reported that Connell, who had recently been subpoenaed to testify in relation to a lawsuit alleging vote rigging in the 2004 Ohio election, was warned at least twice about flying his plane because his plane might be sabotaged.
Quoting an anonymous close friend of Connell's, WOIO correspondent Blake Chenault also reported that twice in the past two months Connell, who was an experienced pilot, canceled flights because of suspicious problems with his plane.
The National Transportation Safety Board and the FAA are investigating the crash.
Ohio State Highway Patrol spokesman Lt. Tony Bradshaw said that Connell's plane hit a flagpole two miles from the runway and crashed on the front lawn of a vacant Ohio house. The crash sparked a fire that damaged the house's garage, but no one was inside the Uniontown home.
There were no passengers on the plane, and no one on the ground was injured.
Neighbors told The Canton Repository that they heard what sounded like an engine sputtering before the crash and that the noise sounded like it was coming from a plane.
A Republican Loyalist
(New Media)

Beginning as a political campaign worker and congressional staffer, Connell became a key Republican media consultant who developed Internet strategies for the 2000 and 2004 Bush-Cheney campaigns. He was founder and CEO of Cleveland-based New Media Communications, which built Web sites for President Bush and former presidential nominee John McCain, according to the company's Web site. He was also chief IT consultant for Karl Rove.

Connell's ties to the Bush family extend back to working on campaigns for George H.W. Bush and former Fla. Governor Jeb Bush, for whom he built the campaign site jeb.org. In 1999 he told the Cleveland magazine Inside Business, "I'm loyal to my network, I'm loyal to my friends, and I'm loyal to the Bush family."

He was also quoted as saying, when asked to predict the Internet's role in the upcoming presidential race, "There are things we will be doing on Election Day that haven't even been dreamt of yet."

The rise of the Republican Party in Washington in the '90s, and especially after the 2000 election, meant that Connell's network of connections was expanding as well. Having worked with Ohio Congressman Bob Ney and Governor Bob Taft, Connell's IT skills were sought after for the campaigns and Congressional sites for dozens of GOP candidates and officeholders. The New Media Communications Web site (now turned off, with a memorial to Connell in its place) boasted, "New Media's client list reads like a 'Who's Who' of Republican politics."

In 2000, Connell cofounded with his wife Heather GovTech Solutions to pursue government contracts.

GovTech's clients for databases, content management systems and other services included the White House, the Energy Department, several Republican-led Congressional committees and a few dozen congressional members' Web sites.

The Center for Public Integrity reported that in 2002 and 2004, the General Services Administration allowed federal agencies to purchase services directly from GovTech without a full bidding process.

In 2004 Connell helped form an online advertising firm called Connell Donatelli, which administered the Web site for Swift Boat Veterans for Truth, a 527 developed to attack Democratic presidential nominee John Kerry.

Connell's central role in building the IT infrastructure of the White House and his association with Karl Rove has brought him into the controversy surrounding missing White House e-mails relating to the firing of U.S. Attorneys and other topics, and the fate of e-mail communications sent by Rove and other administration staffers which were sent via a Republican Party Web site, gwb43.com, rather than through a whitehouse.gov address.

Connell built the gwb43.com site, which shares mail servers with GovTech.

Connell's Internet expertise also led him to be subpoenaed earlier this year to testify in an Ohio federal court regarding alleged voter fraud in the 2004 election. Despite exit polls showing a lead by Democratic nominee John Kerry of more than 4 percent, Mr. Bush won the state's vote by 2.5 percent, along with its crucial electoral votes.

Much has been written about problems at the polls in Ohio that year, where voters in many (predominantly Democratic) precincts were forced to wait hours because of a shortage of working voting machines. A lawsuit being pursued by attorney Clifford Arneback seeks to answer questions about this and other ballot problems. [For example, in Franklin County Mr. Bush received 4,258 votes in a precinct where only 638 voters cast ballots.]

Questions have also been raised about how votes from Ohio counties were tabulated. Computer expert Stephen Spoonamore, a Republican who works in detecting fraud in network architecture and protecting computer infrastructures, has testified that the Ohio election returns he saw were indicative of a "KingPin Attack," in which a computer is inserted into the communications flow of an IT system, with the intent to change data as it passes to its destination.

It was later learned that Ohio Secretary of State Kenneth Blackwell's office had routed Internet traffic from county election offices through out-of-state servers based at SMARTech in Chattanooga, Tenn. SMARTech hosts dozens of GOP Web domains.

Last month, U.S. Judge Soloman Oliver refused Connell's request to quash a subpoena connected to the lawsuit, King Lincoln Bronzeville Neighborhood Association v. Blackwell, and demanded his testimony relating to his IT work.

In his deposition given in November, Connell denied any knowledge of vote rigging.

Since his death Friday, the Internet has buzzed with news about an IT entrepreneur, until now in the background of Republican politics, whose sudden death has sparked conspiracy theories and thrust him into the center of continuing controversies involving White House communications and electronic voting.

Meanwhile, a man the Akron Beacon-Journal recounts as a devout Catholic who organized annual missions to aid communities in El Salvador with as much passion as he devoted to the businesses he built, leaves behind his wife of 18 years and four children.

Thanks for reading CBS NEWS.
Create your free account or log in
for more features.