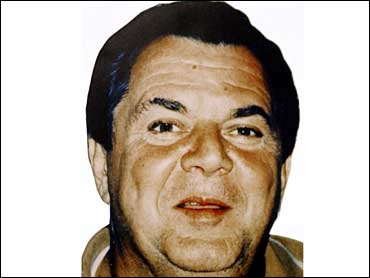 Jailed Mafia boss Joseph Massino secretly recorded his successor plotting the assassination of a federal prosecutor, becoming the first head of a New York Mafia family known to have turned government informant, sources familiar with the case said.
A federal indictment unsealed Thursday, which charges acting Bonanno family head Vincent "Vinny Gorgeous" Basciano with murder in another case, also contends he planned the killing of a top mob prosecutor in meetings with someone described as a "high-ranking member" of his crime family.
The FBI recorded the conversations with the help of the high-ranking member, the indictment says.
Several sources familiar with the investigation identified Massino as the turncoat Mafioso. The sources spoke on condition of anonymity because Massino had not been publicly identified as the informant.
Lawyers for Massino and Basciano declined to comment.
The alleged betrayal would rank as one of the most stunning violations of the Mafia code of silence in the history of American organized crime. It also would signal just how deeply the FBI has penetrated a crime family that nearly collapsed in the 1980s after undercover agent Joseph Pistone won its confidences posing as mobster Donnie Brasco.
Thursday's indictment charges Basciano — a beauty salon owner already jailed on murder, arson and other charges — in the slaying of mob associate Randolph "Randy" Pizzolo, who was found lying face down with four bullet wounds last year in an industrial section of Brooklyn.
"I thought this kid would have been a good wake-up call for everybody," Basciano was recorded saying, according to the indictment.
The indictment does not charge Basciano with the plot to slay the unidentified prosecutor, although it describes in detail how the two mobsters discussed it during a meeting last year in Brooklyn federal court and in two recorded conversations this month in a Brooklyn detention center.
The lead prosecutor in the Massino and Basciano cases, Greg Andres, was placed under armed guard earlier this month because of a threat that was not disclosed at the time.
A spokesman for the U.S. attorney's office in Brooklyn, Robert Nardoza, declined to comment Thursday. An FBI spokesman also declined to comment.
The indictment also charges alleged Bonanno captain Dominick Cicale with participating in the Pizzolo murder. Cicale was ordered held without bail after pleading not guilty Thursday.
Massino was convicted of murder, racketeering and other crimes last summer based on the testimony of his brother-in-law, Bonanno underboss Salvatore "Good Lookin' Sal" Vitale, and a parade of lower-ranking turncoat mobsters.
Massino had been dubbed "The Last Don" for his ability to rebuild the family and avoid prison while the heads of New York's four other Mafia families were behind bars.
By Michael Weissenstein
Thanks for reading CBS NEWS.
Create your free account or log in
for more features.