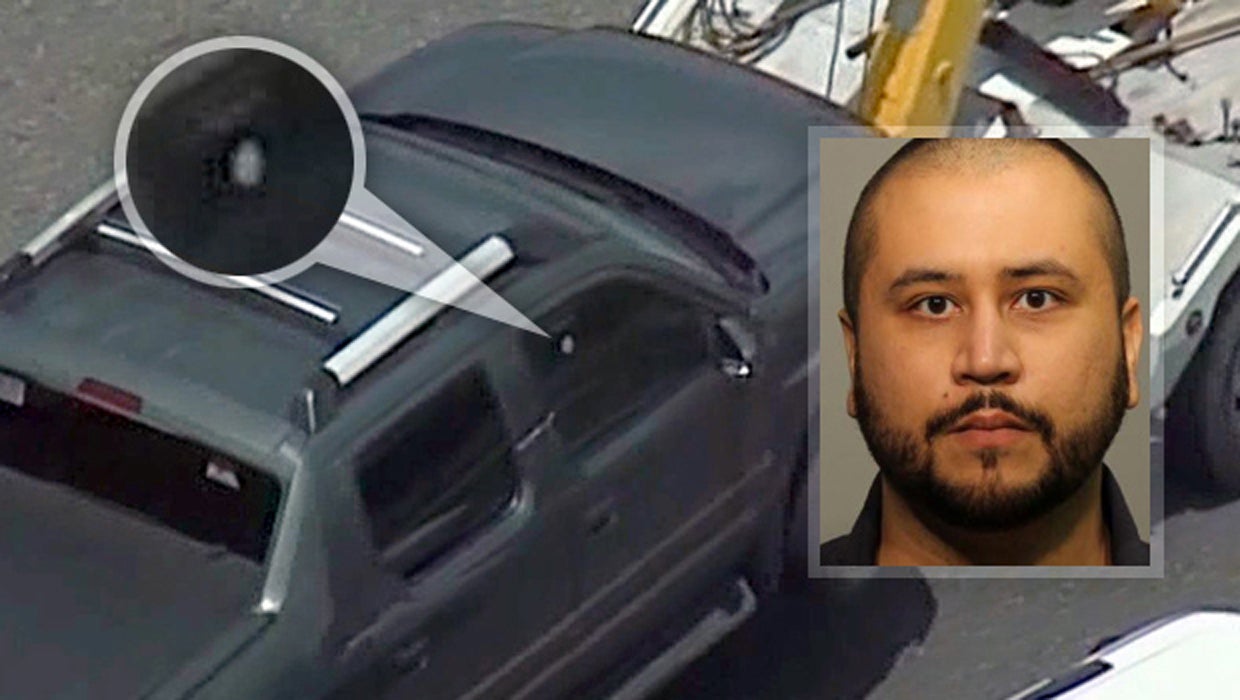 Cops: George Zimmerman shot at in apparent ongoing feud
LAKE MARY, Fla. -- George Zimmerman was apparently not the shooter in a gunfire incident Monday in central Florida, police said Monday.
The man who called 911 to report he was involved in a shooting with Zimmerman appears to be the same person involved in a road rage incident with the former neighborhood watch volunteer last year.
The shooting took place around 12:45 p.m. on Lake Mary Boulevard near Rinehart Road in Lake Mary, north of Orlando. Witnesses told CBS affiliate WKMG the driver of an Infiniti opened fire on Zimmerman, who turned into a retail center on Waymont Court to get help.
A lawyer for Zimmerman, Don West, told CBS News Radio that Zimmerman was shot at while driving and was injured, but not by a bullet.
West told WKMG a bullet missed Zimmerman's head, but his client was sprayed with glass from his vehicle's windshield and other debris.
He told the station Zimmerman was not seriously injured and was treated and released from a hospital.
Bianca Gillett, a public information officer for the Lake Mary Police, named the second man in the incident as Matthew Apperson. She said Zimmerman flagged down police, and Apperson later called 911.
She said it's not clear what motivated the shooting, but she said it appeared Zimmerman was not the shooter.
There've been no arrests and no one has been charged, she said. Police are waiting to speak with both men through their lawyers.
http://www.orlandosentinel.com/news/trayvon-martin-george-zimmerman/os-george-zimmerman-road-rage-threat-20140912-story.html
Last September, Apperson said Zimmerman threatened to kill him, asking "Do you know who I am?," during a confrontation in their vehicles. Apperson decided not to pursue charges, and police officers were unable to move forward without a car tag identified or witnesses.
"I explained to Matthew that without the tag, witnesses, and/or clear video identifying the driver as George Zimmerman, it might be difficult to prove the alleged suspect was in fact Zimmerman," the Lake Mary police officer wrote in a report last September.
After Monday's encounter involving the two men, Ken Cornell, an MRI tech who works at nearby Cyrus Diagnostic Imaging, told 48 Hours' Crimesider that he was returning to work from lunch when he saw Apperson get out of a gray Infiniti. He said Apperson asked him, "Please call 911, I just shot George Zimmerman."
Cornell said he didn't see the incident or Zimmerman.
Cornell said he dialed 911 and put Apperson on the phone with dispatchers, and that Apperson told police it was his third dispute with Zimmerman.
"He said the cops know who I am, this is an ongoing dispute," Cornell said.
Apperson said he saw a gun before opening fire, according to Cornell. Apperson was "definitely shaken," he said.
Police wouldn't release information about any weapons involved in the incident.
Video from a WKMG helicopter showed a pickup truck, believed to be a Honda Ridgeline belonging to Zimmerman, being towed. There's an apparent bullet hole in the passenger-side window of the truck.
An SUV was also at the scene.
A woman who answered the phone at the disability-benefits business where Apperson works asked an Associated Press reporter never to call again. Nobody answered the door at his Winter Springs condominium, where there is a "for sale" out front and a lock box on the door.
Zimmerman was acquitted in 2013 in the shooting death of unarmed teen Trayvon Martin in nearby Sanford, in a case that sparked protests and national debate about race relations.
The Justice Department later announced it was not bringing a civil rights case against Zimmerman.
Since then, Zimmerman has had several brushes with the law, including:
- He was charged with aggravated assault after being accused of throwing a wine bottle at an ex-girlfriend, Brittany Brunelle. The case was dropped in January after she recanted her story and refused to cooperate.
- Following another domestic confrontation, he was arrested on charges of aggravated assault, battery and criminal mischief after his then-girlfriend said he pointed a gun at her face during an argument, smashed her coffee table and pushed her out of the house they shared. Samantha Scheibe decided not to cooperate with detectives, and prosecutors didn't pursue the case.
- Zimmerman was accused by his estranged wife of smashing an iPad during an argument at the home they had shared. Shellie Zimmerman initially told a dispatcher her husband had a gun, though she later said he was unarmed. No charges were filed because of a lack of evidence. The dispute occurred days after Shellie Zimmerman filed divorce papers.
Thanks for reading CBS NEWS.
Create your free account or log in
for more features.