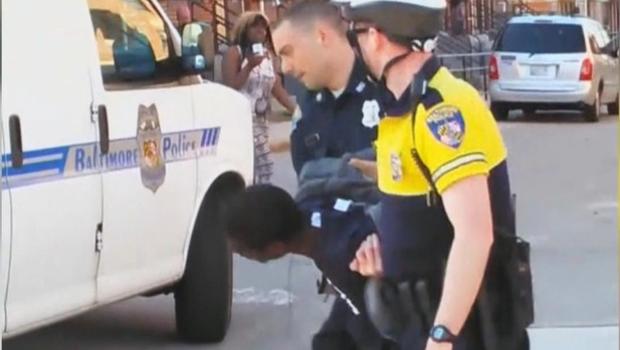 New report sheds light on Freddie Gray's last moments
BALTIMORE --At least one Baltimore Police officer warned fellow officers that Freddie Gray needed medical attention, according to CBS Baltimore media partner The Baltimore Sun, which had exclusive access to statements made by officers during a departmental probe.
The statements -- which have never before been publicly revealed, according to CBS Baltimore - shed new light on what happened in the moments following Freddie Gray's arrest on April 12 and why Judge Barry Williams ordered separate trials for six officers in the case.
According to The Baltimore Sun's report, Officer William Porter told investigators that he told others Gray needed medical care, but wondered if Gray was faking his injuries or being uncooperative. Porter also states that he told the van's driver, Officer Caesar Goodson Jr., that the city booking facility would not process Gray because he was in "medical distress."
"Everybody plays the 'I need to go to the hospital' thing when they get arrested," Porter allegedly said in his statement.
According to The Baltimore Sun, the paper was granted access to the police department investigation in which detectives outlined statements by the officers following Gray's arrest.
The alleged statements were made days before any charges were filed in the case, the Sun says.
Some of the statements made provide different accounts of the events that day.
According to Officer Alicia White's alleged statement, she was not informed that Gray needed medical attention.
This contradicts Porter's account, who says White asked Gray if he needed a medical attention, but Gray didn't respond. Porter also told investigators that once he told White that Gray appeared to be in distress, she told the officers to get him medical care.
Defense Attorney Joseph Murtha issued a statement to the Sun on behalf of all the defense attorneys saying, "We are at a disadvantage because we cannot comment on the inaccuracy or accuracy of the statements."
The Baltimore City State's Attorney's Office declined to comment on the report.
Two key pre-trial motion hearings have been held in the case where Judge Williams ruled each officer would get separate trials, all held in the City of Baltimore.
A new hearing is scheduled for next Tuesday for six officers charged in the case.
Thanks for reading CBS NEWS.
Create your free account or log in
for more features.