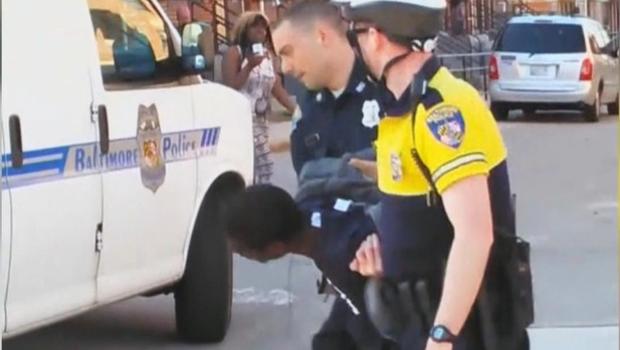 Baltimore, U.S. reach agreement on police reform in wake of Freddie Gray death, official says
BALTIMORE -- A spokesman for Baltimore Mayor Catherine Pugh says the city and the U.S. Justice Department have reached agreement on a consent decree that will require the city to reform its police department.
"Negotiations are done," Anthony McCarthy said Wednesday. "The final document has gone to the principals" to be signed.
Attorney General Loretta Lynch is expected to speak on community policing Thursday at the University of Baltimore Law School, as well as meet with community members, law enforcement and other local officials.
At a news conference before McCarthy spoke, Pugh stopped short of confirming that an announcement would be made Thursday, but said the city is "very very close" to finalizing the agreement.
"We are going to get it done," she said.
The Justice Department opened a formal investigation of the department's patterns and practices after the death in police custody of a 25-year-old black man, Freddie Gray. Six police officers were charged but none were convicted in the arrest and death of Gray, whose neck was severed inside a police van.
The Justice Department opened similar investigations into about two dozen local law enforcement agencies under President Obama, including Albuquerque, New Mexico; Chicago; Cleveland and Ferguson, Missouri.
In Baltimore, one of the largest departments to come under such scrutiny, the city agreed to enter into a binding consent decree when a Justice Department report released in August found pervasive civil rights violations by the police department.
The report found that officers routinely used excessive force, discriminated against African-Americans and made unlawful arrests. It found that officers stop large numbers of people - mostly in poor, black neighborhoods - with dubious justification and unlawfully arrest citizens for merely speaking in ways police deem disrespectful.
It also found that physical force was often used unnecessarily, including against the mentally disabled, and that black pedestrians and drivers were searched more often than people of other races.
It also identified serious training deficiencies, accusing the department of "systemic failures" that violated the Constitution and the rights of citizens.
The federal investigation found that blacks accounted for 95 percent of the people stopped at least 10 times by Baltimore police, and roughly 84 percent of all pedestrian stops, between 2010 and 2015. Some individual black residents were stopped 30 times or more.
The report also said officers use unreasonable and excessive force, including against juveniles and civilians who aren't dangerous or pose an immediate threat. Force is often used as a retaliatory tactic in instances where officers "did not like what those individuals said," the report concluded.
The details of the agreement have not been made public, but will likely mandate reforms to the way officers handle sexual assault complaints and how they respond to juveniles and individuals suffering from mental illness. The agreement also will likely outline new requirements for training officers and ensuring oversight.
The police department has already begun addressing some issues outlined in the report and equipped officers in the field with body cameras.
Police Commissioner Kevin Davis said Tuesday that officers are now required to undergo 80 hours of in-service training - twice the time required by the state - and that new technology will ensure that officers receive, review and understand rules and policies.
Thanks for reading CBS NEWS.
Create your free account or log in
for more features.