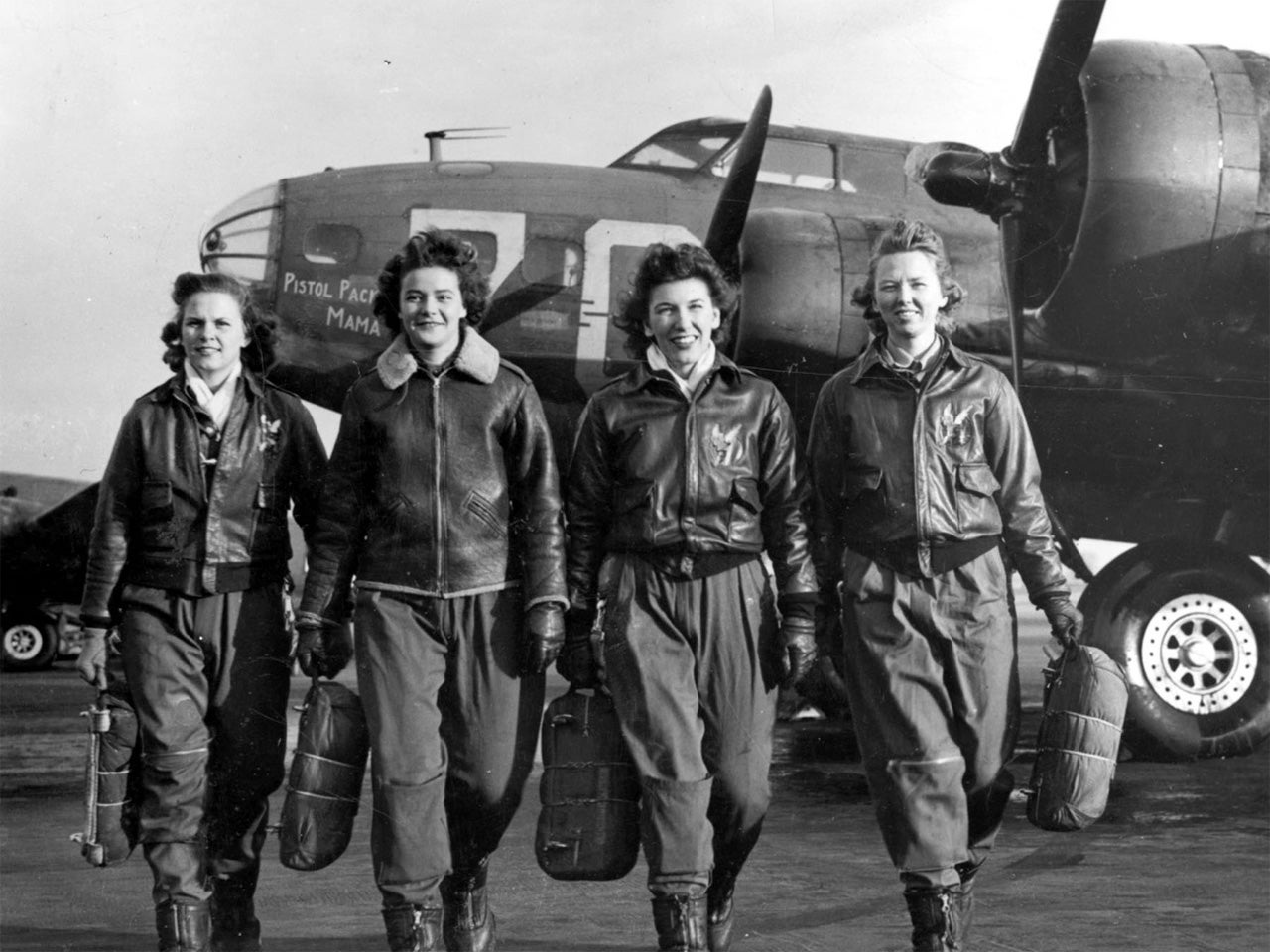 ​Remembering the WASPs: Women who were aviation trailblazers
Friday marks the 70th anniversary of D-Day, the day the Allies invaded Normandy and opened a Western front in World War II. Chances are the troops would have faced an even tougher fight if not for the special pilots who'd been spreading their wings in the run-up to the attack. Stephanie Riggs has their story:
On June 6th, 1944, as Allied troops fought and died on the beaches of Normandy, high in the skies above the fray, thousands of U.S. warplanes lent vital support.
And those planes were there, in part, thanks to the efforts of a little-known band of brave women far from the front lines. Women like Lucille Wise (left), who last flew in December 1944: "It was hard to give up. I loved to fly!"
At 93, Wise is one of the few left to tell their stories.
"I loved to fly, [and] I also wanted to help in the war effort," she told Riggs. "Everyone was so patriotic."
In 1942 the U.S. built thousands of planes in war factories each month. Those planes needed to be delivered to air bases, but pilots were in short supply.
And so in the summer of 1943, a call went out for women to do the flying.
Wise was accepted in May 1943 (one of the earlier classes) and trained in Sweetwater, Texas.
Twenty-five thousand women applied, and 1,100 were chosen as Women Airforce Service Pilots - WASPs.
"We were trained the military way, just like the male cadets were trained," said Wise. "We lived in barracks, we slept on metal cots, and we learned to march, and we were under military discipline, under demerits -- we had to make our beds a certain way, and we had inspections. It was very stressful because we had to meet the requirements."
Wise said the women proved they could fly those planes just as well as the men could, "and we were really proud women."
The WASPs proved themselves again and again, logging more than 60 million miles in more than 12,000 aircraft: the B-17s, B-24s, and P-51 Mustangs that helped win the war.
But while other women involved in the war effort -- the "Rosie the Riveters" and their like -- lived on in our popular culture, after the war the WASPs were largely forgotten.
"I think every American should be aware of what these women sacrificed and did during World War II," said filmmaker Jill Bond. "It was during a time when women were not able to have careers and do things outside of their traditional roles, and this was an opportunity to be adventurous, to serve their country, and they did it in such a graceful and beautiful way."
Bond's documentary, "We Served Too," hopes to give the WASPs their due -- before it's too late.
Riggs asked, "How many of the women that flew for the WASPs are still around?"
"There's under 200 women still left," said Bond, "so I feel a sense of urgency to get this story out so those that are still with us can see they are being recognized and that the country is really rallying behind them."
While none of the WASPs saw combat, flying fast, powerful war machines was dangerous business. Thirty-eight women died in crashes. And since the women were classified as civilians, neither they nor their families received military benefits.
"If a girl got killed, her parents didn't get anything, not even a flag -- nothing," said WASP Barbara Erickson London. "Not even any acknowledgement that their daughter had been in the military."
All that changed in 1976, when -- with great fanfare -- women were admitted into the Air Force. The WASPs took notice.
"They were putting out news releases that for the first time women would be flying military aircraft, and they had just kind of forgotten about us," said Lucille Wise. "And that's when we got organized."
They got organized . . . and got results. In 1977 the WASPs were re-classified as military veterans and granted full benefits.
But for Lucille Wise and the others, real recognition came in 2009, when President Obama signed a bill awarding the WASPs the Congressional Gold Medal.
"Simply put, the outstanding success that America achieved in the air during World War II would not have been possible without the Women Airforce Service Pilots," House Speaker John Boehner said at a Washington ceremony the following year.
Deanie Parrish accepted the award for all the WASPs: "I believe this is the day that when the people of America will no longer hesitate in answering the question, 'Do you know who the WASPs were?'"
Today, more than 60,000 women serve in the U.S. Air Force, flying on the wings of a legacy that was almost left behind.
"Those women give you the credit for opening the door for them," said Riggs.
"They do, yes," said Wise. "If we had any part in it, I am very pleased. They probably would have done it without us, but maybe we made it a little bit easier for them."
For more info:
Thanks for reading CBS NEWS.
Create your free account or log in
for more features.