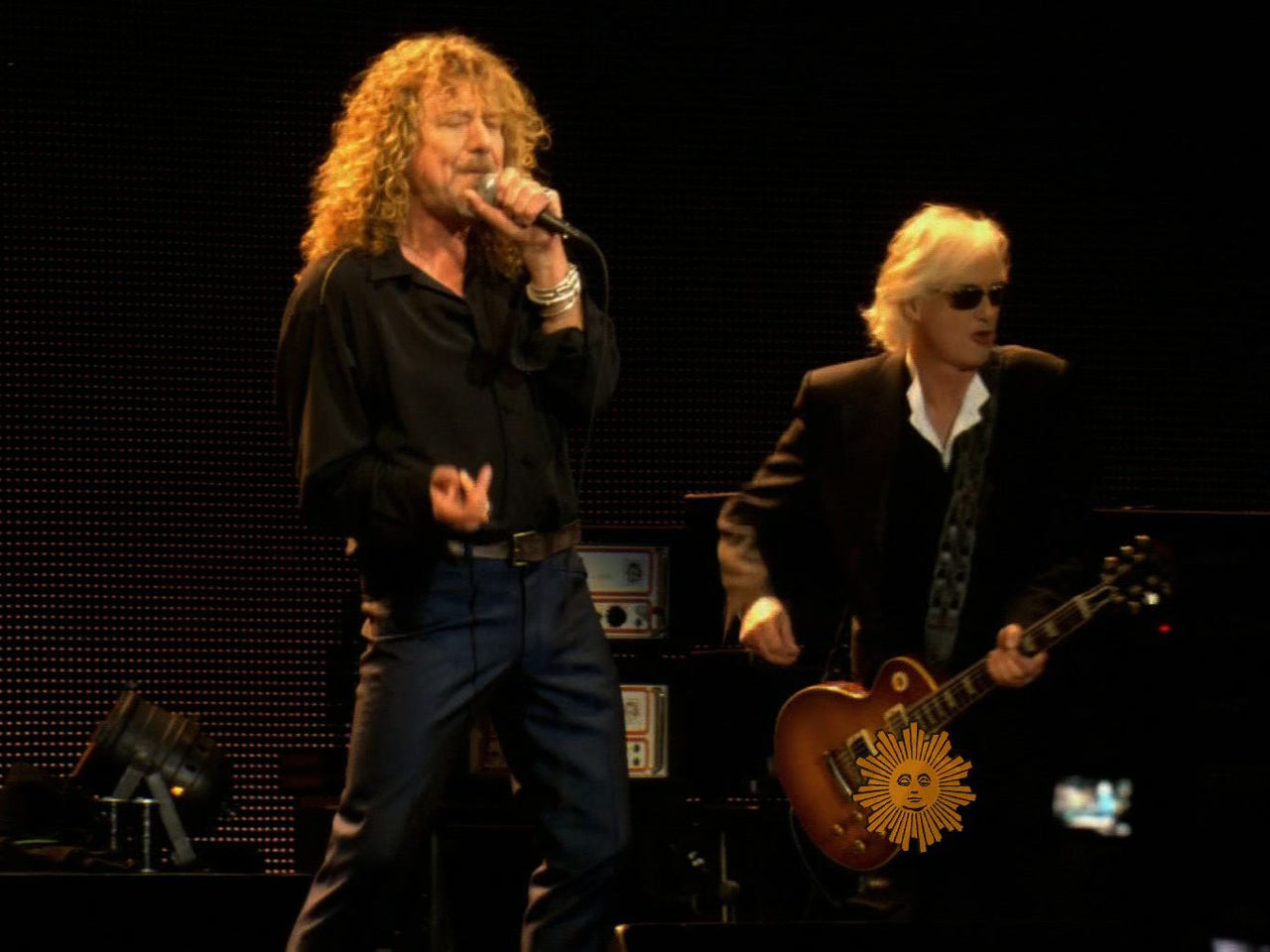 Reliving the epic rock of Led Zeppelin
(CBS News) Led Zeppelin is one of the most popular and influential bands in rock and roll history. Recently they sat down with Anthony Mason for a rare look back at their music and their legacy:
When they were devouring the world in the 1970's with their thunderous sound and their wicked ways, the members of Led Zeppelin seemed the least likely musicians to expect an invitation to the White House.
"It's been said that a generation of young people survived teenage angst with a pair of headphones and a Led Zeppelin album," President Obama said.
But there they were this month, the band's three surviving members: John Paul Jones, Jimmy Page and Robert Plant, celebrated recipients of the Kennedy Center Honors.
They told Mason they'd never been to the White House before. Rather than invitations, "We were being questioned quite often," Plant said.
Led Zeppelin notoriously took "sex, drugs and rock & roll" to epic extremes.
"It was Joe Perry of Aerosmith who said that you were like Lord Byron - 'Mad, bad, and dangerous to know,'" Mason noted.
"Well, that must have been you, John," Plant joshed.
It's been more than three decades since the group disbanded after the death of drummer John Bonham in 1980. "I think we all agreed unanimously that was that," lead singer Robert Plant said.
But take a stroll with plant, now 64, and you'll get the picture quickly that Led Zeppelin's allure endures.
"Gotta shake your hand," said one man on the street. "You're a god. You're a god."
"I think you're so hot still," one woman on the street said. "My sister's gonna be so jealous!"
The band's sold more than 300 million records. And when Led Zeppelin reunited in London, for one night only in 2007, more than 20 million people applied for the 18,000 passes.
"What we achieved was to change the blueprint of a lot of things," said the band's founder, guitarist Jimmy Page. "We changed where the horizon was. We moved it on."
Web Exclusive: To watch Led Zeppelin perform "Black Dog" at their 2007 concert at London's O2 Arena click on the video player below.
At age 14 Page was already appearing on British TV shows.
Soon he was the most sought-after session guitarist in Britain. In the early '60s he played for The Who, The Kinks, even on the theme song to the James Bond film, "Goldfinger." "And it was exciting 'cause it was on the cutting edge of everything that was going on," he said.
He joined the Yardbirds, until the band fell apart in 1968.
Page told Mason he knew then he wanted to form another band. "And I knew what sort of band to make, too, absolutely."
His first recruit was bass player John Paul Jones, whom he knew through session work. "We were the young guns," Page said.
Jones had arranged the string arrangements on Hermans Hermits and Rolling Stones records. When he heard Page was forming a band, he wanted in:
"He said, 'I'm going up to the Midlands to see a singer and we think he knows a drummer. I'll tell you what they're like when I get back,'" Jones recalled.
The singer was 19-year-old Robert Plant, and his friend, drummer John Bonham. Within weeks the four got together.
When asked to describe those first rehearsals, Jones said, "Just instant This is fantastic. And just like whoa, the room exploded."
"And it was just so powerful, it just locked together like something that was pretty scary, but had to be," said Page.
Led Zeppelin was born.
The band's debut album would spend 73 straight weeks on the charts. But the rock press was unimpressed.
Rolling Stone magazine called it "self indulgent," and Page "a writer of weak, unimaginative songs."
But the reviews didn't; bother them. "It mystified me," Jones said. "I read that first Rolling Stone review. I thought, 'So they mean us?'"
"I think it went over their heads," said Page. "Absolutely. It was beyond them."
By the mid-seventies, Led Zeppelin was the most popular rock band in the world.
In 1973 in Tampa, Florida, they played to more than 56,000 fans, breaking the Beatles' Shea Stadium record.
As one newscaster put it, "It really was the biggest crowd ever assembled for a single performance in one place in the entire history of the world!"
"I guess we were on a roll," Page said.
"By all accounts, [you] lived a pretty wild life while you were doing it as well," said Mason.
"I don't know!" Page replied.
Which brings us back to that quote from Joe Perry, the guitarist with Aerosmith: "Mad, bad and dangerous to know."
Page
"And also 'to hear,'" Page smiled.
For more than a decade Led Zep were the dark gods of rock. But in 1980, when drummer John Bonham died after consuming 40 shots of vodka in 24 hours, it all ended unexpectedly.
"That must have been an incredibly difficult decision," said Mason.
"No, it was an easy decision," said Jones. "It was an incredibly difficult time. But I just couldn't imagine the band without him."
The band members went their separate ways.
"I've never felt so out of place and vulnerable and out of time and all that stuff," said Plant. "It was nerve-wracking, but that's what nerves are for."
Led Zeppelin would reunite publicly only twice before 2007, and with disappointing results. So when the concert to honor Ahmet Ertegun, the late head of Atlantic Records, was planned, Plant worried about recapturing Led Zeppelin's old magic:
"Did you have to work pretty hard to put yourself back there?" Mason asked.
"I knew I couldn't go back there. But I had to be comfortable with where I met it," said Plant.
"And where was that?"
"Just left of extreme fear, trepidation," he laughed. "Because it's a tall order, you know? The thing is, everything that's magnificent, whatever it might be - a great moment in sport, a great moment in literature - can people actually ever go back and touch that again? You just know that once upon a time you could kick ass together, and that's about it."
But as "Celebration Day," the new film of the concert, shows, for that one night, with Jason Bonham taking his father's place on drums, Led Zeppelin would soar again.
The band's performance raised hopes of a reunion tour. But at the premiere of "Celebration Day" and the DVD release press conference last month, the question ("Why is it so hard to get back together again?") was met with silence.
They didn't like it when we brought it up, either.
"I'm sure you've been offered a great deal of money ..." Mason said.
"Are you still on about it now?" Plant said. "Oh, what a shame, he was doing so well."
Away from the band, Jimmy Page was more receptive. "I've been open to it, but I think it's unlikely. I'm just looking at the history of it."
"Do think that was your last show?" Mason asked.
"It's likely, yeah. I think so," Jones said, then added laughing, "But I've said it before."
But if this was Led Zeppelin's last set, they went out with thunder and awe.
For more info:
Thanks for reading CBS NEWS.
Create your free account or log in
for more features.