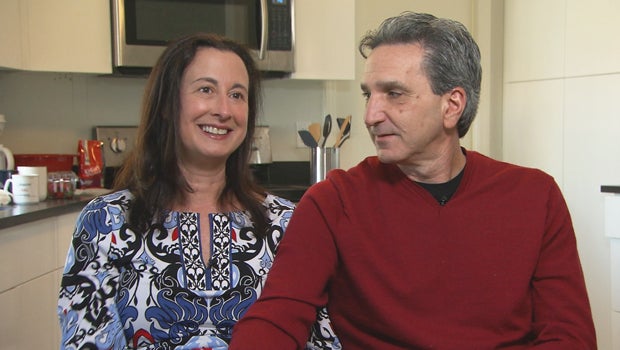 ​Rekindling first loves later in life
"'Tis better to have loved and lost than never to have loved at all," the poet Alfred Lord Tennyson wrote. But what about love that's been lost . . . and then FOUND again? Our Cover Story is reported now by Tracy Smith.
This story was first broadcast on February 15, 2015.
It seemed that Donna Hanover was unlucky in love. In 2001, her marriage to New York Mayor Rudolph Giuliani went down in flames.
And that wasn't her first broken heart: In the 1960s her high school boyfriend, Ed Oster, dumped her in their freshman year at Stanford.
But in the summer of 2002, as she was still smarting from her divorce, Oster gave her a call out of the blue.
"Told me he was divorced, was going to be in town for some business. Would I have coffee with him?" said Hanover. "So, we took a long walk in Central Park, and he said to me, "I'm so sorry I made you cry all those years ago.'
"And I was stunned, because, you know, you stop waiting for an apology after three, four months!"
Still, there were butterflies -- and a year later, wedding bells.
So, Smith asked Oster, "Will you ever let her go again?"
"Never," he replied. "This is my lost treasure. My lost treasure found, never to be lost again."
It's a great story, but it's not really all that unusual.
According to a study by a Cal State University professor, former sweethearts who meet up later in life, and are single, have a better than 70 percent chance of getting back together for good.
So what is it about lost love that is so powerful?
"First of all, you never forget the person," said Rutgers anthropologist Helen Fisher. "And if the timing is right and they come back, you can trigger that brain circuitry for romantic love almost instantly and be back in love again."
And there's no expiration date.
Actress Carol Channing fell in love with a boy in middle school before she moved away for a life on the stage. Seventy years later, she found Harry Kullijian again, fell immediately back in love, and married him at age 82. He passed away in 2011.
Do these young loves imprint themselves on our brain? Fischer says yes. "That imprinting becomes powerful. Suddenly that's the body type that you really like. And so you look for that in other people."
"So that, if that person comes back into your life decades later, whoa?"
"Yeah. Whoa! Trigger that brain circuitry, and you're off to the races even at first sight."
In other words, the person you've been looking for could be as close as your high school yearbook.
Diana Biederman was a 15-year old sophomore in Old Tappan, New Jersey, when she first laid eyes on senior Vinnie Delongis back in 1979.
"I just remember seeing him and just sort of melting," she told Smith.
They dated, and after a few steamy weeks, Vinnie moved on.
He wound up in North Carolina, a businessman with a wife and two kids. Diana became a high-powered New York publicist for places like the 21 Club.
But her love life was one heartbreak after another. She never married. But she had great friends, and a great career. She adopted a cat.
But by 2013, Vinnie was divorced, and after 30 years apart, he went looking for his lost love the way a lot of people do now -- on the Internet, making the initial connection through Facebook.
"She actually responded in about two hours," he said.
They agreed to meet for a weekend. It went well ... so well that, after decades of being alone, Diana finally allowed herself to get her hopes up.
"When we got to the airport, when our little weekend was up, I became this emotional mess," she recalled. "I could not stop crying. Because I had had so much disappointment in my previous relationships, I thought, maybe I should just appreciate this for the weekend it was and don't plan on hearing from him again. Because, what if he wasn't gonna call me?
"Everybody was trying to comfort me. They're like, 'What's the matter? What's the matter?' I'm like, 'I just had the best date!'"
Last February, Diana and Vinnie celebrated their first wedding anniversary.
Year-old wedding cake never tasted so good. Love, it seems, really can be sweeter the second time around.

For more info:
Thanks for reading CBS NEWS.
Create your free account or log in
for more features.