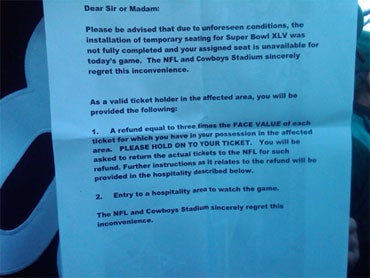 Refunds Offered in Super Bowl Seating Problem
Updated at 6:16 p.m. ET
ARLINGTON, Texas - Two hours before kickoff, Cowboys Stadium wasn't ready for its possibly record crowd. As the Green Bay Packers and Pittsburgh Steelers were warming up on the field, workers were still installing temporary seats in the top level of the stadium's west end.
A letter was circulated to people at Cowboys Stadium explaining the situation (see photo), which CBS station KDKA in Pittsburgh posted online.
The NFL shuffled things around to make space for the folks who'd paid $600 for those seats - or, at least, as many as they could. The NFL released a statement that reads in part, "Four hundred (400) fans in sections 425A and 430A were not able to be accommodated with seats inside the stadium. These fans will each receive a refund of triple the cost of the face value of their ticket. The face value of these tickets are $900."
CBS News correspondent Don Teague confirmed that those fans will receive a refund valued at triple face value.
"Most of the fans affected will have been accommodated in their seats or relocated to similar or better seats," the league said in a statement. "Fans who are not accommodated with seats inside the stadium will each receive a refund of triple the cost of the face value of their ticket. We regret the situation."
Ticket-holders in those sections were asked to wait in the Party Plaza while work was being finished.
This is the latest black eye for the hosts following a week of problems caused by rare severe winter weather. They were hoping flawless game-day logistics would wipe out some of the complaints.
At least the weather was better - blue skies with temperatures in the low 50s.
Cowboys owner Jerry Jones was counting on a crowd of more than 105,000, including stadium workers and media, and fans who bought standing room tickets for plazas outside the stadium.
Thanks for reading CBS NEWS.
Create your free account or log in
for more features.