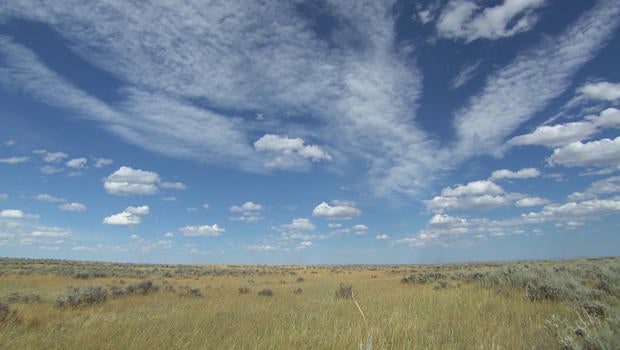 Reclaiming the American prairie
"The grass is always greener..." goes the old expression. (It's actually a Latin proverb.) It's easy to think the wide open prairie, the grasslands of America, are almost infinite. They're not; in fact, they're vanishing. Barry Petersen takes us to the heartland:
There are few sights more distinctly American than the wide-open prairie. It's been the Technicolor backdrop to scores of Hollywood movies, like "Dances With Wolves," as well as black-and-white memories of the pioneers heading west.
How strange, then, that so few Americans have ever actually seen a prairie. Yes, there really is a place just like that song from the late 1800s we all know by heart:
Oh, give me a home, where the buffalo roam
Where the deer and the antelope play…
To find it, go to northeastern Montana and get ready to be caught up in a dream … standing on a prairie that looks exactly as it did hundreds or thousands of years ago.
There was once millions of acres like this, but no more. As Alison Fox, president of the American Prairie Reserve, told Petersen, "We refer to the establishment of our national parks as America's best idea. And we sort of skipped over the grasslands. We never preserved a big grassland park."
Which is why for the past 17 years, the non-profit American Prairie Foundation (now the American Prairie Reserve) has been working to preserve this vanishing home on the range by buying up as many cattle ranches as it can. So far, they've acquired a patchwork of land adjacent to land that is federally protected.
The goal is to combine it all and create 3.5 million acres of open land. It would be the largest wildlife reserve in America outside of Alaska.
Petersen asked, "Is this, literally, going to be a chance to step into the past?"
"I think so, to see what this country was like at the time of our founding," Fox replied.
It's seems a romantic, maybe even patriotic mission. And yet, some say bringing back one way of life might mean destroying another.
"The land is better than it was. And that's what the ranchers have done over the years. They have made this land what it is," said Conni French. She and husband Craig French are fifth-generation cattle ranchers.
The family's original homestead house from 1910 still stands, and their children help run their ranch. The hope is that someone in the family will someday carry on what they have built.
"It's almost like a preacher has a calling," Conni said. "We almost feel like this is our calling. And it's our responsibility to hand it down to the people that come after us."
"The American Prairie people and you talk eloquently about a love for the land. Where does it diverge?" asked Petersen.
"Maybe when they want to buy our land and we can't be here. The part that is disheartening about when it goes to the American Prairie Reserve is that it's gone. It won't ever come back into ranching."
The Frenches and other cattle ranchers are under no obligation to sell, but often the highest bidder for any property is the American Prairie Reserve.
Petersen asked Fox, "One of the things that people say in communities like this is that you're the outsiders – you raise money, you're from another place, you're not generations into ranching here. How do you answer that?"
"Yes, the money is coming, some of it, from outside of the state of Montana," Fox said. "But we're building a public resource. We're building this for public benefit."
And many argue that we all have a stake here. This is one of just four intact grasslands that still exist in the world.
"Grasslands are the most endangered ecosystem on the planet," said Martha Kauffman, who heads the Northern Great Plains program at the World Wildlife Fund. "We're losing one million acres per year. That's faster than the deforestation of the Amazon. More acres of prairie are lost every year than acres of Amazon rainforest."
And that can have real consequences. Last summer Hurricane Harvey caused catastrophic flooding in Houston, where in the last few decades three-quarters of the prairie surrounding the city has been developed, leaving little grassland to soak up historic amounts of rainfall.
"When the grasses are intact, and they're holding all this soil, they're a big sponge," Kauffman said. "When it's been plowed off, it runs off the top. Just imagine you change a sponge to a hard surface. Your flood events become much more intense."
Kauffman hopes people can one day appreciate the prairie the same way they cherish those other endangered habitats. If the Prairie Reserve's dream comes true, this will become a living postcard of our own history.
Kauffman said, "There's this one great quote that kind of summarizes it for me. 'To fall in love with the mountains, all you have to do is open your eyes. To fall in love with the prairie, you have to open your soul.'"

For more info:

Story produced by Sari Aviv.
Thanks for reading CBS NEWS.
Create your free account or log in
for more features.