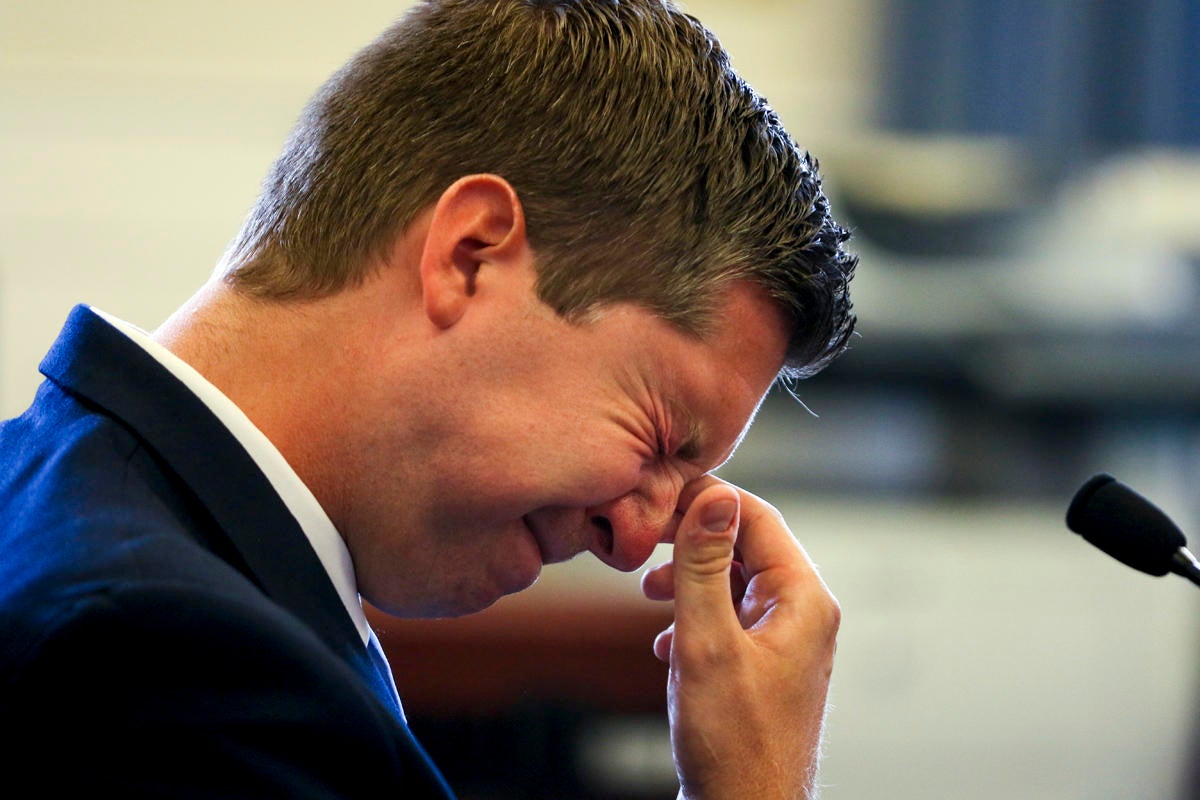 Ray Tensing, ex-cop, gives emotional testimony in re-trial over traffic stop shooting
CINCINNATI -- A white former University of Cincinnati police officer gave emotional testimony at his retrial Friday in the 2015 shooting of an unarmed black motorist.
Ray Tensing frequently paused to wipe away tears during his testimony at the retrial over his shooting of Samuel DuBose following a traffic stop.
Jurors deadlocked last November in Tensing's first trial on the murder and voluntary manslaughter charges that he is facing again. He and his lawyer contend the shooting was justified, saying Tensing was in danger of being run over by the vehicle as DuBose tried to drive away.
"I meant to stop the threat," he told jurors Friday. "I didn't shoot to kill him. I didn't shoot to wound him. I shot to stop his actions."
Prosecutors have said the video from Tensing's body camera that day shows there was no reason to use deadly force during the traffic stop.
Tensing, 27, who also testified in his first trial, spent about two hours on the stand, including an hour-long, cross-examination by Hamilton County Assistant Prosecutor Seth Tieger.
At one point, when Tieger asked how much he had thought about the shooting in a two-day span before giving a statement to investigators, Tensing tearfully replied, "I've thought about this every moment for the last two years."
Tensing maintained that his arm was caught inside DuBose's moving vehicle, that he was being "dragged," and that he was below the level of the vehicle's window when he shot at the 43-year-old DuBose.
"I made a split-second decision," Tensing said.
Tensing had testified that becoming a police officer was the fulfillment of a childhood aspiration, and that he wanted to protect and serve people and "to make a difference."
When asked by the prosecutor how he protected and served DuBose, Tensing replied: "I protected my life."
A use-of force expert testifying for the defense earlier Friday told jurors that he would also have feared for his life if he had been in Tensing's situation. He said it was his opinion that Tensing was being "dragged" and that Tensing's actions were reasonable and justified.
A use-of-force expert who testified earlier for the prosecution said he didn't think the shooting was justified.
To convict Tensing of murder, jurors must decide that he purposely killed DuBose. The voluntary manslaughter charge means the killing happened during sudden passion or a fit of rage.
Jurors are expected to begin deliberations following closing arguments set for Monday.
Thanks for reading CBS NEWS.
Create your free account or log in
for more features.