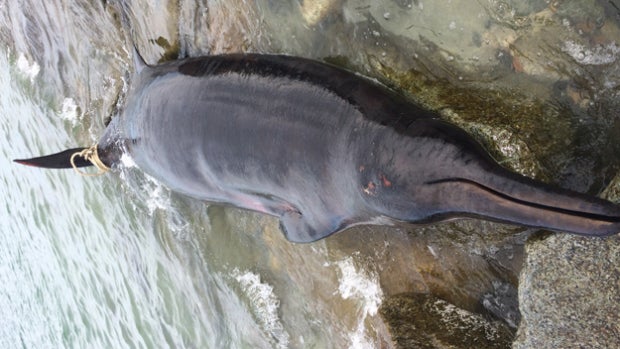 Rare whale breed washes ashore in Massachusetts
PLYMOUTH, Mass. - The carcass of a rare breed of whale washed ashore a Massachusetts beach this week, New England Aquarium officials said.
A 17-foot toothed whale, which is rarely seen in the area, washed ashore Jones Beach in Plymouth on Friday, reports CBS Boston.
The female whale, which weighs nearly one ton, has dark skin and a long slender snout. It is likely a member of the beaked whale family, which there are several species of in the north Atlantic Ocean.
Aquarium officials said this species of whale is normally found on the continental shelf several hundred miles out to sea.
"They are so rarely seen that New England Aquarium biologists have been conferring to determine the exact species, which they believe to be a Sowerby's beaked whale. Aquarium staff last handled a beaked whale in 2006 in Duxbury," the New England Aquarium said.
An animal autopsy will be completed on Saturday at the Woods Hole Oceanographic Institution's necropsy lab. The whale carcass was in fairly good condition when it was discovered, officials said.
Because beaked whales spend most of their time in deep waters, little is known about them. They are most commonly seen by fishermen.
Thanks for reading CBS NEWS.
Create your free account or log in
for more features.