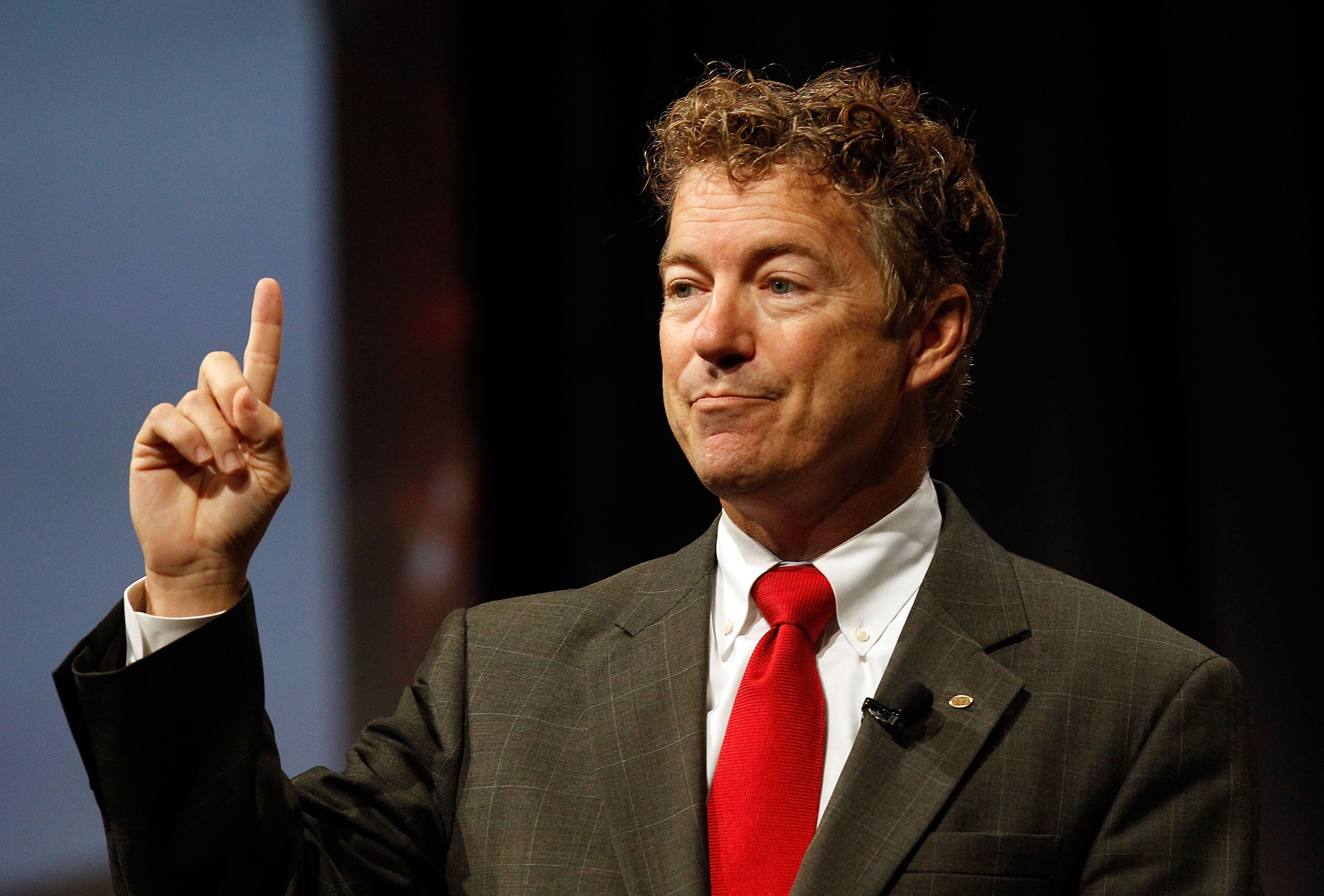 Rand Paul: Benghazi "precludes" Hillary Clinton's 2016 bid
Marking another milestone on his warpath against Hillary Clinton's status as the early 2016 Democratic presidential front-runner, Sen. Rand Paul, R-Ky., took advantage of a friendly audience Friday to knock the biggest blemish on her record as secretary of state: the Sept. 11, 2012, terrorist strike at a U.S. compound in Benghazi, Libya, that killed four Americans.
"If she wants to be commander in chief and she cannot protect our embassies, I don't think that she could or should be," Paul said at a Dallas summit put on by Americans for Prosperity, an influential conservative organization backed by the billionaire industrialist Koch brothers. "I think it precludes her from ever being considered as commander in chief."
It's an opportune moment for Paul, who's not been coy about his own White House ambitions. A lurching investigation into the attack stands to dig a thorn in Clinton's side as she mulls whether to accept her well-groomed slot for the Democrats' top pick to succeed President Obama.
Some damning testimony from a prior series of congressional hearings, in which it was stated that requests for bulked-up security in Benghazi were routinely ignored, colors the former secretary of state as incompetent at worst and aloof at best. In her new memoir, "Hard Choices," Clinton deemed it the "biggest regret" of her tenure at the State Department.
Attempting to stifle critics from within Clinton's circle who believe the slow-go approach to probing Benghazi is motivated by politics, Paul told the hugely receptive crowd: "Yeah, politics is what happens to discuss whether people are fit for office. There will be a discussion over the next four years - whether Hillary Clinton is fit to lead this country."
Wielding his anti-interventionist policies, which have attracted many fans of his libertarian hero father, former Rep. Ron Paul, R-Texas, the younger Paul compared Benghazi to the 1993 mission in Mogadishu, Somalia, in which 18 members of the United States military were killed. Shortly following the tragedy, then-President Bill Clinton successfully urged the resignation of Defense Secretary Les Aspin.
"He ignored the request, and he resigned ultimately in disgrace," Paul said. "I think, had Hillary Clinton worked for Bill Clinton, she'd probably have been fired."
Paul has long been a mouthpiece against Hillary Clinton's foreign policy. On "Meet the Press" last Sunday, he predicted she'd drive away voters by being "a war hawk."
"I think that's what scares the Democrats the most, is that in a general election, were I to run, there's gonna be a lot of independents and even some Democrats who say, 'You know what? We are tired of war,'" Paul said last week. "We're worried that Hillary Clinton will get us involved in another Middle Eastern war, because she's so gung-ho."
While serving in the Senate in 2002, Clinton voted to OK then-President George W. Bush's request to invade Iraq. In her book, she admitted she "got it wrong. Plain and simple."
As for Paul's seemingly pinpointed attacks, Clinton said earlier this summer: "He can talk about whatever he wants to talk about. And if he decides to run, he'll be fair game too."
Thanks for reading CBS NEWS.
Create your free account or log in
for more features.