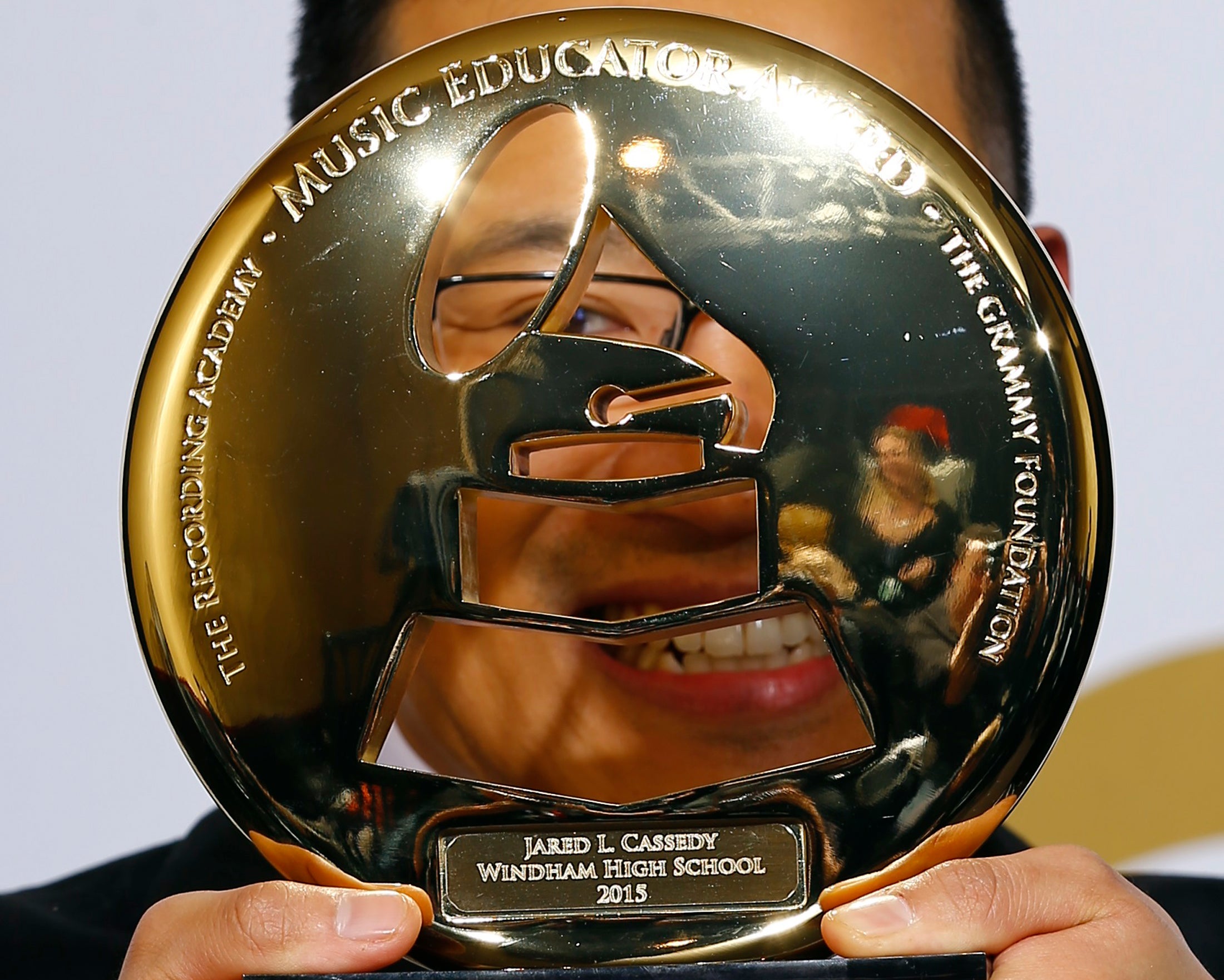 Quarterfinalists for the 2018 Music Educator Award announced
A total of 197 music teachers from 187 cities across the U.S. are quarterfinalists for the Music Educator Award presented by the Recording Academy and the Grammy Museum.
The Music Educator Award was established to "recognize current educators from kindergarten through college who have made a significant and lasting contribution to the field of music education and who demonstrate a commitment to the broader cause of maintaining music education in the schools.
The award is open to current U.S. music teachers, and anyone can nominate a teacher, including teachers themselves. Jack Gremli, with the encouragement of family and colleagues, did just that.
"We're living in tough times right now, and that's why I followed the encouragement of my family and colleagues to nominate myself so I could be a spokesperson for music education," said Gremli. He is a choir director and music teacher at Nanuet High School in Pearl River, New York.
One of Gremli's favorite moments came recently when an autistic student of his wanted to audition to play harmonica for "Piano Man" in the chorus' spring concert. Gremli was worried because he'd never heard him play, but when the student auditioned, Gremli said, "He played that lick like it was right off the track. All 98 mouths of the chorus went agape—and I was silent for a change."
While Gremli spent years as a performer before going into education, Amey Szanto has known she wanted to teach music since middle school.
"Every memory in my life has a song attached to it," said Szanto, who teaches at Rose Garden Elementary in Universal City, Texas.
For Szanto, music is important because it provides a common thread. "It's the only thing that's really universal," she said.
"If we take that opportunity away from children they don't have a chance to express themselves."
Jacob Bartlett teaches at Peru State College in Peru, Nebraska. This is the second time he's been nominated—both times by students.
"You never know when you've impacted a student in such a way that they put in an effort to make a nomination," Bartlett said.
"Music teaches more than notes and rhythms," Bartlett said. "Music helps us emote. It really helps us to express our feelings in ways we may not be able to do without."
The semifinalists will be announced in September.
The winner will be flown to New York to attend the 60th Annual Grammy Awards and a range of Grammy Week events. The nine additional finalists will receive a $1,000 honorarium, and the schools of all 10 finalists will receive matching grants.
CBS News is happy to announce the quarterfinalists of the 2018 Music Educator Award:
Eric Allen, Western Middle School for the Arts - Louisville Ky.
Anthony Allmond, Kaiser High School - Fontana Calif.
Corey Ames, Deer Path Middle School - Lake Forest Ill.
Bonnie Anderson, Coronado Village Elementary - Universal City, Texas
Victor Anderson, Yorkville High School - Yorkville, Ill.
Pamela Andrews, Station Camp Elementary - Gallatin, Tenn.
Stratos Argyriou, American Heritage School Plantation - Plantation, Fla.
David Bachart, New Hope-Solebury High School - New Hope, Pa.
Lynn Baker, University of Denver - Lamont School of Music Denver, Colo.
Jacob Bartlett, Peru State College - Peru, Neb.
James Beaumier, Hartsville High School - Hartsville, S.C.
Shawna Beeler, Vista Ridge High School - Colorado Springs, Colo.
Jeff Bellgardt, Mt. Enterprise High School - Mt. Enterprise, Texas
Andrew Bennett, Fredonia Central School District - Fredonia, N.Y.
Drew Benware, Saranac Lake High School - Saranac Lake, N.Y.
Shane Bonney, West Canada Valley Central School District - Newport, N.Y.
Lesley Bossert, Parkrose High School - Portland, Ore.
Jennifer Bourbonais, Overpark Elementary School - Olive Branch, Miss.
Andrew Bower, Dolores T. Aaron Academy - New Orleans, La.
JoAnn Bressler, Morley Nelson Elementary - Boise, Idaho
Scott Brown, Dickerson Middle School - Marietta, Ga.
Anthony Cao, Madison West High School - Madison, Wis.
Matt Carraher, Central Dauphin High School - Harrisburg, Pa.
Travis Coakley, Biloxi High School - Biloxi, Miss.
Connie Coleman, Bixby High School - Bixby, Okla.
Mark Collins, John S. Battle High School Bristol Va.
Melanie Cometa, Grasso Technical High - School Groton, Conn.
Lisa Corriveau, Mansfield Middle School - Storrs, Conn.
Curtis Crone, Red Lion Area Senior High School - Red Lion, Pa.
Kevin Croxton, Parkview Elementary School - Van Buren, Ark.
Charles Cushinery, Ed W. Clark High School - Las Vegas, Nev.
Jim Daughters, Twenhofel Middle School - Independence, Ky.
Troy Davis, Aragon High School - San Mateo, Calif.
Victor de los Santos, Santa Ana High School - Santa Ana, Calif.
Brittany DeLaVergne, Mineral Wells Junior High - Mineral Wells, Texas
Jamal Dickerson, Creative Arts Morgan Village Academy - Camden, N.J.
Joe Donnelly, Jackson Creek Middle School - Bloomington, Ind.
Vin Downes, Bayonne High School - Bayonne, N.J.
Michelle Droe, Lincoln Elementary - Cedar Falls, Iowa
Lee Duke, Floral Park Memorial High School - Floral Park, N.Y.
Amanda Ellerbe, St. Andrew's School - Richmond, Va.
Teresa Elliott, Paul Laurence Dunbar High School - Lexington, Ky.
Julie Ely, Stone Ridge Elementary - Yukon, Okla.
Thomas Engel, Calhoun Community College - Decatur, Ala.
Gabriel Fielder, Leesburg High School - Leesburg, Fla.
Christian Fletcher, American College & Conservatory of the Performing Arts - New York, N.Y.
Jay Forrest, Clover High School - Clover, S.C.
Michelle Frank, Franklin Learning Center - Philadelphia, Pa.
Taylor Franklin, Northview Academy - Kodak, Tenn.
Neil Freebern, Burr and Burton Academy - Manchester, Vt.
Curtis Gaesser, Folsom High School - Folsom, Calif.
Melodie Galloway, University of North Carolina-Asheville - Asheville, N.C.
Michael Gaylord, Rancho Mirage High School - Rancho Mirage, Calif.
Dominic Gischia, Johnson Creek Middle/High School - Johnson Creek, Wis.
Vivian Gonzalez, South Miami K-8 Center - Miami, Fla.
Guy Gregg, Oak Creek High School - Oak Creek, Wis.
Jack Gremli, Nanuet High School - Nanuet, N.Y.
Gary Gribble, Alan C. Pope High School - Marietta, Ga.
Eric Hankey, Bishop Montgomery High School - Torrance, Calif.
Richard Harris, Islip High School - Islip, N.Y.
Daniel Harvey, Seminole Ridge Community High School - Loxahatchee, Fla.
Sheryl Hauk, West Bloomfield High School - West Bloomfield Township, Mich.
Jamie Hawkins, Southwood Academy of the Arts - Anderson, S.C.
Kristen Hill, St. Andrew's Country Day School - Kenmore, N.Y.
Kyle Hill, Pearl River Community College - Poplarville, Miss.
Peter Holsberg, The Berkeley Carroll School - Brooklyn, N.Y.
Matthew Howe, Cathedral City High School - Cathedral City, Calif.
Sara K. Hugley, Grenada Upper Elementary School - Grenada, Miss.
Mitchell Hutchings, Greatbatch School of Music - Houghton, N.Y.
Kathryn Ingerson, Thousand Islands High School - Clayton, N.Y.
Ralph Jackson, Bridle Path Elementary School - Lansdale, Pa.
Brandi Jason, Liberty High School - Eldersburg, Md.
Jack Jean, Whitewater High School - Fayetteville, Ga.
Christina Jenkins, Idaho Arts Charter School - Nampa, Idaho
Jamar Jenkins, Coupeville High School - Coupeville, Wash.
Luke Johnson, Victoria Grade School - Victoria, Kan.
Nathan Johnston, Basha High School - Chandler, Ariz.
Seth Jones, Spring-Ford High School - Royersford, Pa.
Aaron Jordan, Liberty Elementary - Omaha, Neb.
Katie Kardell, Spencer High School - Spencer, Iowa
Paul Kay, Mirman School - Los Angeles, Calif.
Russ Kellogg, Charles M. Russell High School - Great Falls, Mont.
Janet Kirsten, William Lehman Elementary - Miami, Fla.
Lou Kitchner, Bedford Middle School - Westport, Conn.
Aaron Kohen, Calabasas High School - Calabasas, Calif.
Kyle Kubicki, Norwood Public School - Norwood, N.J.
Rachel Lake, Ilwaco High School - Ilwaco, Wash.
Christina Latham, Santa Cruz High School - Santa Cruz, Calif.
Mark Laughlin, Georgia Southwestern State University - Americus, Ga.
Matt Laura, Fordson High School - Dearborn, Mich.
Andrew Lesser, Wilbur Watts Intermediate School - Burlington, N.J.
Robert Long, Van Meter Community School - Van Meter, Iowa
Lindsey Lorefice, Matawan-Aberdeen Middle School - Cliffwood, N.J.
David Lown, Carroll Senior High School - Southlake, Texas
Peter Manzi, Carlsbad High School - Carlsbad, Calif.
Kate Margrave, Pine Creek High School - Colorado Springs, Colo.
Dean Marino, West Port High School - Ocala, Fla.
Kimberly Martin-Boyd, Normal West High School - Normal, Ill.
Jennifer Maxwell, Nantucket Music Center - Nantucket, Mass.
Rachel Maxwell, Traughber Junior High School - Oswego, Ill.
Richard Maxwell, Arcadia High School - Phoenix, Ariz.
Ronald McFadden, Southwest Academy Magnet School for Science & Engineering - Baltimore, Md.
Torey Mengoni, St. Clare / St. Paul - Scranton, Pa.
Cava Lee Menzies, Oakland School for the Arts - Oakland, Calif.
Anthony Merlino, Albright College - Reading, Pa.
David Merrill, Longmont High School - Longmont, Colo.
Brian Messier, Belchertown High School - Belchertown, Mass.
Sherri Miller, Dale County High School - Midland City, Ala.
Beth Moore, Central Regional Middle School - Bayville, N.J.
Charles Morgan, Joliet Junior College - Joliet, Ill.
Jocelyn Morrow, Sage Ridge School - Reno, Nev.
John Mortensen, Cedarville University - Cedarville, Ohio
Nathan De'Shon Myers, Booker T. Washington HSPVA - Dallas ,Texas
Adam Nobile, Big Spring High School - Newville, Pa.
Timothy O'Brien, Gila Ridge High School - Yuma, Ariz.
Greg Odom, Roswell High School - Roswell, N.M.
Brennan Orie, Amity Middle School Bethany - Bethany, Conn.
Dee Dee Paakkari, John Marshall High School - Los Angeles, Calif.
Robert Palmer, Gables Elementary School - Neptune, N.J.
Stephen Panoff, Sandalwood High School - Jacksonville, Fla.
Matthew Paterno, Wayne Hills High School/William Paterson University - Wayne, N.J.
Henry Pearlberg, Strath Haven Middle School - Wallingford, Pa.
Michael Pelavin, Kadima Day School - West Hills, Calif.
Andrew Perkins, Fenton High School - Fenton, Mich.
Jill Phillips, Appleton Elementary School - Grand Junction, Colo.
Elizabeth Pilkington, Bondurant-Farrar Middle School - Bondurant Iowa
Anthony Pinelli, Jr. Paul D. Schreiber High School - Port Washington, N.Y.
Stacey Place, Metcalf Elementary School - Exeter, R.I.
Derek Polischuk, Michigan State University - East Lansing, Mich.
Anthony Pollera, RC Murphy Junior High School - Stony Brook, N.Y.
Michael Raiber, Oklahoma City University - Oklahoma, City Okla.
Michael Rais, Frost Middle School - Livonia, Mich.
Jordan Rakita, Heritage Academy - Mesa, Ariz.
Amy Reber, Lake Oconee Academy - Greensboro, Ga.
Jeffery Redding, West Orange High School - Winter Garden, Fla.
Ulli Reiner, Bernardo Heights Middle School - San Diego, Calif.
Aaron Rex, Jackson High School - Jackson, Ohio
David Reynolds Jr, Vienna Elementary School - Vienna, Va.
David Rhen, Towson High School - Towson, Md.
Sandra Rosen, Manitou Springs Middle School - Manitou Springs, Colo.
Heather Rosner, George Mason Elementary School - Alexandria, Va.
Caleb Ruppe, Mayo Elementary School - Cowpens, S.C.
Markeise Russell Nicholas Senn High School - Chicago, Ill.
Melissa Salguero, P.S.48 Joseph R. Drake - Bronx, N.Y.
Peter Sampson, Whiteland Community High School - Whiteland, Ind.
Daniel Sapp Jr, James Brown Academy of Musik Pupils - Augusta, Ga.
Wendy Sarnoff, Venice High School - Venice, Calif.
Mindy Scheierman, Millburn High School - Millburn, N.J.
Steve Scherer, Geneseo High School - Geneseo Ill.
Dr. Kathy Scherler, Oklahoma Baptist University - Shawnee, Okla.
Scott Schleuter, Perrysburg High School - Perrysburg, Ohio
Bonnie Scholz, Pius XI High School - Milwaukee, Wis.
Joshua Shaw, Coronado High School - Lubbock, Texas
James Sheffer, Medford Memorial Middle School - Medford, N.J.
Kimberly Shimpo, North Mesquite High School - Mesquite, Texas
Karl Siewertsen, Plainedge Middle School - Bethpage, N.Y.
Robert Skrocki, Monadnock Regional High School - Swanzey, N.H.
Nathan Sletten, Earlham Community School District - Earlham, Iowa
Holly Smith, Ascension Catholic School - Louisville, Ky.
Robert W. Smith, Troy University - Troy, Ala.
Theodora Sotiropoulos, Northern Highlands Regional High School - Allendale, N.J.
Laura Steigerwald McCoy, St. Joseph Central Elementary School - Fort Wayne, Ind.
Amy J. Steiner, Hutchinson Central Technical High School - Buffalo, N.Y.
Scott Stewart, The Westminster Schools - Atlanta, Ga.
Vicky Stockton, N.Y. State School for the Deaf - Rome, N.Y.
Ronald Stowell, Will Rogers Middle School - Miami, Okla.
Kevin Michael Sullivan, Special Music School- High School - New York, N.Y.
Michelle Swanson, University of Northern Iowa - Cedar Falls, Iowa
Amey Szanto, Rose Garden Elementary - Universal City, Texas
Theresa Thomasulo, The Park School of Buffalo - Buffalo, N.Y.
Brian Thompson, Richfield High School - Richfield, Utah
Daryl Timmer, Woodbury High School - Woodbury, Minn.
Matthew Trevino, Roan Forest Elementary - San Antonio, Texas
George Tullos, Longfellow Middle School - San Antonio, Texas
Jose Valenzuela, Weslaco High School - Weslaco, Texas
Joel Vanderheyden, Jefferson College - Hillsboro, Mo.
Philip Ventre Choate, Rosemary Hall - Wallingford, Conn.
Vivian Ventura, Arvida Middle School - Miami, Fla.
Lauren Visel, Orange County High School - Orange, Va.
Ida Warner, Eldersburg Elementary School - Sykesville, Md.
Davida Washer, Colin Powell Elementary - El Paso, Texas
Kyle Weary, Barbara Ingram School for the Arts - Hagerstown, Md.
Shawn Weis, Natrona County High School - Casper, Wyo.
Robert West, Ed W. Clark High School - Las Vegas, Nev.
Tyler Wigglesworth, West Covina High School - West Covina, Calif.
Diana Wightman, Liberty Middle School - Newark, Ohio
Alexander Wilga, Davenport Central High School - Davenport, Iowa
Janeen Wilkins, East Anchorage High School - Anchorage, Alaska
Teresa Williams, Cook High School - Adel, Ga.
Stephanie Williamson, Williamsburg High School - Williamsburg, Iowa
Ashley Willits, Notre Dame High School Belmont - Belmont, Calif.
Kelly Winovich, Northgate Middle/Senior High School - Pittsburgh, Pa.
Mary Woodward, North Vista Elementary School - Florence, S.C.
James Yaques, Palm Beach Central High School - Wellington, Fla.
Davey Yarborough, The Duke Ellington School of the Arts - Washington, D.C.
Ben Yoder, Fall Creek Junior High School - Fishers, Ind.
Jamie Young, Lake Cormorant High School - Lake Cormorant, Miss.

Thanks for reading CBS NEWS.
Create your free account or log in
for more features.