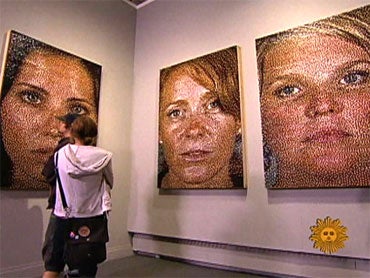 It was the talk of Grand Rapids, Michigan -- a recent art competition where the viewing public picked the winners.
More than 1,200 artists from all over the world displayed their work. Among the top prizewinners were "Open Water No. 24," a painting, "Nessie," a sculpture floating on the Grand River, and a Moose covered in nails.
Artist Eric Daigh's portraits won the $50,000 third prize.
At first glance the portraits look something like the art of Chuck Close, whose large scale paintings only become clear from a distance. Move closer and you see that they're made of nothing but push pins, reports "Sunday Morning's" Serena Altschul.
Lucas and Spielberg on Norman Rockwell
Princess Diana Hair Jam Hits London Art Exhibit
"That's a wonderful thing, to watch somebody not really be able to understand what they're standing in front of," Daigh said.
Using just five colors - red, yellow, blue, white and black - Eric Daigh creates the illusion of skin tone and hair.
With his wife, family and friends as models, Daigh takes a photograph first, and then breaks down the image into thousands of pixels. He then creates a digital map, and begins the painstaking process of sticking push pins in, one at a time.
There are 25,000 push pins in each of the large portraits.
Devorah Sperber also began to use push pins in art about 10 years ago. In her Woodstock, New York studio, she creates icons from the 60's, with map tacks.
"I walk through the world looking for things that are interesting objects that are readily available, come in a range of colors, and you can buy them in massive quantities," Sperber said.
"You look on the wall and first you think, oh it's a bikini," Sperber said, describing one of her works. "Come closer and you think, oh, it's map tacks, and most people then say, ouch."
Push pins were invented in 1900, by Edwin Moore, a student at Princeton. It was an idea that would … stick. They come in 21 colors and a variety of shapes and sizes. And now, it's even gone from office obscurity to art world admiration.
Thanks for reading CBS NEWS.
Create your free account or log in
for more features.