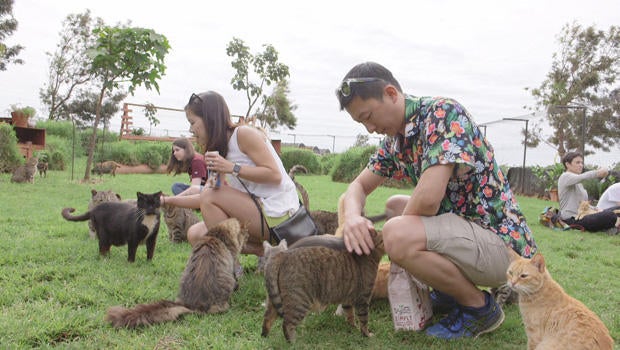 Purr-adise: Hawaii's cat sanctuary
Conor Knighton is Island Hopping again. This morning, he's taking us to an idyllic spot that's the cat's meow:
Welcome to "Purr-adise." These cats on the small Hawaiian island of Lanai have got it made. Amazing weather, meals served in their own "catfurteria," occasional massages, and a steady influx of adoring fans ready to give them all the love and attention they could ever want.
"All the cats are happy, like, you could tell," said Wendy Louie. "They are so friendly. And you could tell they enjoy being here."
Lanai is the least-visited of the publicly-accessible Hawaiian Islands. Overnight guests typically come stay at the fancy Four Seasons resort down on the coast. But tourists with a cat fancy have started flying over just to spend time at a rustic outdoor sanctuary known locally as the "Fur Seasons."
"Ninety-five percent of the cats that we bring into the sanctuary are completely feral, meaning they were born in the wild and they have never had any human interaction, until us," said Keoni Vaughn, the executive director of the Lanai Cat Sanctuary, created to help address the island's feral cat problem.
"I'm a 45-year-old male that runs a 600-cat sanctuary. I don't mind being labeled the crazy cat guy!" Vaughn laughed.
"Yeah, the cat ladies get a bad rap, but you never hear about the crazy cat guys!" said Knighton.
"Time to break the mold!"
It was actually a lady named "Kat" with a crazy idea, who got this project off the ground. Kathy Carroll moved to Lanai in 2001 to open an art gallery with her husband. "I've always had an affinity for them. Since I was little, we always had a cat. One or two. But not 600!"
Carroll was surprised to discover so many starving cats roaming across the island. "As you look around the sanctuary today, all the cats you see here were roaming in town, or down at the resort at the golf course, and in pretty sad shape – very hungry, homeless cats."
Cats were originally brought to Hawaii long ago on passing ships. Lanai's open spaces and lack of predators led to an explosion in the feral cat population. On the cliffs right beside the Four Seasons, cats were running wild, and destroying the wildlife.
The cats began to prey on native birds, like the wedge-tailed shearwater, which nest right into the sand.
In the higher elevations, cats discovered the endangered Petrel, a Hawaiian bird that's especially vulnerable.
Since the cats are an invasive species in Hawaii, there was a fear that they might be euthanized. But Kat had a different idea.
"Those birds are protected by state law and federal law," Carroll said. "And we wanted to find a way to love and protect the cats, love and protect the birds, and help the community."
Now, cats that are trapped on the island are brought to this enclosed sanctuary. There's no vet, so twice a month one flies over from Honolulu.
While some of the feral cats spend all day in hiding, those who do venture out receive no shortage of attention.
Wendy Mendoza was on her 12th visit to the cat sanctuary. "We stay for, like, an hour, two hours at a time. The kids just love it."
The Fur Seasons has turned into a surprisingly popular attraction. Only 3,000 or so people live on Lanai, so the sanctuary survives on donations from outside visitors.
"In the last 12 months we've had over 10,000 visitors," said Vaughn. "People from all over the world, of all ages come here. And it's really, really nice to see their smiles on their face. And it's really great that all these cats are getting the attention."
Today, there are definitely still feral cats roaming wild on Lanai, but Knighton didn't see any. Maybe the word is starting to get out.
"If I was a cat I'd be knocking on the door, like, 'Hey, how do I get into this place?'" said Mendoza.
It's a place that the humans seem to enjoy just as much as the felines. Just be careful not to fall too deeply in love, or else you might end up going home with a cuddly souvenir: All of the cats are available for adoption.

For more info:
Thanks for reading CBS NEWS.
Create your free account or log in
for more features.