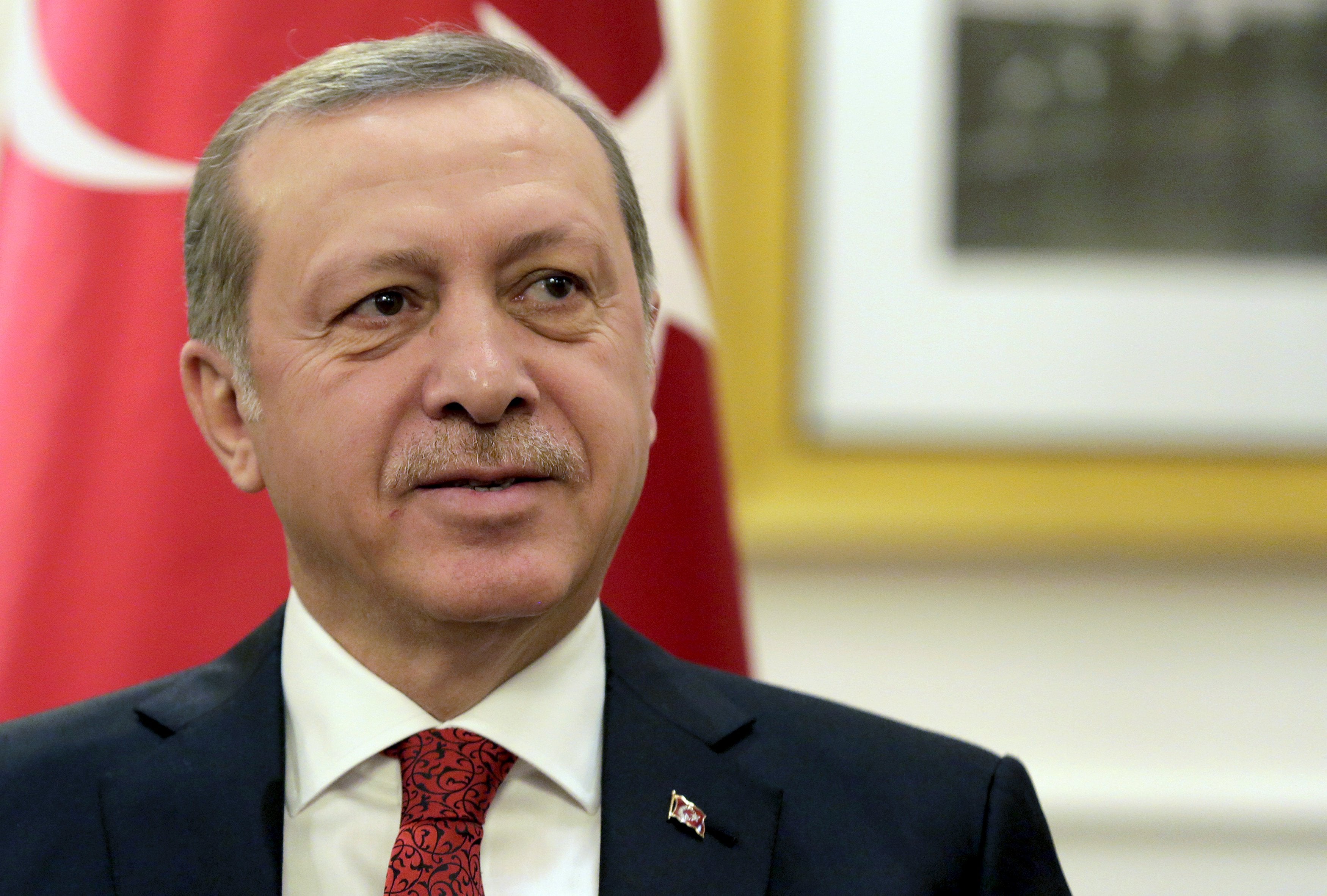 Protests erupt during Erdogan visit to Washington, D.C.
Police clashed with protesters in Washington, D.C. Thursday after Kurdish American activists demonstrated against Turkey's President Recep Tayyip Erdogan outside of the Brookings Institute, where the Turkish leader is giving a speech on challenges in the Middle East.
Erdogan, whose administration has been widely criticized for violating human rights and press freedoms, is in the U.S. capital to meet Vice President Joe Biden and attend the White House's nuclear security summit.
Ahead of Erdogan's address at Brookings, protesters gathered outside the think thank's headquarters holding signs decrying the foreign leader's policies in Turkey and calling him a "fascist murderer." The signs included prompts to "end Turkish denial" and "stop Turkish aggression."
Some media outlets reported that Erdogan's security team had tried to remove some journalists from the event.
The National Press Club weighed in on the reports.
In a statement Thursday, NPC President Thomas Burr said the Turkish leader's team "have no right to lay their hands on reporters or protesters or anyone else for that matter, when the people they were apparently roughing up seemed to be merely doing their jobs or exercising the rights they have in this country."
In Turkey, Erdogan's government has been cracking down on the press, and earlier this month seized Zaman, the newspaper with the highest circulation in Turkey.
Other demonstrators at Brookings sported Turkish flags and pro-Erdogan banners, some of which thanked the foreign leader for "protecting Syrian refugees."
Turkey is currently home to about 2.5 million Syrian refugees. After the United Nations asked last month that the country open its borders to thousands more, Turkish officials claimed it was at its "capacity to absorb" refugees.
Erdogan's visit to Washington comes amid calls by advocacy groups, like Amnesty International, for the Turkish government to address human rights violations against its Kurdish population.
In recent months, the relationship between Turkey and the U.S. has turned frosty, tensing particularly over the White House's support for Kurdish fighters in Syria. The Kurds, President Obama's administration believes, play a critical role in the fight against extremist groups like the Islamic State of Iraq and Syria (ISIS).
In Turkey, Kurdish militants have claimed responsibility for deadly bombings in the capital city of Ankara. Some of these Kurdish rebels are believed to be offshoots of the militant group PKK, or the Kurdistan Workers' Party.
On Tuesday, Erdogan met with several top members of Washington's foreign policy think tanks ahead of the White House's nuclear summit. During an off-the-record dinner, Erdogan slammed the Obama administration for backing Kurdish forces in Syria, according to a report by Foreign Policy magazine. One dinner attendee recounted Erdogan's stance on Kurdish fighters as "terrorists are terrorists -- there are no good ones."
President Obama is not expected to meet with Erdogan while the Turkish leader is in Washington, though the White House said Thursday that Mr. Obama would have "some kind of conversation" with Erdogan later.
Thanks for reading CBS NEWS.
Create your free account or log in
for more features.