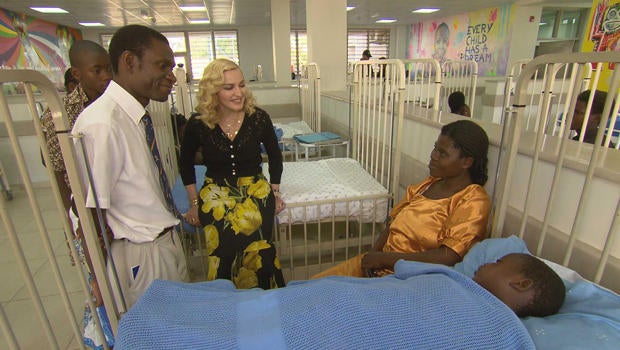 Preview: Madonna on building children's hospital in Malawi
Music superstar Madonna opens up about adoption, motherhood, and building the first-ever children's hospital in Malawi, in a revealing interview with Tracy Smith to be broadcast Sunday, Sept. 17, on CBS' "Sunday Morning."
Smith traveled to Malawi to tour the new hospital with Madonna. The facility is the result of the singer's multiple visits there, which eventually led to her adopting four children (she has two others from previous relationships).
Is her family complete at six? "Who knows?" the singer told Smith. "Yeah, I never say never. You never know what surprise awaits you around the corner."
Madonna admits being a mom helps her, too; her own mother died when she was just five years old.
"I get to become the mom I never had. So, yeah, it's a very healing experience," she said.
Madonna admits didn't know much about Malawi, a small country in southeastern Africa, when she first visited in 2006 -- specifically, where it was -- but has since founded the charity Raising Malawi to help provide health and education services. Still, getting the new hospital built wasn't easy. She says she would often think, "I'm a crazy person. What am I doing this for? So here we are. It happened. It's built, and it's up and running. And children's lives are being saved as a result. And I feel like, you know, sometimes you can't think too far in advance."
The superstar singer also talks with Smith about visiting HIV and AIDS patients at St. Vincent's Hospital; how she compares herself today to the strong-willed woman in the documentary "Truth or Dare"; and her tendency to push every envelope.
"Oh, I'm sure I've done provocative things just for the sake of provocation," she said. "Not so much now. Definitely not since I have children. But I think, when I was younger, I used to just say things, do crazy things. But everybody does."
The Emmy Award-winning "CBS Sunday Morning," hosted by Jane Pauley, is broadcast on CBS Sundays beginning at 9:00 a.m. ET. Executive producer is Rand Morrison.
Be sure to follow the program on Twitter (@CBSSunday), Facebook, Instagram (#CBSSundayMorning) and at cbssundaymorning.com. "Sunday Morning" also streams on CBSN beginning at 9:30 a.m. ET, and is available on cbs.com, CBS All Access, and On Demand. You can also listen to "Sunday Morning" audio podcasts at Play.it.
For more info:
Thanks for reading CBS NEWS.
Create your free account or log in
for more features.