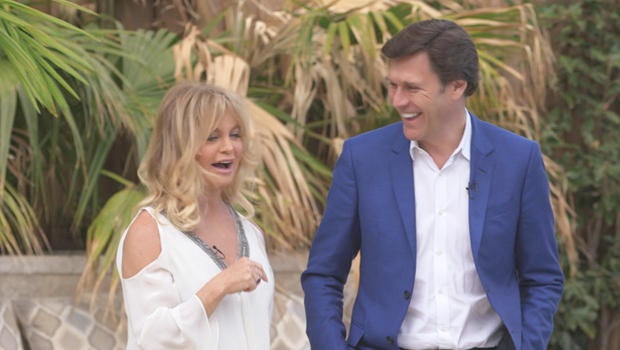 Preview: Goldie Hawn on helping kids deal with anxiety
Goldie Hawn, who made a career out of playing ditzy blondes, these days is focused on sharpening kids' brains, she tells Lee Cowan in an interview for CBS' "Sunday Morning," to be broadcast May 14.
Hawn has spearheaded a program called MindUp, which provides a teaching framework to schools to help young students come to terms with stressors in life and to be more productive.
It's a personal project for Hawn, who admits earlier in her life she struggled with anxiety.
"It comes from deep inside of me," Hawn says, explaining the genesis of the program, "has nothing to do what I do -- making people laugh or being in actress -- but it has to do with who I am, and it matters to me."
Though on the surface Hawn seems to have it all, she admits there was a time when stardom upended her life. She never ever intended to be an actress, she tells Cowan: "I never wanted to be a star; I thought stars were messed up."
But then, there she was, Oscar in hand for her work in "Cactus Flower," a full-fledged star and dealing with emotional issues.
"I felt alone. So I was turned upside-down about my own reality," Hawn told Cowan. "I had anxiety. I didn't want to go anywhere. I lost my smile, Lee, and that was hard." Nine years in therapy helped get her through it, she says.
These days, Hawn is starring in a new film, "Snatched," with Amy Schumer, and has been in a relationship with Kurt Russell for more than 35 years. Indeed, the couple recently got matching stars on the Hollywood Walk of Fame.
Learning to deal with anxiety and her focus on family are key points she tries to get across to the children in the MindUp programs. "I mean, you lose hope, and you lose everything," Hawn said while in a classroom. "And you lose your tickle and your joy, and you lose everything!"
The Emmy Award-winning "CBS Sunday Morning," hosted by Jane Pauley, is broadcast on CBS Sundays beginning at 9:00 a.m. ET. Executive producer is Rand Morrison.
Follow the program on Twitter (@CBSSunday), Facebook, Instagram (#CBSSundayMorning) and at cbssundaymorning.com. "Sunday Morning" also streams on CBSN beginning at 9:30 a.m. ET, and is available on cbs.com, CBS All Access, and On Demand. You can also listen to "Sunday Morning" audio podcasts at Play.it.
For more info:
Thanks for reading CBS NEWS.
Create your free account or log in
for more features.