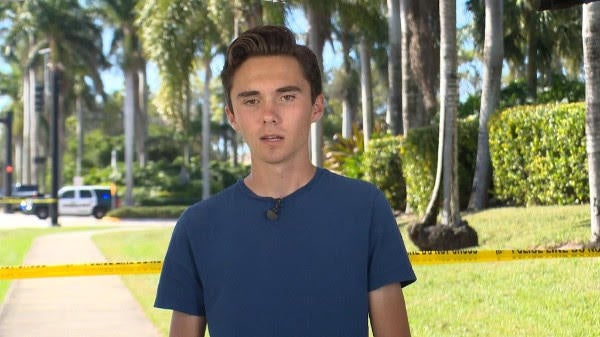 Preview: David Hogg, student survivor of Florida high School shooting, urges politicians and public to take action
In a poignant essay written for CBS' "Sunday Morning," 17-year-old high school senior David Hogg, a survivor of Wednesday's deadly shooting at Marjory Stoneman Douglas High School in Parkland, Florida, tells politicians and Americans they must to do something to stop the next school shooting.
"Politicians and more importantly the American public must take action if we're going to prevent the next shooting," Hogg says.
"To elected officials I say this: Don't lie to us. Don't make any more false promises, because when you do, children die," he adds.
"For the unfortunate individuals who were at my school, I ask that this be a time of togetherness... and something that is going to always be remembered... not only as a terrible incident -- but as a turning point in American history... where students stand up and speak out -- when the politicians won't," Hogg continues.
Hogg, a senior at the school, was in an environmental science class when a former student allegedly began firing.
"I support the Second Amendment," Hogg says in his essay. "But for God's sake, how can we knowingly pass bills and laws that are in direct opposition to saving kids' lives? Sandy Hook, the Orlando nightclub shooting, the Las Vegas shootings, to name a few -- what legislation was passed in response? The answer to that question is, 'Little, if any.'"
The full essay will be broadcast on CBS' "Sunday Morning" February 18.
The Emmy Award-winning program, hosted by Jane Pauley, is broadcast on CBS Sundays beginning at 9:00 a.m. ET. Executive producer is Rand Morrison.
"Sunday Morning" also streams on CBSN beginning at 9:30 a.m. ET and repeated at 1 p.m. ET, and is available on cbs.com, CBS All Access, and On Demand.
You can also download the free "Sunday Morning" audio podcast at iTunes and at Play.it.
Be sure to follow us on Twitter (@CBSSunday), Facebook, Instagram (#CBSSundayMorning) and at cbssundaymorning.com.
Thanks for reading CBS NEWS.
Create your free account or log in
for more features.