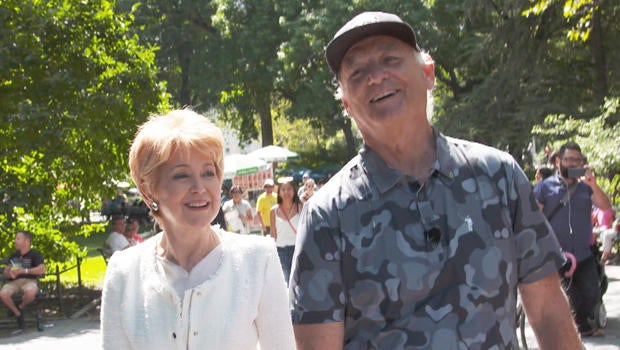 Preview: Bill Murray talks singing in the shower
Bill Murray is well-known as an actor and comedian. But now the former "Saturday Night Live" "lounge singer" is venturing back into music. Murray is selling out concert halls as a member of "New Worlds," a stage production that mixes serious chamber music and standards with literature.
The production, which features Murray, cellist Jan Vogler, violinist Mira Wang, and pianist Vanessa Perez, blends song, music, and spoken word performances, including Murray reading from the works of Mark Twain, Ernest Hemingway and James Thurber, among others. [A recording of "New Worlds" has just been released by Decca Gold.]
"I really do appreciate the live performance," Murray tells "Sunday Morning" anchor Jane Pauley, in an interview to be broadcast Oct. 1. "It's fun to actually see people have it happen to them in the space you're in.
"We get to a certain point in the show, we look around and go, like, 'Watch this: Now we're gonna kill 'em!'"
The "New Worlds" performances stem from a chance conversation Murray had with Vogler a few years back when they happened to be seated in the same row during a trans-Atlantic flight. They became friends, and that friendship turned into the collaboration on stage.
Murray credits Vogler and the other performers for carrying the show. "By myself, in the shower, I'm just as good as anyone else in the shower," Murray laughs. "Well, better than some, maybe! But on the stage, with these three, you know -- I'm elevated, you know? It takes me up to someplace else. You can't stand next to this music and not be affected by it."
To watch a trailer for the recording "New Worlds" click on the video player below.
The Emmy Award-winning "CBS Sunday Morning," hosted by Jane Pauley, is broadcast on CBS Sundays beginning at 9:00 a.m. ET. Executive producer is Rand Morrison.
Be sure to follow the program on Twitter (@CBSSunday), Facebook, Instagram (#CBSSundayMorning) and at cbssundaymorning.com. "Sunday Morning" also streams on CBSN beginning at 9:30 a.m. ET, and is available on cbs.com, CBS All Access, and On Demand. You can also listen to "Sunday Morning" audio podcasts at Play.it.
For more info:
Thanks for reading CBS NEWS.
Create your free account or log in
for more features.