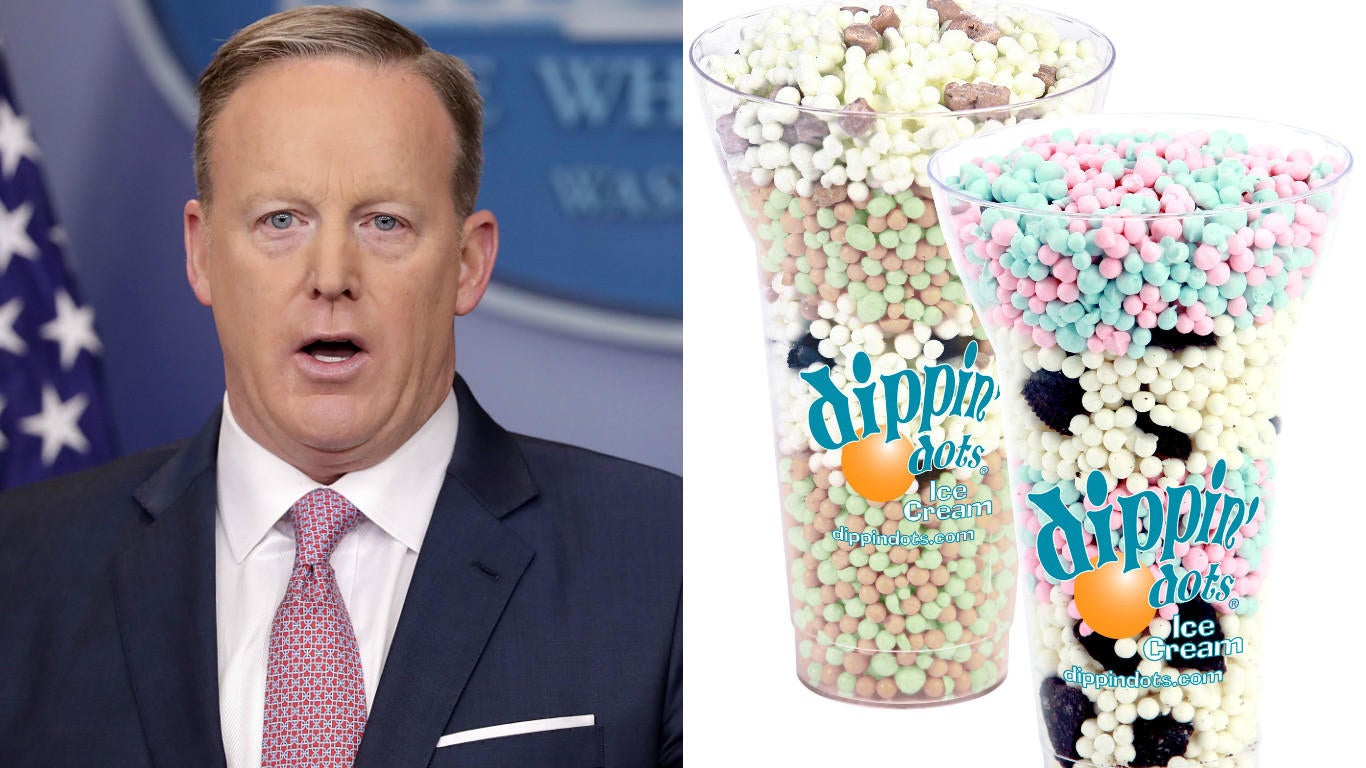 Sean Spicer vs. Dippin' Dots is the bizarre story the internet needed
White House Press Secretary Sean Spicer may have started off on a frosty note with the press — but this isn't the first time he's gotten into an icy situation.
Back in 2010, before Spicer assumed his post as communications director at the Republican National Committee, he was in the early stages of a bizarre one-sided Twitter war against none other than Dippin' Dots.
"Dippin dots is NOT the ice cream of the future," he wanted his followers to know.
The seemingly unprompted attack on the brand's original slogan didn't end there. Over a year later, he informed the masses again that the frozen treat is not what it claims to be.
Then, without comment, he shared an article about Dippin' Dots' apparent financial meltdown.
The feud appeared to wane until 2015, more than a year before Spicer would become a high-profile member of President Trump's administration, when a vanilla flavor shortage at Nationals Park in Washington fanned the flames once again.
Dippin' Dots never responded. But when the A.V. Club recently resurfaced the tweets, Twitter users had a field day.
And in a move that is perhaps peak internet pettiness, a website was even created to send Dippin' Dots directly to Spicer with one click, "because he's going to be really annoyed by it."
Amid the flurry of new attention, Dippin' Dots finally acknowledged Spicer's combative history in an attempt to thaw the situation and possibly capitalize on their viral moment.
"We understand that ice cream is a serious matter. And running out of your favorite flavor can feel like a national emergency! We've seen your tweets and would like to be friends rather than foes. After all, we believe in connecting the dots," CEO Scott Fischer wrote in an open letter on Monday.
The letter informed Spicer that Dippin' Dots is back on the rebound since his 2011 tweet about its financial troubles, and offered to treat the White House and press corps to an ice cream social. "What do you say? We'll make sure there's plenty of all your favorite flavors."
Spicer, who has shifted to tweeting from the @PressSec handle since Friday, responded from his personal account later in the day with a different idea: a sweet treat for veterans and first responders.
It's still unclear what inspired Spicer's lonely five-year campaign against Dippin' Dots, but it seems our long national ice cream nightmare is finally over.
Thanks for reading CBS NEWS.
Create your free account or log in
for more features.