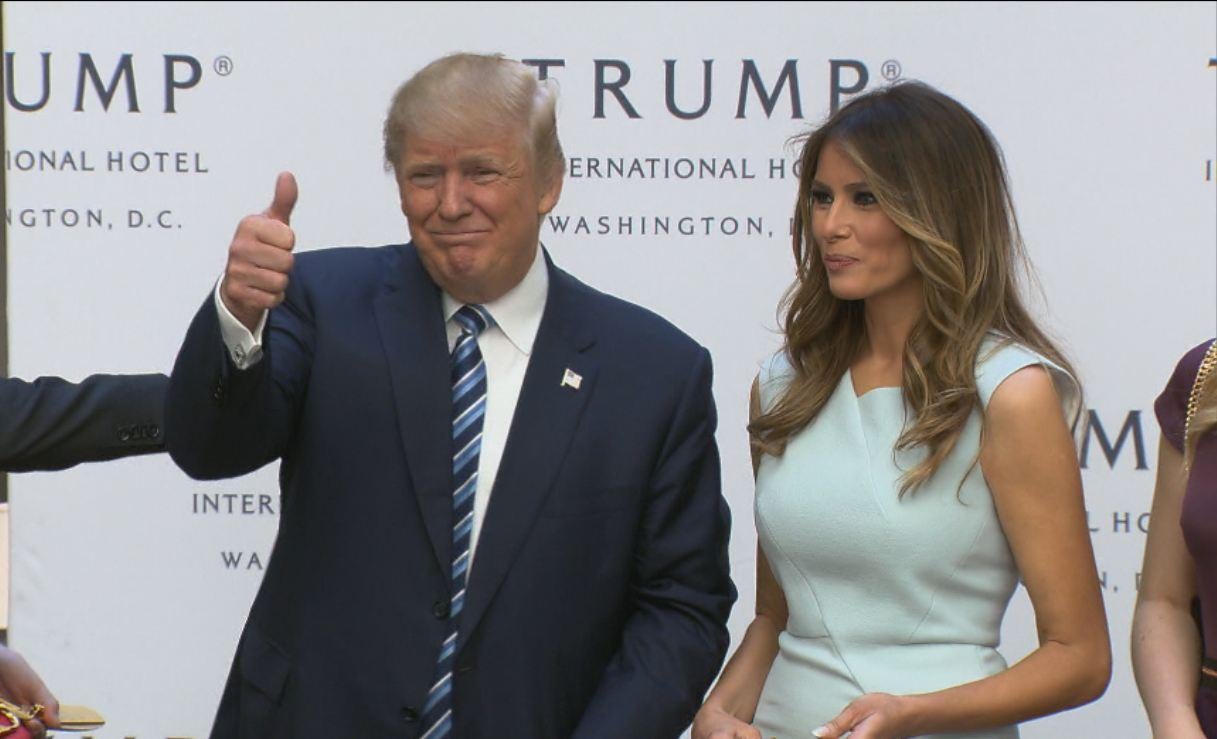 President Trump still in position to cash in on businesses
Nearly three weeks into his term, President Trump now claims he has distanced himself from his businesses. CBS News searched through documents to see what steps he has taken. According to some ethics experts, they do not go far enough.
At least 15 golf courses are a part of Mr. Trump's worldwide business empire. And as president, he is still in a position to make money off it, including a new one opening this month in Dubai.
On Tuesday evening, local Dubai reporters will get a sneak peek of the newest Trump property: an 18-hole golf course in the United Arab Emirates. In a few weeks, the course will officially open for business and welcome golfers, making it the first major Trump project to debut since Mr. Trump became president.
Days before the inauguration, Mr. Trump said he would separate himself from his businesses.

"These papers are all just a piece of the many, many companies that are being put into trust to be run by my two sons that I hope at the end of eight years, I'll come back and I'll say, 'Oh, you did a good job,'" Trump said.

But despite Mr. Trump's efforts to distance himself, not all documents have yet been filed. For example, Trump owns at least four corporations with the word "Dubai" in their names, and to date, none of their management documents has been updated – at least one still lists him as president, according to the Delaware secretary of state.
In an effort to show progress has been made, the Trump Organization released a document, indicating that Mr. Trump resigned from over 400 entities. And public records show at least two properties in New York have been transferred to the Donald J. Trump revocable trust. But one property remains particularly thorny.
The federal government now run by Mr. Trump also owns the Trump Washington D.C. hotel. The lease specifically says that an elected official cannot be a party to the contract. So new documents filed by the Trump Organization with the government of Washington D.C. state that "all beneficial ownership... previously held by Donald J. Trump personally, now is held... by The Donald J. Trump Revocable Trust."
The agency overseeing the contract won't tell us yet if this change is sufficient.
"It's a very, very small step in the right direction to the extent that the president has to give up his management responsibilities to his sons," said Steven Schooner, who teaches at the George Washington University Law School. "The problem though is the president still controls the outcome."
Schooner said the president's ownership of these properties leaves an open avenue for anyone who wants to influence him by buying six-figure golf memberships, or choosing Trump hotels to host lavish events.
"One of the most scary things about all of this is how easy it is for anyone -- a foreign government, a lobbyist or a special interest group -- to literally funnel the money into the pocket of the president and the president's family through the hotel properties," Schooner said.
The Trump Organization did not respond to repeated requests for comment. At Mr. Trump's golf course outside of Los Angeles, a round of golf will run you $300. And while this course is open to the public, most of Trump's courses in the United States are private, as well as his Mar-a-Lago club in Florida, where membership costs reportedly just went up.
Two Democratic senators want that list of members to go public. But as of now, it's private.
Thanks for reading CBS NEWS.
Create your free account or log in
for more features.