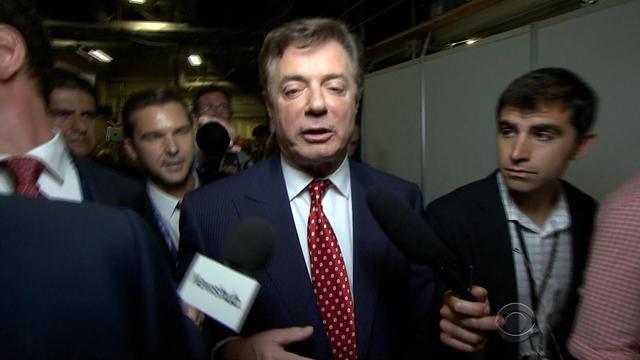 Former Trump aides deny repeated contact with Russian government
Two key figures involved in the probe of Russian interference in the election said they did nothing illegal. Paul Manafort and Carter Page are two of the Trump campaign officials the FBI is investigating, reports CBS News correspondent Jeff Pegues.
Former Trump campaign manager Paul Manafort has flatly denied contacting anyone associated with the Russian government. And former foreign policy adviser Carter Page calls allegations that he or the campaign coordinated with Russian operatives "completely fabricated by paid consultants and private investigators."
Page, also the founder of an energy investment firm with business interests in Russia, said he was not in regular contact with Russian officials during the 2016 campaign.

"I have only said hello to a few Russian officials over the course of the last year or so," Page said.
In July 2016, ahead of the Republican Convention, Page gave a policy speech in Moscow that drew scrutiny and later questions about his ties to the Trump campaign.
"I made very clear that I was not in Moscow as a representative for the Trump campaign," Page said.
The FBI and U.S. intelligence agencies are looking into whether Trump campaign officials and other associated had repeated contact with and coordinated with Russian intelligence before the election. Also reportedly included in the FBI's investigation is former Trump campaign manager Paul Manafort.
Both Page and Manafort said they have not been contacted by the FBI about being the target of an investigation.
"The role of the FBI is to find out what's real," said Ron Hosko, a former assistant director of the FBI. He said it's too soon to draw conclusions.
"The notion that there is suspicion there or that somebody, that the FBI is looking into connections, doesn't mean there are connections; it certainly doesn't mean there are nefarious connections," Hosko said. "It could just mean -- it just, on its face, the FBI is looking into it."
Law enforcement sources confirmed earlier this week that FBI agents had interviewed former national security adviser Michael Flynn last month. According to the Defense Intelligence Agency, Flynn's security clearance has been suspended as investigators look into his ties to Russian officials.
Thanks for reading CBS NEWS.
Create your free account or log in
for more features.